IOCC Mobilizes Humanitarian Response for Iraq Crisis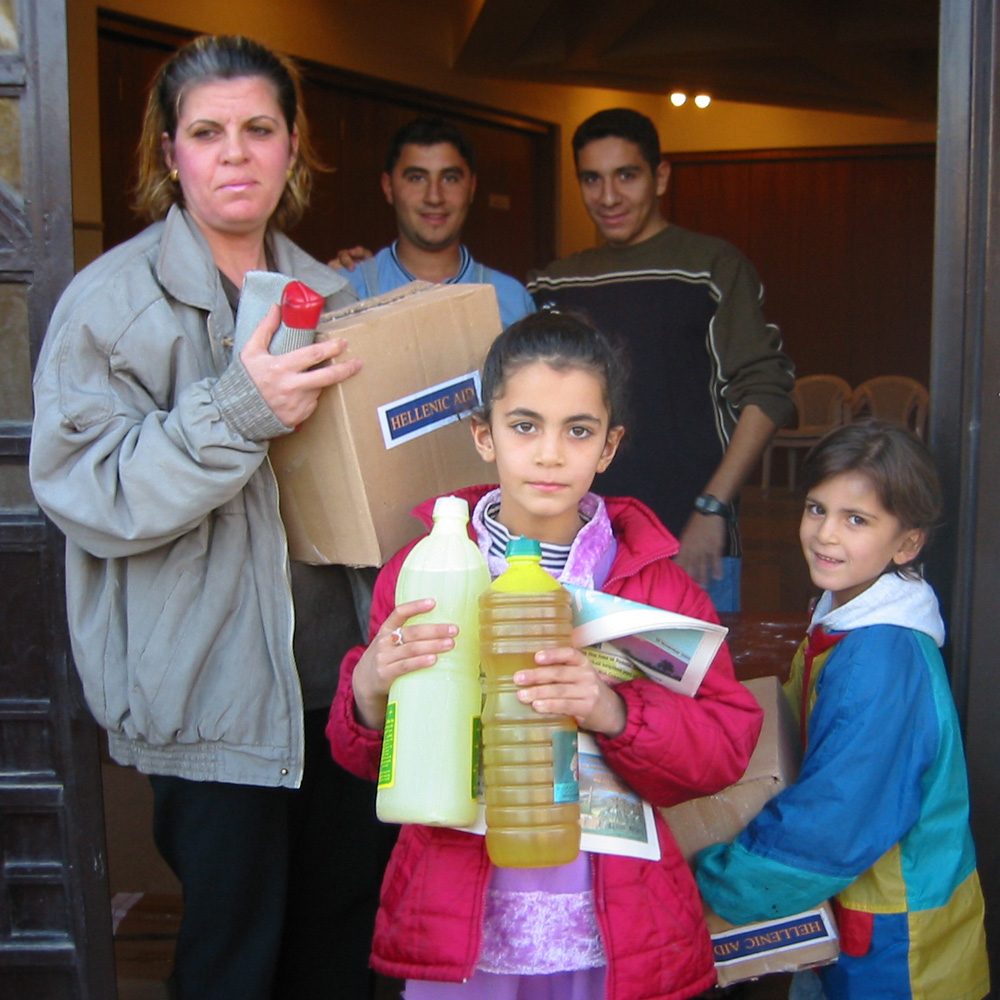 Baltimore, MD (March 18, 2003) — With diplomatic efforts to peacefully disarm Iraq coming to an end, staff members of International Orthodox Christian Charities (IOCC) are being dispatched to the Middle East to coordinate an Orthodox Christian response to assist the victims of a war in Iraq.
IOCC, the official humanitarian aid agency of Orthodox Christians, is planning a three-pronged response to the current crisis: distribution of "survival packs" to migrant workers fleeing Iraq; provision of medical assistance to ill or disabled refugees in Jordan; and distribution of humanitarian relief supplies within Iraq with IOCC's local church partners.
"The situation is fluid and will certainly evolve — as will IOCC's response to the needs that emerge," said IOCC Chief Operating Officer David Holdridge.
IOCC's goal is to raise $1 million for relief supplies as well as for life-saving medicines and medical supplies needed now in Iraq and Jordan. The aid will assist vulnerable children and their families. Half of Iraq's 24.5 million citizens are children, according to UNICEF.
An IOCC emergency response team is departing for Amman, Jordan, to establish relief operations and to provide technical assistance to church partners to deliver and manage an effective humanitarian relief distribution within Iraq.
"IOCC's priority is to support the Orthodox churches in the region at this time of crisis, and to support them in a way that will allow them to serve their own community as well as deliver assistance to all those in need within their reach," Holdridge said. "A visible commitment to the provision of this assistance by the Orthodox Church will be important as Iraq seeks to rebuild a more equitable society."
The response to the Iraq crisis is part of IOCC's continuing commitment to help refugees and other victims of war. For 10 years, in places like the former Yugoslavia, the Republic of Georgia and the West Bank, IOCC has been offering food, clothing and shelter to people displaced by war and civil unrest. Once the violence stops, IOCC has been there with self-help programs that bring new hope and opportunity.
In addition to helping vulnerable families in Iraq, the IOCC operations will provide medical assistance to ill or disabled refugees and displaced persons expected to flee Iraq through Jordan. The survival packs contain items such as food staples and a first-aid kit.
IOCC has worked in the Middle East since 1997 and currently has programs in the Holy Land and Lebanon. Since 1992, IOCC has distributed more than $160 million in relief and development assistance in 21 countries.
To help in providing relief, call IOCC's donation hotline toll-free at 1-877-803-4622, make a gift on-line at www.iocc.org, or mail a check or money order to IOCC, "Middle East Crisis," P.O. Box 630225, Baltimore, Md. 21263-0225.
###