IOCC Names Mark Stavropoulos
New Board Chairman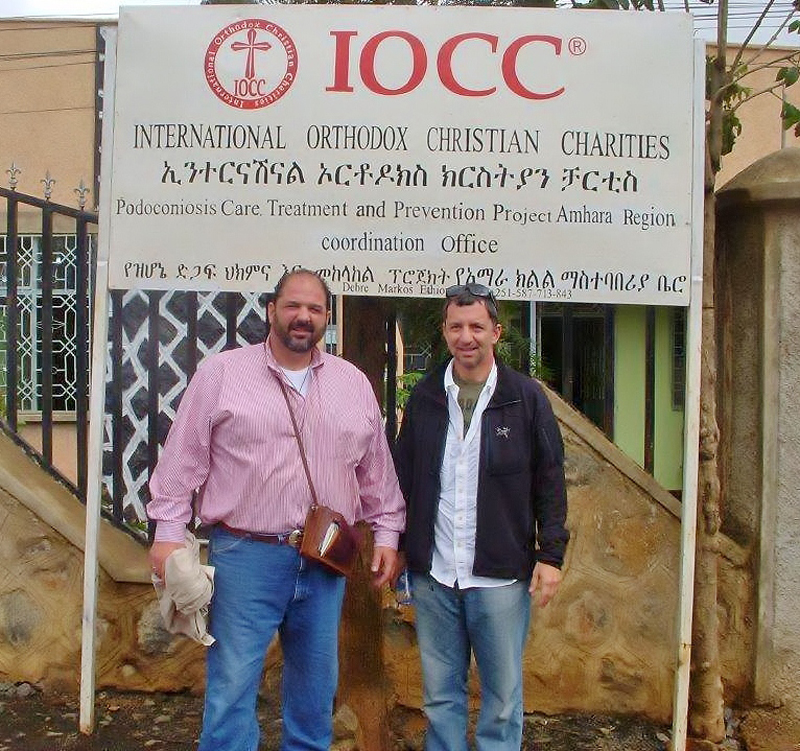 Baltimore, MD (November 7, 2014) — Long-time board member and past treasurer, Mark D. Stavropoulos of Troy, Michigan, was named the new chairman of the board of directors for International Orthodox Christian Charities (IOCC), a humanitarian relief and development organization of Orthodox Christians based in Baltimore, Maryland. Stavropoulos, who was elected during the board's semi-annual meeting last month in Chicago, Illinois, succeeds Oklahoma City attorney and former judge, Michael S. "Mickey" Homsey, who served two two-year terms as chairman of the board, the maximum allowed by the organization's charter.
The IOCC Board of Directors joined His Eminence, Archbishop Nicolae of the Romanian Orthodox Archdiocese in the Americas and Liaison from the Assembly of Canonical Orthodox Bishops of the United States of America, for a service at Saints Constantine and Helen Romanian Orthodox Cathedral in Chicago, followed by a special presentation to Homsey in recognition for his devoted leadership in service to IOCC.
"I was overwhelmed by the honor and humbled from top to bottom," said Homsey. "I have enjoyed working with IOCC and am thrilled and honored to be part of an organization that touches people's lives in places like the Middle East and in Syria particularly where we are the only American relief agency on the ground bringing comfort to those suffering in their war-torn country. I am excited to see my friend and fellow board member Mark Stavropoulos take the helm and know that under his leadership, IOCC will grow to greater heights."
During his tenure as chair, Homsey and the IOCC Board of Directors marked a year-long commemoration of the organization's 20th anniversary that began in 2011 and oversaw record levels of support for IOCC's work in health, agriculture and educational programs, including the rapid expansion of efforts to address the crisis in Syria.
Stavropoulos assumes leadership of the board at a time when the organization continues to respond to the crisis in Syria, where IOCC works closely with the Greek Orthodox Patriarchate of Antioch and All the East to support one of the largest private humanitarian networks in the country. IOCC's emergency relief also extends to Syrian refugees and locally-affected populations in Lebanon, Jordan, Iraq and Armenia. To date, IOCC has assisted nearly two million people in the region, including over 1.6 million people inside Syria.
IOCC's global humanitarian reach also provides relief to beleaguered families in Greece where it has delivered more than $10 million in assistance over the past year, and under Stavropoulos' leadership, aims to expand its health, education and water initiatives in Ethiopia, Uganda and Cameroon.
Stavropoulos and newly elected Vice-Chair, Presvytera Maria Z. Mossaides; Secretary, Thomas M. Suehs; and Treasurer, John V. Sobchak, will assume their duties in January 2015. The board of directors also welcomed new board member W. Gayle F. Malone of Wichita, Kansas.
###
IOCC is the official humanitarian aid agency of the Assembly of Canonical Orthodox Bishops of the United States of America. Since its inception in 1992, IOCC has delivered $488 million in emergency relief and development assistance to families and communities in more than 50 countries. IOCC is a member of ACT Alliance, a global coalition of more than 140 churches and agencies engaged in development, humanitarian assistance and advocacy, and InterAction, the largest alliance of U.S.–based secular and faith-based organizations working to improve the lives of the world's most poor and vulnerable populations.