International Orthodox Christian Charities Preparing Response to Hurricane Florence
Staff, volunteers, equipment staging for rapid response following storm's anticipated landfall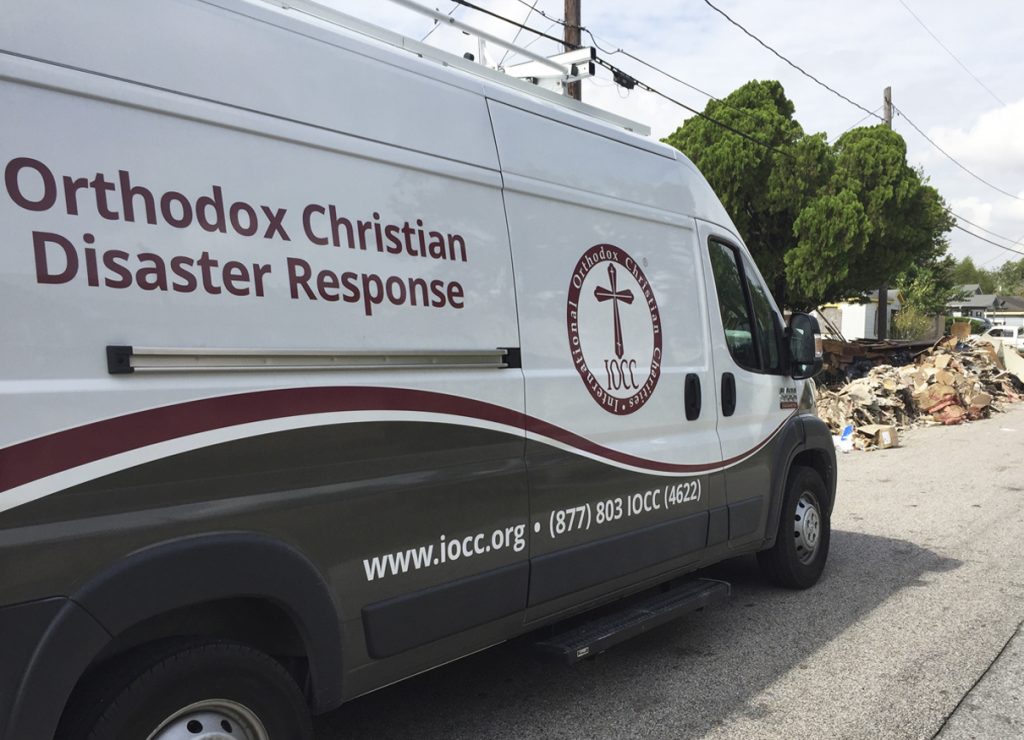 Baltimore, MD (September 13, 2018) – International Orthodox Christian Charities (IOCC) has set in motion emergency-response protocols as the US East Coast braces for a direct hit by Hurricane Florence.
Hurricane Florence has set a direct course for the Carolinas in recent days and is expected to stall off the coast, dumping inches—perhaps feet—of torrential rain across the region. This is predicted to combine with high winds and storm surge, causing coastal erosion and widespread dangerous flooding. The National Weather Service reported that over 10 million people are under hurricane watches and warnings in the Carolinas and Virginia.
Anticipating widespread emergency response, IOCC has staff, volunteers, and equipment staging for immediate action once it is safe to begin work. Team leaders and volunteers are preparing to conduct rapid needs assessments and muck outs, clearing water-damaged homes of sludge and debris. In addition, IOCC's Frontliners, professionals trained to offer emotional and spiritual care amid disaster and trauma, are standing by for deployment. IOCC is coordinating with partners and counterparts in affected states, including the North Carolina, South Carolina, Georgia, Virginia, and Maryland Volunteer Organizations Active in Disasters (VOAD).
"At this point, we know IOCC will respond," said US Country Representative Daniel Christopulos. "It's just a matter of where. We're already on the ground with local Frontliners in the areas most likely to be impacted, and once it's clear where the storm is creating the greatest need, we'll jump into action."
Since 2001, IOCC has responded after numerous disasters in the United States, including Hurricanes Harvey and Irma in 2017. In addition to emotional and spiritual care, IOCC provided emergency food and nonfood items, muck-out assistance, clean-up kits, and generators in affected areas. The organization continues long-term recovery work in both states.
Those wishing to support IOCC's response to Hurricane Florence can do so with a financial gift online (iocc.org/florence) or by phone (877.803.4622). Those available to help with clean-up in their area once it is safe to do so, may register at iocc.org/emergencyaction.
# # #
IOCC is the humanitarian and development agency of the Assembly of Canonical Bishops of the United States of America. Since its inception in 1992, IOCC has provided more than $661 million in humanitarian relief and sustainable development programs in over 60 countries worldwide. Today, IOCC applies its expertise in humanitarian response to man-made and natural crises in Europe, Africa, the Middle East, and the United States, offering assistance based solely on need.