IOCC Provides Vital Winter Relief for Syrian Children and War-Weary Families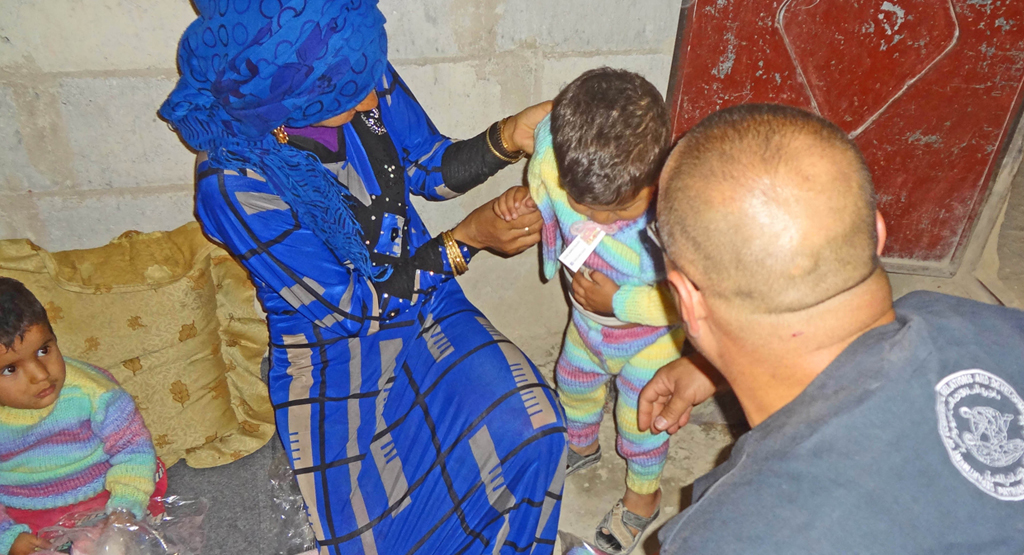 Baltimore, MD (January 9, 2015) — Freezing temperatures, heavy snow and chilling winds sweeping across Syria are putting thousands of young lives in jeopardy as displaced mothers struggle helplessly to keep their small children warm and sheltered from the harsh winter conditions. Many live in shelled out buildings with no doors or windows to keep frigid weather out, or in temporary shelters with no heat. The need for warm clothing is great.
International Orthodox Christian Charities (IOCC) is responding with the distribution of handmade sweater sets for 600 children crafted last summer by 34 displaced Syrian women taught to knit through a cash-for-work program. IOCC and its church partner in Syria, the Greek Orthodox Patriarchate of Antioch and All the East (GOPA), offered the one-month training as a way to help Syria's most vulnerable families achieve some financial independence. The new skills help provide vital income for the women and their families while displaced Syrian children benefit by receiving warm clothes to protect them against bitter cold.
Along with the training, IOCC/GOPA also provides the wool and needles used to craft hand-knit sweaters and leggings for displaced infants and toddlers. Many of the knitters, unemployed and displaced widows with no means of financial support, are especially grateful for the new skills that allow them to work where they live and remain with their own children.
"Thanks to this program, people who are able to work and have some experience can earn a living without asking for help from anyone," said Shahira, an elderly widow who has spent the past three years living in a Damascus shelter with her three children. "With the money we make we can provide for our personal needs, from clothing to medicine."
The cash-for-work program established in 2013 by IOCC/GOPA in cooperation with local community leaders has provided an essential source of income to more than 1,500 jobless Syrians who have struggled to provide for their families through four years of conflict. The program teaches displaced Syria women and men new skills like knitting clothing or sewing school uniforms, and harnesses skilled manpower for community projects like cleaning up and restoring public spaces.
Beyond the immediate benefits of providing income and bringing comfort to Syria's most vulnerable, the program also helps empower displaced people by providing productive activities. For families like Shahira's whose lives have been devastated by the civil strife in Syria, the psychological benefits of the work may be as beneficial as the economic impacts the program has. "This program has helped a lot of women earn the money they needed," said Shahira. "It also helps needy children and displaced families like mine by providing them with winter clothes they could not buy themselves. Knowing that we can help others makes us work even harder."
Since 2012, IOCC, an ACT Alliance member, has been addressing the well-being of Syria's most vulnerable people by providing urgently needed humanitarian relief and self-help programs to 2.4 million people inside Syria affected by the crisis, In addition to its work inside Syria, IOCC staff is working regionally to address the growing needs of refugees in Jordan, Lebanon, Iraq and Armenia as well as people in need in those host countries.
HOW YOU CAN HELP
You can help the victims of poverty and conflicts around the world by making a financial gift to the International Emergency Response Fund which will provide immediate relief, as well as long-term support through the provision of emergency aid, recovery assistance and other support to help those in need. To make a gift, please visit www.iocc.org or call toll-free at 1-877-803-IOCC (4622), or mail a check or money order payable to IOCC, P.O. Box 17398, Baltimore, MD 21297.
###
IOCC is the official humanitarian aid agency of the Assembly of Canonical Orthodox Bishops of the United States of America. Since its inception in 1992, IOCC has delivered $488 million in relief and development programs to families and communities in more than 50 countries. IOCC is a member of the ACT Alliance, a global coalition of more than 140 churches and agencies engaged in development, humanitarian assistance and advocacy, and a member of InterAction, the largest alliance of U.S.–based secular and faith-based organizations working to improve the lives of the world's most poor and vulnerable populations.