IOCC Reaches Pakistan Flood
Survivors in Hardest Hit Areas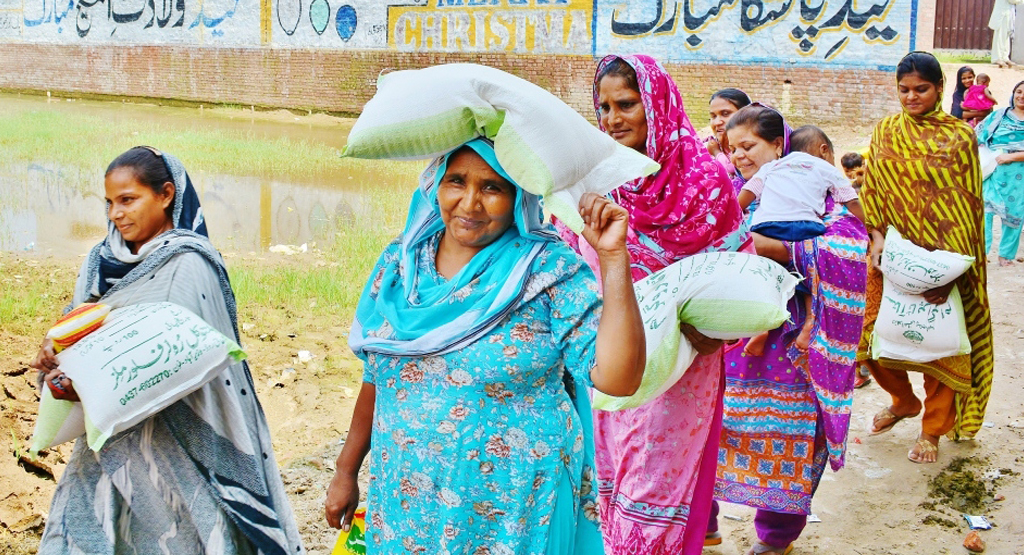 Baltimore, MD (September 19, 2014) — Survivors of Pakistan's deadly floods carry food parcels filled with flour, lentils, tea and cooking oil provided by International Orthodox Christian Charities (IOCC), in cooperation with the Orthodox Church in Pakistan. Emergency food parcels are being distributed to 700 flood victims from the hard hit communities of Wazirabad and Hafizabad in the Punjab province, home to more than half of Pakistan's people.
More than two million people have been affected by the floods. Heavy monsoon rains earlier this month unleashed a torrent of water that swept away thousands of villages across Punjab's agricultural heartlands, destroying 1.7 million acres of crops and leaving thousands of families in Pakistan without homes, a source of food or farm income. Food, fresh water, hygiene kits and shelter are the most urgently needed relief, but restoring livelihoods will be a critical issue in the weeks and months ahead in order for communities to recover.
HOW YOU CAN HELP
Emergency hygiene kits continue to be in great demand. Kit assembly instructions can be found on IOCC's website at iocc.org/kits
You can also help the victims of disasters around the world, like the floods in Pakistan, by making a financial gift to the IOCC International Emergency Response Fund, which will provide immediate relief as well as long-term support through the provision of emergency aid, recovery assistance and other support to help those in need. To make a gift, please visit iocc.org, call toll free at 1-877-803-IOCC (4622), or mail a check or money order payable to IOCC, P.O. Box 17398, Baltimore, Md. 21297-0429.
###
IOCC is the official humanitarian aid agency of the Assembly of Canonical Orthodox Bishops of the United States of America. Since its inception in 1992, IOCC has delivered $488 million in emergency relief and development assistance to families and communities in more than 50 countries. IOCC is a member of ACT Alliance, a global coalition of more than 140 churches and agencies engaged in development, humanitarian assistance and advocacy, and InterAction, the largest alliance of U.S.–based secular and faith-based organizations working to improve the lives of the world's most poor and vulnerable populations.