IOCC Relief Expands Reach to Syrian Refugees in Iraq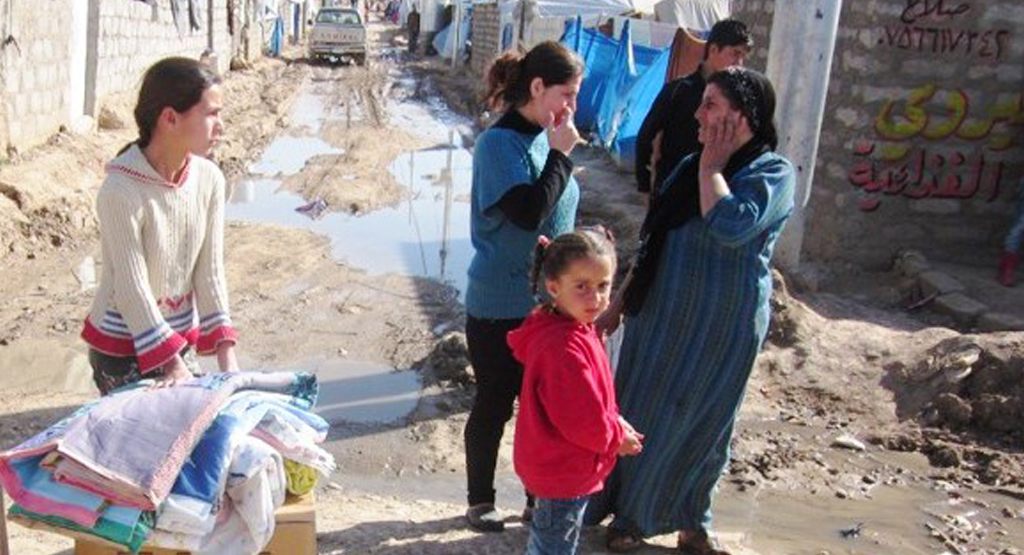 Baltimore, MD (June 7, 2013) — A decade ago, they fled war in Iraq to find refuge in Syria. Now, as Syria's spreading civil conflict enters its third year, Iraqi refugee families that had settled in Syrian cities such as Aleppo and Damascus are forced to flee again. The number of Syrian refugees now living in Iraq has swelled to over 175,000 and continues to increase.
Many end up in Domiz camp located in northwestern Iraq, where refugees arriving at a rate of more than 800 people per day are critically overcrowding a settlement already filled with more than 35,000 refugees. Thousands of families are forced to share tents with newly arrived refugees who arrive with nothing. International Orthodox Christian Charities (IOCC) is responding to the immediate needs of the refugee families flowing into Iraq with a distribution of urgently needed bedding and hygiene kits for more than 9,800 men, women and children in Domiz Refugee Camp in Iraq.
Since 2007, IOCC has been assisting Iraqi refugees living in Syria with educational support, school supplies, tutoring and personal care kits to thousands of Iraqi refugee schoolchildren, as well as vocational and business training for Iraqi refugee men and women resettled in Syria when conflict forced them to flee their own country.
This latest response is part of a larger humanitarian effort by IOCC to provide emergency relief to vulnerable families affected by the civil conflict in Syria. According to the latest UN figures, 6.8 million people are in need across all 14 of Syria's governorates. IOCC, in cooperation with the Greek Orthodox Patriarchate of Antioch and All The East (GOPA), continues to expand its response to the spreading humanitarian crisis in Syria with relief efforts stretching across many of the country's 14 governorates. Through its efforts to gain greater access to affected Syrians, IOCC is reaching families and elderly living in some of the most volatile areas, bringing them essential aid such as food and cooking stoves, bedding and clothing and providing trauma counseling to children and adults.
IOCC has been responding to the humanitarian crisis brought on by the conflict in Syria with assistance reaching more than 650,000 Syrian children, women and men displaced in their own country or living as refugees in Jordan, Lebanon and now, Iraq.
HOW YOU CAN HELP
IOCC is urging the public to pray for our neighbors in need, and to assist by assembling personal hygiene kits and infant kits for distribution to displaced families. Instructions for preparing Emergency Kits may be found at: www.iocc.org/giftsofheart
You can also help the victims of poverty and conflicts around the world, like those in Syria, by making a financial gift to the International Emergency Response Fund which will provide immediate relief, as well as long-term support through the provision of emergency aid, recovery assistance and other support to help those in need. To make a gift, please visit www.iocc.org or call toll free at 1-877-803-IOCC (4622), or mail a check or money order payable to IOCC, P.O. Box 17398, Baltimore, MD 21297.
###
IOCC is the official humanitarian aid agency of the Assembly of Canonical Orthodox Bishops of the United States of America. Since its inception in 1992, IOCC has delivered $438 million in relief and development programs to families and communities in more than 50 countries. IOCC is a member of the ACT Alliance, a global coalition of more than 130 churches and agencies engaged in development, humanitarian assistance and advocacy, and a member of InterAction, the largest alliance of U.S.–based secular and faith-based organizations working to improve the lives of the world's most poor and vulnerable populations.