International Orthodox Christian Charities Responds in North Carolina after Hurricane Florence
Emotional and spiritual care, needs assessments under way in Winston-Salem, Wilmington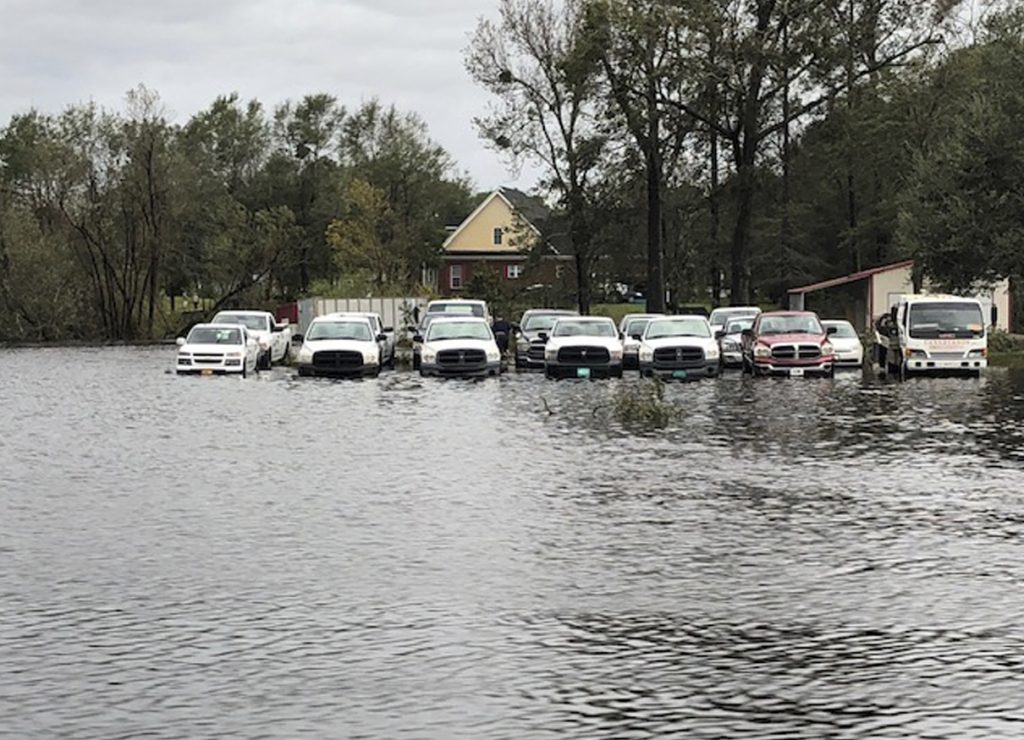 Baltimore, MD (September 19, 2018) – International Orthodox Christian Charities (IOCC) has deployed staff, equipment, and volunteers for emergency response in some of the worst-hit areas of North Carolina in the wake of Hurricane Florence.
After Hurricane Florence stalled over the Carolinas, dumping more than 30 inches of rain in some places, the region faces widespread flooding. Numerous shelters have opened to house evacuees, and although rain has largely subsided, families who left their homes are unable to return as waters remain dangerously high. The city of Wilmington, North Carolina, was largely cut off from neighboring towns when floods covered roadways.
On September 18, IOCC deployed four Frontliners to a Red Cross shelter in Winston-Salem, North Carolina. Specially trained to serve survivors of disaster and trauma, IOCC's Frontliners are providing emotional and spiritual care to residents and emergency workers at the shelter.
At the same time, an IOCC emergency response vehicle is en route to Wilmington, where the parish of St. Basil the Great Orthodox Church will serve as a base for emergency action teams in the coming days. Trained team leaders will conduct rapid needs assessments and guide volunteers as they do muck outs, clearing water-damaged homes of sludge and removing debris for Wilmington residents affected by Hurricane Florence.
"We're on the ground now, and we're ready to respond quickly as people's needs emerge these next few days," said IOCC's US Country Representative Daniel Christopulos. "Recovery is a long process, and these communities have a long road ahead. IOCC is committed to supporting them throughout that process, both now, with early response activities, and in their long-term recovery."
As needs change on the ground, IOCC will assess gaps in services and seek ways to address them. The organization remains in close contact with partners and counterparts in affected states, including the North Carolina, South Carolina, Georgia, Virginia, and Maryland Volunteer Organizations Active in Disasters (VOAD), as well as with affected Orthodox parishes in the Wilmington area.
Since 2001, IOCC has responded after numerous disasters in the United States, including Hurricanes Harvey and Irma in 2017. In addition to emotional and spiritual care, IOCC provided emergency food and nonfood items, muck-out assistance, clean-up kits, and generators in affected areas. The organization continues long-term recovery work in both states.
Those wishing to support IOCC's response to Hurricane Florence can do so with a financial gift online (iocc.org/florence) or by phone (877.803.4622). Those available to help with clean-up in their area once it is safe to do so, may register at iocc.org/emergencyaction.
# # #
IOCC is the humanitarian and development agency of the Assembly of Canonical Bishops of the United States of America. Since its inception in 1992, IOCC has provided more than $661 million in humanitarian relief and sustainable development programs in over 60 countries worldwide. Today, IOCC applies its expertise in humanitarian response to man-made and natural crises in Europe, Africa, the Middle East, and the United States, offering assistance based solely on need.