IOCC RESPONDS TO SYRIAN FAMILIES DISPLACED BY FIGHTING IN HASAKEH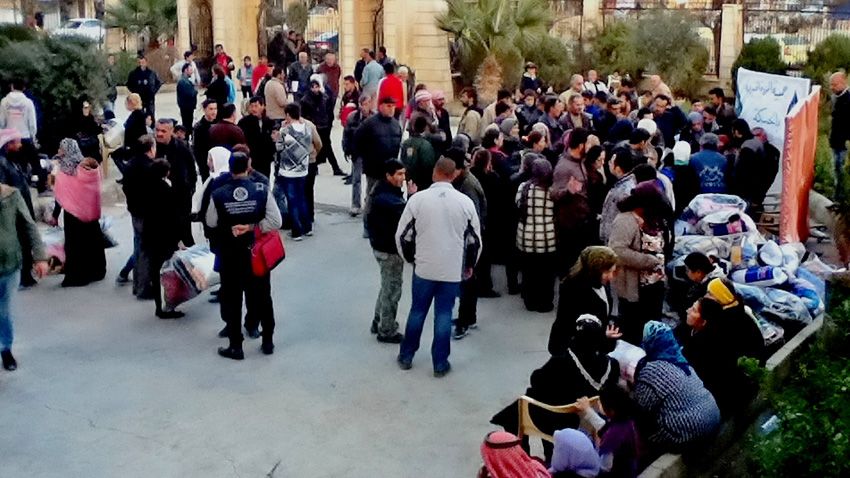 August 25, 2016
(Baltimore, MD) Responding to the urgent needs of an estimated 65,000 people who were displaced from their homes by clashes in Syria's northeastern city of Hasakeh, International Orthodox Christian Charities (IOCC) is providing families sheltering in schools outside the city with food, hygiene kits and household items. IOCC is also supporting response teams helping people severely injured by shrapnel or flying debris with medical transport to hospitals in safer communities and emergency medical aid.
According to IOCC personnel working with DERD, the humanitarian arm of the Greek Orthodox Patriarchate of Antioch, the humanitarian situation in Hasakeh is deteriorating as people run out of bread and food from the closure of bakeries and groceries. More than 75 percent of homes are reported to have no running water due to damage to the water system and cuts in electricity needed to power municipal water pumps. The remaining hospital still operating in Hasakeh struggles to serve patients with reduced staff and an unstable security situation.
The current crisis in Hasakeh comes on the heels of the recent deteriorating humanitarian situation in the historic Syrian city of Aleppo, to which IOCC and its partners are also responding. "The recent events both in Hasakeh and Aleppo are putting significant strain on IOCC and other humanitarian responders in the area and stretching resources," stated IOCC Director of Programs Mark Ohanian. "IOCC is prioritizing its response efforts with the distribution of essential items to the displaced, such as mattresses and other supplies, emergency medical treatment for the injured, providing access to water and other daily necessities."
Many of the displaced have chosen to move to the relative safety of Qamishly, approximately 50 miles north of Hasakeh. The IOCC team in Qamishly is making preparations to meet some of their immediate needs.
An estimated 6.6 million Syrians are currently displaced in their own country, and an additional 4.8 million are refugees. IOCC maintains one of the largest established networks in Syria delivering life-saving humanitarian aid to families displaced or affected by the ongoing civil war. IOCC's reach extends to large parts of Syria through programs that provide emergency relief with health, education, water, sanitation, hygiene, shelter, crisis counseling and economic recovery assistance. Since 2012, IOCC has provided humanitarian relief to four million Syrian people displaced in their own country, or living as refugees in Jordan, Lebanon, Iraq, Armenia, Greece and Serbia.
###
HOW YOU CAN HELP
You can help the victims of poverty and conflicts around the world by making a financial gift to the IOCC International Emergency Response Fund which will provide immediate relief, as well as long-term support through the provision of emergency aid, recovery assistance and other support to help those in need. To make a gift, please visit www.iocc.org or call toll free at 1-877-803-IOCC (4622), or mail a check or money order payable to IOCC, P.O. Box 17398, Baltimore, MD 21297.
ABOUT INTERNATIONAL ORTHODOX CHRISTIAN CHARITIES
IOCC is the official humanitarian aid agency of the Assembly of Canonical Orthodox Bishops of the United States of America. Since its inception in 1992, IOCC has delivered $580 million in relief and development programs to families and communities in more than 50 countries. IOCC is a member of the ACT Alliance, a global coalition of more than 140 churches and agencies engaged in development, humanitarian assistance and advocacy, and a member of InterAction, the largest alliance of U.S.–based secular and faith-based organizations working to improve the lives of the world's most poor and vulnerable populations. To learn more about IOCC, visit www.iocc.org.