IOCC Responds to Communities in South Carolina and the Bahamas Deluged by Deadly Floods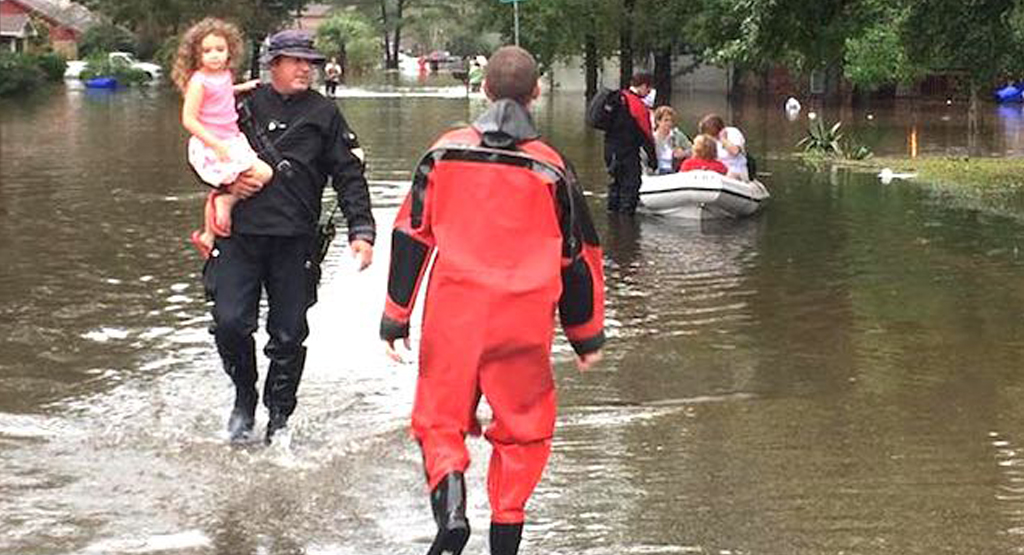 Baltimore, MD (October 6, 2015) — While the US East coast was spared the destructive force of Hurricane Joaquin reaching land, overwhelming levels of rainfall in its wake have deluged South Carolina. At least 17 people are dead and tens of thousands more people are without shelter, power, or drinking water.
International Orthodox Christian Charities (IOCC) has been in contact with Orthodox Church parishes in the most impacted areas of Columbia, Charleston, Myrtle Beach and Florence, South Carolina, and with ecumenical partners to determine the best response in the aftermath of the record rain and subsequent flooding. Members of the IOCC Emergency Response Network, known as Frontliners, living in the affected area have been called on for possible deployment as the needs emerge.
"Our thoughts and prayers go out to those who have lost loved ones to a storm that has claimed lives from the Bahamas up through the Carolinas," stated IOCC US Country Representative Daniel Christopulos. "We also pray for those who have suffered loss and damage to their homes and businesses and are committed to working with our Orthodox Church and ecumenical partners to do our part in helping those impacted."
In the Bahamas, IOCC has also been in contact with Annunciation Greek Orthodox Church in Nassau and is formulating the most effective response to the devastation caused there. Although Nassau and Grand Bahamas islands were unaffected, neighboring islands in the chain are reporting extensive damage.
HOW YOU CAN HELP
Assemble emergency kits. IOCC also anticipates the need for Emergency Clean-Up Buckets which are in low supply. For directions on how to assemble Emergency Clean-Up Buckets, please visit iocc.org/kits.
Make a donation. You can help the victims of disasters in the United States, like the flooding in South Carolina by making a financial gift to the United States Emergency Response Fund, or help Hurricane Joaquin victims in the Bahamas with a gift to the Bahamas Hurricane Relief Fund. Each fund will provide immediate relief as well as long-term support through emergency aid, recovery assistance and other support to help those in need. To make a gift, please visit iocc.org, call toll free at 1-877-803-IOCC (4622), or mail a check or money order payable to IOCC, P.O. Box 17398, Baltimore, MD 21297-0429.
###
IOCC is the official humanitarian aid agency of the Assembly of Canonical Orthodox Bishops of the United States of America. Since its inception in 1992, IOCC has delivered $534 million in relief and development programs to families and communities in more than 50 countries. IOCC is a member of the ACT Alliance, a global coalition of churches and agencies engaged in development, humanitarian assistance and advocacy.