IOCC Responds to Victims
of Tornadoes in the South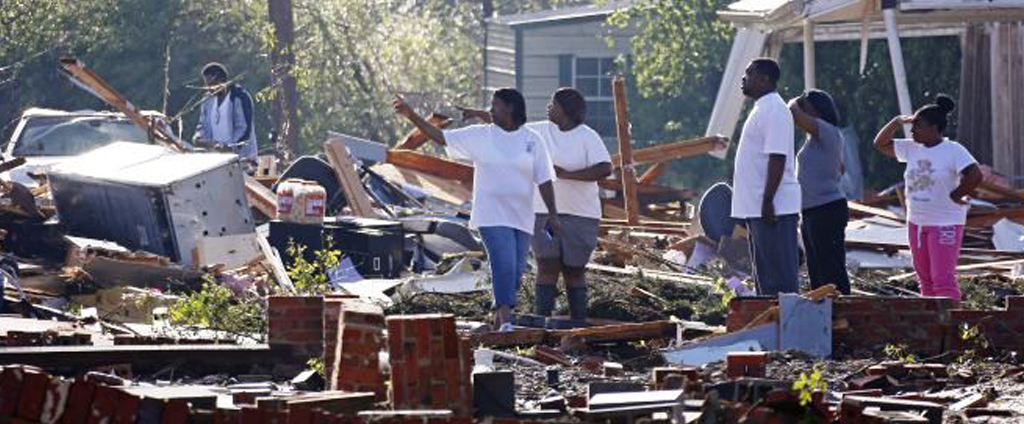 Baltimore, MD (May 2, 2014) — The powerful spring storms that spawned a cluster of damaging tornadoes this past week have affected the lives of millions of people across the South. At least 34 people across six states – Mississippi, Alabama, Tennessee, Arkansas, Oklahoma and Iowa – were killed and more than 200 injured in tornadoes that leveled entire neighborhoods and threatened more destruction in some of the most heavily populated parts of the country.
As survivors sift through the devastation left behind by tornadoes that ripped through their towns, please join IOCC in praying for the families and lost loved ones. "We are saddened by the loss of life and destruction that has accompanied the recent severe weather impacting the US heartland, and pray that our Resurrected Lord grant eternal rest to the departed and raise up those whose lives have been torn apart by these events," stated Dan Christopulos, IOCC U.S. Country Representative. "We are working through our Orthodox and ecumenical network to see how to best marshal our resources for the benefit of those impacted by this natural disaster."
HOW YOU CAN HELP
You can help the victims of disasters in the United States, like the Oklahoma Tornadoes, by making a financial gift to the United States Emergency Response Fund, which will provide immediate relief as well as long-term support through the provision of emergency aid, recovery assistance and other support to help those in need. To make a gift, please visit www.iocc.org, call toll free at 1-877-803-IOCC (4622), or mail a check or money order payable to IOCC, P.O. Box 17398, Baltimore, Md. 21297-0429.
IOCC also anticipates the need for Emergency Clean-Up Buckets which are in low supply. For directions on how to assemble Emergency Clean-Up Buckets, please visit www.iocc.org/kits.
###
IOCC is the official humanitarian aid agency of the Assembly of Canonical Orthodox Bishops of the United States of America. Since its inception in 1992, IOCC has delivered more than $438 million in relief and development programs to families and communities in 50 countries. IOCC is a member of the ACT Alliance, a global coalition of churches and agencies engaged in development, humanitarian assistance and advocacy.