IOCC Staff Member Gets Romanian Orthodox Church Honor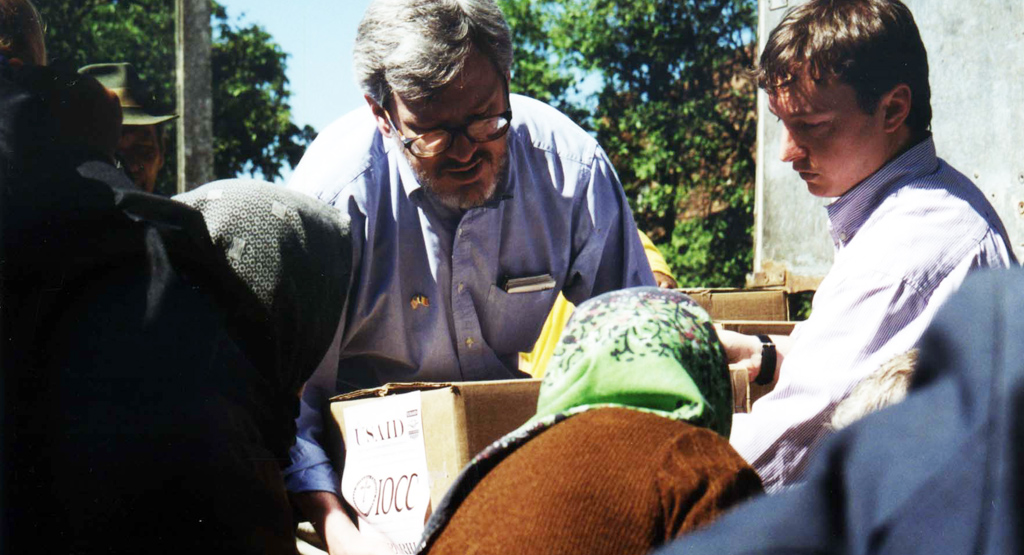 Baltimore, MD (May 9, 2003) — Nicholas Chakos, former program coordinator for IOCC-Romania, recently received the Patriarch Miron Cross, the highest lay honor granted by the Romanian Orthodox Church. The award is given for outstanding social service on behalf of the Orthodox Church.
Attending the April 18 awards ceremony in Bucharest were His Beatitude Patriarch Teoctist, His Grace Bishop Ciprian, IOCC-Romania Program Coordinator Will Clowney, and Chakos. Patriarch Teoctist commended Chakos for his work with IOCC in service to the Romanian people, especially during the floods of 2000.
"It was an awesome honor," Chakos said. "It's a strong validation of the great things that we've been able to accomplish there as IOCC. And it shows not only the great needs that exist in Romania but also how effective we can be as partners with the Church."
Chakos was granted the honor by a unanimous vote of the Holy Synod. The award is named after Patriarch Miron, the first patriarch of the Romanian Orthodox Church, who served from 1925-1939.
"This award exemplifies IOCC's commitment to maintaining strong relationships with the Orthodox Church wherever it works," said IOCC Executive Director Constantine M. Triantafilou. "It demonstrates that IOCC has been true to its mission as an agency of the Orthodox Church."
Chakos served at IOCC's Bucharest office for three years. In that time, IOCC provided emergency relief to victims of flooding, helped open a multi-purpose youth center in Bistrita, and began a project to prevent child abandonment and reintegrate orphans with their families.
Chakos, who now is program officer for European development at the IOCC Athens office, said he received the award on his last day in Bucharest. "I was called in to say my final farewell to the patriarch and to introduce Will (Clowney)," he said. "All of a sudden, the patriarch stood up and they told me to stand up, that they would like to present me with this award. I didn't even know this was coming."
The award, a large medal cross with the colors of the Romanian flag, is given to only two or three people a year.
Founded in 1992, IOCC is the official humanitarian aid agency of Orthodox Christians. In just 10 years, it has implemented more than $160 million in relief and development programs in 21 countries.
To learn more about IOCC's program in Romania and elsewhere, please visit www.iocc.org or call toll-free 1-877-803-4622.
###