IOCC's Frontline Clergy on the Ground in Iowa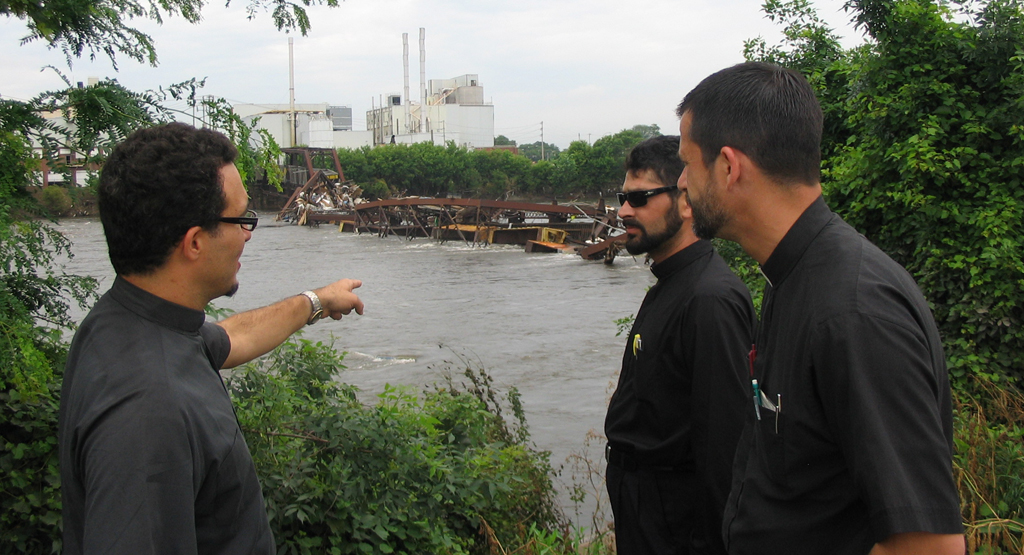 Cedar Rapids, IA (June 27, 2008) — Residents here spend their days piling debris outside their ruined homes. One woman who lost everything only cared about not finding her favorite picture of her daughter. "This is a vibrant community, which has been changed forever. People try to go about their daily lives and they can't deal with a lot of what's hitting them emotionally right now," says Father Chris Flesoras, a member of International Orthodox Christian Charities' (IOCC) Emergency Response Network, known as the "Orthodox Frontline," which is providing trauma counseling and coordinating resources with other charities on the scene.
IOCC's US Program dispatched the Frontline team to Iowa after a week of torrential rains caused the worst flooding to hit the Midwest in 15 years. Twenty-four people perished and more than 40,000 had to evacuate their homes in what is being described as the largest disaster since Katrina.
This Frontline team, which includes Orthodox clergy from California and Georgia, arrived in Des Moines and quickly went to work building a network of contacts and resources within the Orthodox community, various Catholic charities, and local hospitals.
Father Vasile Bitere, an IOCC Frontliner from Holy Trinity Orthodox Church in Augusta, Georgia, says that while "Des Moines residents were overwhelmed by the damage, what affected them more was the stress of repeating history. In 1993 the city was devastated by massive flooding."
The Frontline team then made their way to Cedar Rapids, which sustained much more damage. Local papers reported that of the 4,000 damaged homes, 2,000 were condemned.
The team met with the Orthodox community including clergy and parishioners from St. John the Baptist and St. George, and then on to the St. Raphael mission in Iowa City. While the churches did not sustain damage, some parishioners lost homes and possessions.
The IOCC team organized a pan Orthodox service of supplication to the Theotokos and performed stress management debriefings. "We offered them our ministry of presence," says Father Chris, who is pastor of St. Anna Orthodox Church in Roseville, California. "And we worked to link people with the resources we had gathered from different charities." Some of the help offered was as basic as filling out FEMA disaster claims and informing the survivors of other assistance options.
IOCC is also providing cash grants to Orthodox parishioners who have sustained damage and, and is partnering with Catholic Charities to reach out to the community at large. The Frontline team will make their final report to IOCC senior executives, who will then determine resources available for future assistance.
"This is going to be a long recovery process," says Frontliner Father Bob Fox, of St. Nicholas Orthodox Church in Northridge, California, "and people will experience a crisis of faith along with the day to day hardship of trying to recover homes and businesses."
Help us speed relief to the Midwest's devastated communities by making a donation today. Call IOCC's donation hotline toll-free at 1-877-803-4622, make a gift on-line at www.iocc.org, or mail a check or money order payable to "IOCC" and write "US Emergency Response" in the memo line to: IOCC, P.O. Box 17398, Baltimore, Md. 21297-0429.
IOCC, founded in 1992 as the official humanitarian aid agency of the Standing Conference of Canonical Orthodox Bishops in the Americas (SCOBA), has implemented over $275 million in relief and development programs in 33 countries around the world.
###