Iraqi Refugees Who Leave Homes for the Safety of Syria Still Face Challenges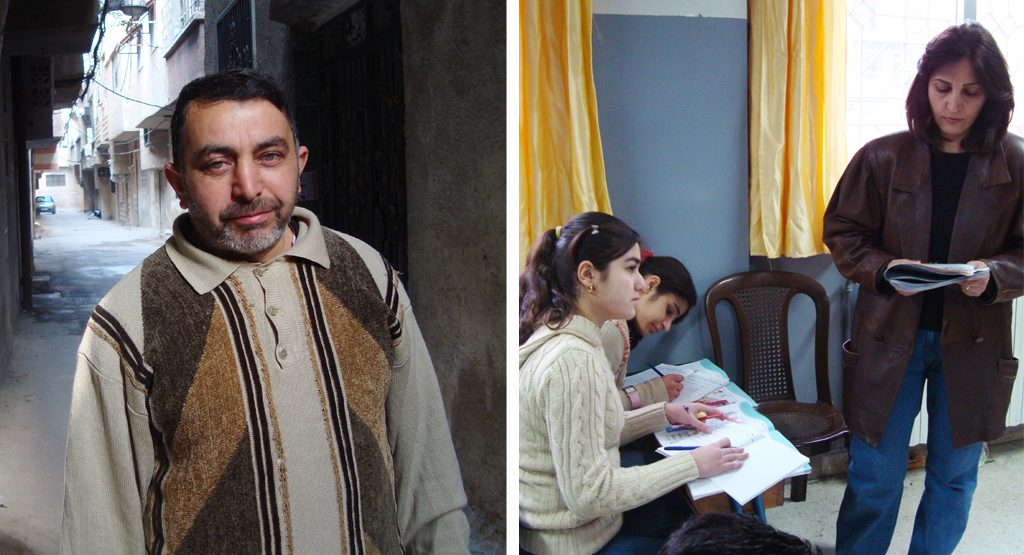 Damascus, Syria (February 22, 2008) — In the predominantly Shi'ite Set Zeinab section of Damascus lives an Iraqi tailor who spends his days making women's head coverings. Middle-aged Kazin explains to visitors that the light colored cotton fabric he uses is suitable for his poor eyesight, a result of the torture he suffered when he was a prisoner during the Saddam years. Once Kazin had been a prominent tailor with his own shop in Karbala, Iraq, but he was arrested because several of his clients were political dissidents. "I want to return to Karbala," says Kazin, "but I know that my shop was taken." When his veiled 16-year-old daughter, Fatima, enters the room and shyly greets the visitors, he says that his greatest hope now is that she will someday become a surgeon.
Gladys, an attractive woman in her early forties, enjoyed her work as a translator for foreign contractors in Baghdad. Her husband built restaurants for foreign companies in Falluja and Ramadi. After those companies left Iraq, three of Gladys's translator friends were murdered in Basra and Mosul, and she received death threats while waiting to enter the Green Zone where she hoped to find work. Today, she is a teacher in a private school in the Christian Geramana neighborhood of Damascus. She says she misses her specialty as a translator, and does not earn enough to support her family in Syria, where the influx of Iraqi refugees has increased the cost of living. "Daily we worry because we have to use our savings to meet the cost of the apartment and food," says Gladys. When aid workers visit her classroom she takes one aside and asks if they can help with her application to immigrate to the west. She can neither envision returning to Iraq nor staying in Syria.
Refugees who flee war and find safe haven are then faced with the problem of finding work to support their families. This is the greatest dilemma for the 4.2 million Iraqis who have been displaced from their homes since 2003. Of that number, 1.5 million live in Syria, a poor country barely able to provide jobs for its own people. Iraqi "guests" are not allowed to work, and aid agencies report increasing child labor and prostitution among the refugees.
International Orthodox Christian Charities (IOCC) is addressing what the U.N. calls the "fastest growing refugee crisis" with a $2 million program currently underway to assist 4,100 Iraqi refugees and disadvantaged Syrians with school tuition, uniforms, supplies and tutoring. Young people are also receiving the vocational training of their choice including hair styling, car repair, cell phone repair, sewing, computer training and English language classes. The program, funded by the U.S. State Department's Bureau of Population, Refugees and Migration (BPRM), is being implemented by IOCC's local partner in Syria, the Greek Orthodox Patriarchate of Antioch.
The children of both Kazin and Gladys are receiving tuition assistance through IOCC's program. While such aid doesn't completely solve the complex problems of refugees who can neither return to their homeland nor stay permanently in their host country, it is a first step towards addressing a crisis that some are calling the Middle East's ticking time bomb.
IOCC, founded in 1992 as the official humanitarian aid agency of the Standing Conference of Canonical Orthodox Bishops in the Americas (SCOBA), has implemented over $250 million in relief and development programs in 33 countries around the world.
###