Island Tsunami Survivors Getting Help after Earthquake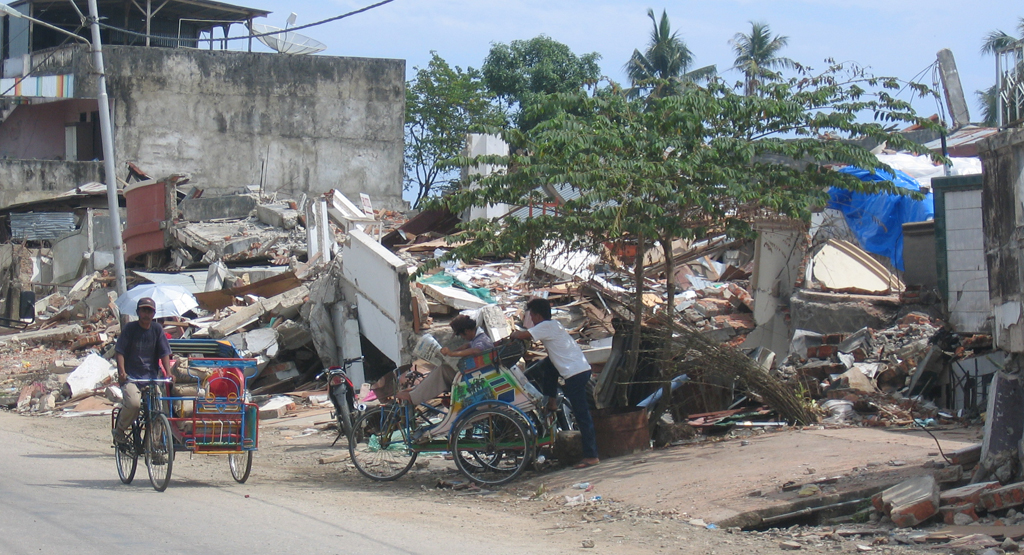 Baltimore, MD (March 31, 2005) — The people of the Indonesian island of Nias have now been doubly touched by tragedy.
Left homeless by the Dec. 26, 2004, earthquake and tsunami, many of the island's inhabitants now have no place to stay because of Monday's earthquake, said Yorgos Daskalakis of International Orthodox Christian Charities (IOCC), who helped provide assistance to the islanders in late January.
"They were living in makeshift barracks made out of corrugated metal, and these shelters have now sustained a lot of damage, or have collapsed altogether, because of the second earthquake," Daskalakis said. "Everybody was expecting a second tsunami to come and finish the job."
Once again, IOCC and its partners are responding to provide life-saving assistance to earthquake survivors on Nias island.
"It's a lovely tropical island, but its people are very poor," Daskalakis said. "Right now, they urgently need shelter, food, clean drinking water and medicines."
Monday's 8.7 magnitude earthquake caused extensive damage and loss of life on the predominantly Christian island, where humanitarian relief efforts are being concentrated.
IOCC is working with Church World Service to provide such critical items as tents, medicines, water purification equipment and sanitation facilities to survivors in the capital city of Gunung Sitoli and other affected areas of Nias island.
The relief items are being prepared in Medan, where IOCC's relief operations are centered, and include medicine boxes, 1,000 packages of non-food items (mattresses, blankets, etc.), 500 family tents, and water purification systems.
Monday's earthquake killed hundreds of people, according to news reports, and damaged up to 80 percent of the buildings in Gunung Sitoli. It was the second major earthquake to hit Indonesia in three months.
Since the Dec. 26, 2004, earthquake, IOCC and its partners have been providing life-sustaining assistance to survivors in Sri Lanka, Indonesia and Thailand.
That assistance includes nearly 300 medicine boxes, each with enough medical supplies for 1,000 adults and children for up to three months; fresh food parcels for people living in temporary camps and private homes on the east coast of Sumatra; thousands of health, hygiene and school kits; and $1.1 million in multi-vitamins, enough to provide 53,000 adults with a daily dose for a month.
Daskalakis and Fr. Chrysostomos Manalu, an Orthodox priest, traveled to Nias island in late January to distribute food and school supplies to people left homeless by the first earthquake and tsunami. "The places where I was are now flattened, completely flattened," he said after Monday's earthquake. "It was like a bomb had hit."
IOCC will continue to support local relief efforts, as well as rehabilitation and reconstruction projects, primarily in Indonesia, in the months to come.
Founded in 1992, IOCC is the official humanitarian aid agency of the Standing Conference of Canonical Orthodox Bishops in the Americas (SCOBA).
###