Jordanian Families Strain under Weight of Syrian Refugee Crisis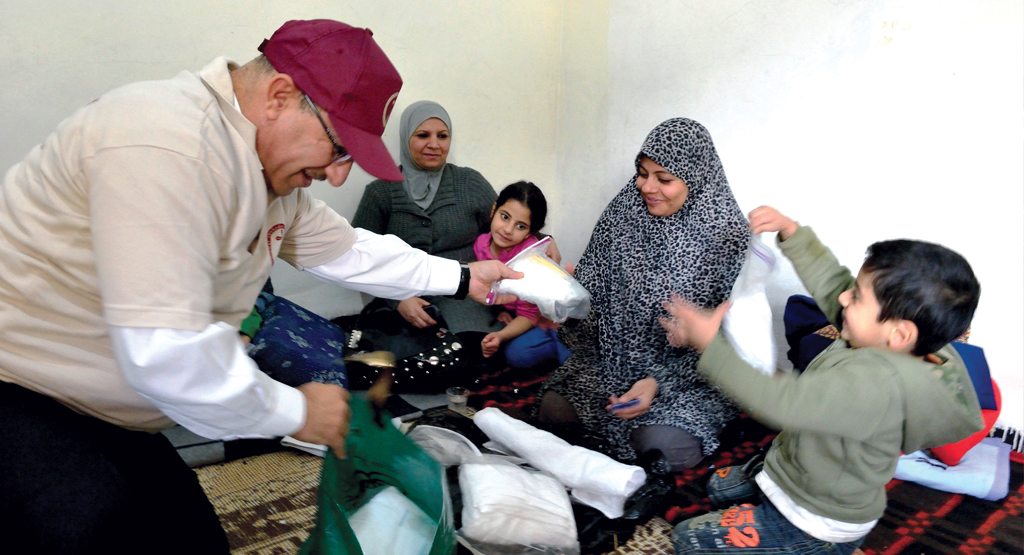 Baltimore, MD (July 26, 2013) — By day, Rasha is known throughout her church community in Amman as the compassionate woman who visits Jordanian families and Syrian refugees in need and brings them much-needed relief items such as blankets, food and personal hygiene kits provided by International Orthodox Christian Charities (IOCC) in Jordan. By night, few are aware that Rasha returns to her family and a life of poverty worse than many of those she seeks to help.
Her situation is shared by a growing number of Jordanians whose standard of living has suffered as a result of the Syrian refugee influx. With the flood of refugees who have arrived during the last two years seeking private accommodations over the conditions in the refugee camps, monthly rents are rising faster than wages for Jordanians.
The $220 in wages Rasha's husband earns each month are barely enough to cover rising rent and food costs, so that essentials like electricity and bedding have become unaffordable luxuries. Inside their cold and almost bare home, Rasha's two children of 5 and 7 years old sleep on the floor with only a tattered mattress and threadbare sheets between them and the cold, hard concrete.
Rasha's kindness to strangers in spite of her dire situation is a reflection of the challenges facing the people of Jordan as the country of seven million struggles to provide resources – water, food, electricity, healthcare and security – for the more than 560,000 Syrian refugees it has been hosting since the onset of civil conflict in 2011. The number of refugees is expected to swell to more than 1.3 million by the end of the year, according to the UN High Commissioner for Refugees. The rising demand for basic necessities is driving the cost of living up and out of reach for many Jordanians, and creating greater poverty among the country's own people.
While approximately 153,000 Syrian refugees – more than half women and young children – are settled in Za'atari camp along Jordan's border with Syria, the majority of Syrian refugees reside around the capital city of Amman and in rural settlements scattered across the country. Many of them live in tiny, ill-equipped apartments or crowded, rented rooms, vying with Jordanians for affordable housing.
IOCC, an ACT Alliance member, is responding to the immediate humanitarian needs of Syrian refugees and the growing number of Jordanian families who, like Rasha and her family, find themselves in increasingly difficult circumstances since the arrival of the refugees. Working from distribution sites across the country's most heavily affected areas, IOCC is providing families in need with housewares, bedding, hygiene kits, and supplies for children preparing to start school in the fall. For those refugees unable to travel to the distribution centers, IOCC is making home visits to assess their immediate needs and provide basic household and personal care items they left behind in flight to safety.
"As a result of our work in Jordan over the last eight years, we have been able to rapidly identify where Syrian refugees are living and reach out to them with humanitarian assistance," observed Erwin Temmerman, IOCC Country Representative for Jordan. He added that IOCC is expanding its relief efforts in Jordan to meet the rising demand for refugee assistance and emergency aid to vulnerable Jordanian people struggling to survive in a country where by year's end it is projected that one in every seven people will be a refugee.
Since 2005, IOCC has provided medical and education support to needy families as well as the distribution of basic humanitarian aid through a network that extends to most of Jordan's governorates. Through cooperation with local churches and community-based organizations, IOCC's network of assistance extends to some of Jordan's most remote areas.
IOCC's relief efforts in Jordan are part of its larger regional response to the Syrian crisis. Since 2012, IOCC has provided food, personal care kits, school kits, infant parcels, quilts, household items, clothing, thermal resistance rugs, medical assistance, housing and education support to more than 820,000 Syrian children, women and men displaced in their own country or living as refugees in Jordan, Lebanon, Iraq and Armenia.
HOW YOU CAN HELP
You can help the victims of poverty and conflicts around the world by making a financial gift to the International Emergency Response Fund which will provide immediate relief, as well as long-term support through the provision of emergency aid, recovery assistance and other support to help those in need. To make a gift, please visit www.iocc.org or call toll free at 1-877-803-IOCC (4622), or mail a check or money order payable to IOCC, P.O. Box 17398, Baltimore, MD 21297.
###
IOCC is the official humanitarian aid agency of the Assembly of Canonical Orthodox Bishops of the United States of America. Since its inception in 1992, IOCC has delivered $438 million in relief and development programs to families and communities in more than 50 countries. IOCC is a member of the ACT Alliance, a global coalition of more than 130 churches and agencies engaged in development, humanitarian assistance and advocacy, and a member of InterAction, the largest alliance of U.S.–based secular and faith-based organizations working to improve the lives of the world's most poor and vulnerable populations.