Community Kitchen Addresses Malnutrition Facing Syrian Refugee Families
March 12, 2014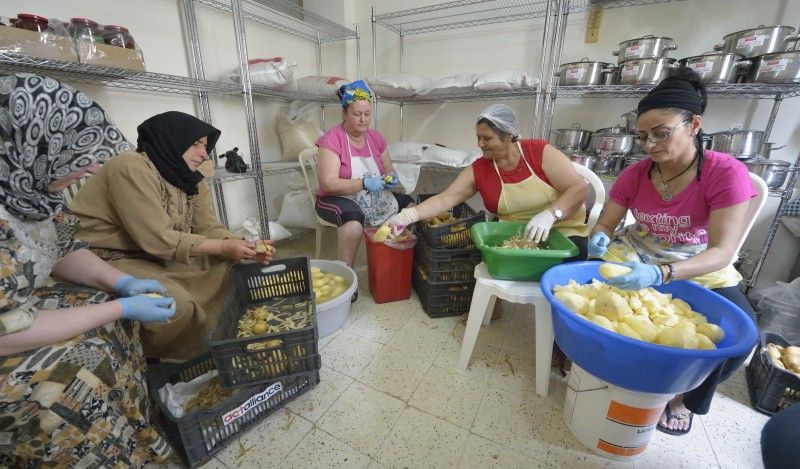 Baltimore, MD (IOCC) — Swirls of fragrant steam billow above large steel cauldrons as five middle-aged women stir thick, bubbling yellow lentil soup over gas burners. Six mornings a week, the three Lebanese women and two Syrian refugee women gather in the Akkar community kitchen created by International Orthodox Christian Charities (IOCC) to prepare a hot and hearty soup or stew that will feed 240 Syrian refugee families scattered across makeshift settlements in the Miniara area of northern Lebanon.
Most of the refugee families who receive the hot meals do not have kitchens equipped to properly cook food, or means to purchase the ingredients needed to make nutritious meals. In its ongoing efforts to stave off the threat of malnutrition among the refugees, IOCC equipped the community kitchen and trained the women hired as cooks to prepare meals in large quantities. The daily menu, which includes many traditional Syrian dishes, is overseen by IOCC nutrition experts to ensure that the meals are providing a balanced diet to the refugees.
Amid the bustle of the kitchen, Samar, 40, a Syrian refugee who fled Homs eight months ago with her husband and six children, reflects on arriving with no belongings and very little money. "My husband used to work as an employee in a company and we had a decent life in our own home in Homs. But then war came and took everything." The community kitchen not only helps nourish Samar's children, the wages she receives for working there also help sustain the family with desperately needed income.
Samar's Lebanese coworker, Zeina, 40, understands her pain, having experienced war firsthand during decades of conflict in Lebanon. "We endured war for 30 years here in Lebanon," said Zeina. "Our own homes were destroyed and we became refugees too, just like these families now. I know what they are going through, and I want to help. I want them to have hope and not to lose faith in humanity."
Zeina's hospitality and empathy are vital to the well-being of Syrian refugees who have arrived in Lebanon. The kitchen helps reduce the burden shouldered by some of the thousands of Lebanese families whose communities have been hosting Syrian refugees since the civil conflict began three years ago.
Samar, Zeina, and the other cooks at the Akkar community kitchen ladle the hot meals into more than 100 covered metal pots which will be delivered by van to Syrian refugee families in the area. One of the women receiving a hot meal is Nour, a widow caring for three children, including a son with Down's syndrome. "These meals you are sending us are really lifting a huge burden from my shoulders," said Nour. "A warm and healthy meal is what every poor mother dreams of for her family. We are so happy with this project. God bless all those involved in this plan and thank you for all your efforts."
Since March 2012, IOCC, an ACT Alliance member, has provided urgently needed humanitarian relief to more than 1.2 million Syrian people living as refugees in Lebanon, Jordan, Iraq and Armenia, or displaced inside their own country by three years of civil war.
###
How You Can Help
You can help the victims of poverty and conflicts around the world by making a financial gift to the International Emergency Response Fund, which will provide immediate relief, as well as long-term support through the provision of emergency aid, recovery assistance and other support to help those in need. To make a gift, please visit www.iocc.org or call toll free at 1-877-803-IOCC (4622), or mail a check or money order payable to IOCC, P.O. Box 17398, Baltimore, MD 21297.
ABOUT INTERNATIONAL ORTHODOX CHRISTIAN CHARITIES
IOCC is the official humanitarian aid agency of the Assembly of Canonical Orthodox Bishops of North and Central America. Since its inception in 1992, IOCC has delivered $438 million in relief and development programs to families and communities in more than 50 countries. IOCC is a member of the ACT Alliance, a global coalition of more than 140 churches and agencies engaged in development, humanitarian assistance and advocacy, and a member of InterAction, the largest alliance of U.S.–based secular and faith-based organizations working to improve the lives of the world's most poor and vulnerable populations. To learn more about IOCC, visit www.iocc.org.