Life inside Iraq: "We Have Become Accustomed to the Fear"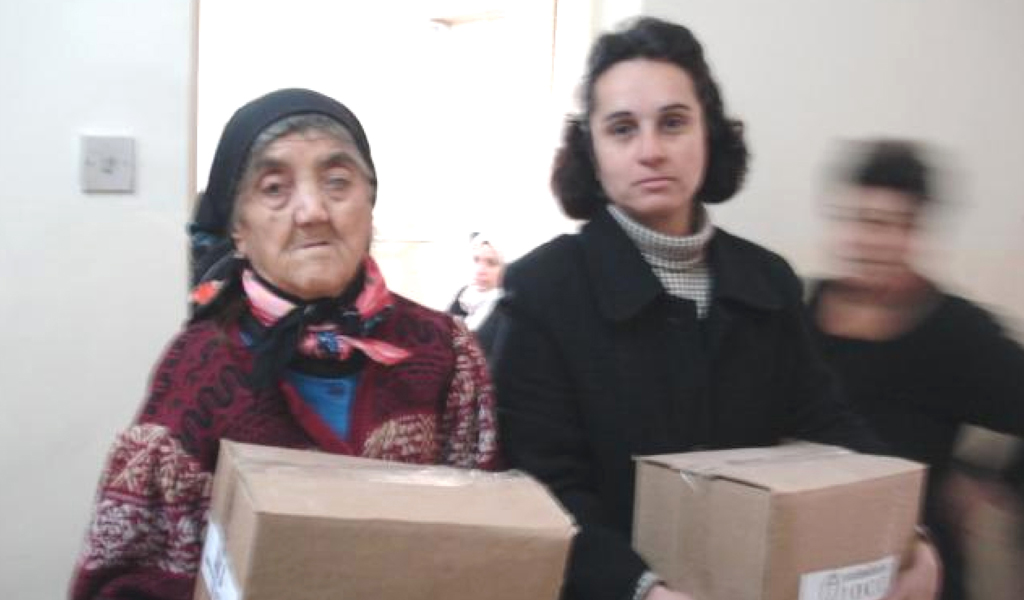 Baghdad (May 15, 2008) — Before the war came to Iraq, humanitarian worker Samuel* traveled from his home in Baghdad to his office in 15 minutes, but today he passes through six checkpoints in only four kilometers on his morning commute. Baghdad is divided by concrete walls and countless checkpoints.
"We enter through one gate and go out of the same gate, so this makes it very hard to get around," says Samuel. "Parents can't always take their children to school or go to work because a street will be closed off if they suspect a bomb. Some parents have stopped taking their children to school altogether."
Samuel works for International Orthodox Christian Charities (IOCC), which recently delivered food and hygiene kits to nearly 3,000 vulnerable families in Baghdad and Mosul in partnership with Action by Churches Together (ACT) International. Most Iraqis are dependent on the government's food rationing program, but the availability of food in Iraq today is worse than under Saddam Hussein's regime, says Samuel.
Iraqis also face other shortages. The government provides only two hours of electricity per day. Those who can afford it pay private companies for electricity. Water—when it is available—is undrinkable. Local public hospitals lack vaccines, beds, instruments, and perform only the simplest procedures. Private hospitals are in better condition but most Iraqis cannot afford them.
Due to the shortages, road blocks and checkpoints, the process of getting humanitarian supplies to the families that need them the most requires careful coordination. Supplies are purchased locally to help the economy, and Samuel scours the markets to get the most competitive prices. He then contacts various churches, Islamic charities, and local non-governmental organizations to get lists of families in need and to secure a location to store and distribute the supplies. He also compares his list of names with that of other aid organizations working in the area, such as the Middle East Council of Churches (MECC), to avoid overlap.
On the day of the distribution, Samuel is there to oversee the hand-off of supplies to each of the families. Names are checked off and signatures taken to record every transaction.
Each parcel is designed to supplement a family's basic nutrition and hygiene needs, and includes soap, laundry powder, spaghetti, cheese and beans, in addition to other items. Families assisted by IOCC include internally displaced persons, invalids, extended families, single-headed households, and the elderly.
IOCC continues to explore other opportunities for providing aid to Iraq. "Food and hygiene supplies will continue to be critical. We have heard that the government is going to eliminate food ration cards in 2009," says Samuel. IOCC has also worked previously with Iraq's Ministry of Social Affairs and with the Ministry of Education to repair schools and orphanages.
Many humanitarian workers have left Iraq, and some are now based in Jordan, but Samuel says he will not consider leaving. "I went to Jordan years ago but without adequate work, your savings will run out," he says, "and we have learned how to deal with not enough electricity, food, and water. We hear bombs all the time, but we have become accustomed to the fear."
IOCC began its operations in Iraq in 2003. In partnership with ACT International, IOCC provided food and hygiene kits to displaced families in Baghdad and Mosul. Between 2004-2006, IOCC also set up sewing and computer workshops, repaired kindergartens, distributed milk to school children, and repaired nine primary schools in Baghdad. After a 10 month suspension, due to the security situation, IOCC restarted its operations in Iraq in November 2007.
*Samuel's name was changed to protect his identity.
###