'Loaves & Fishes' Multiplying in Atlanta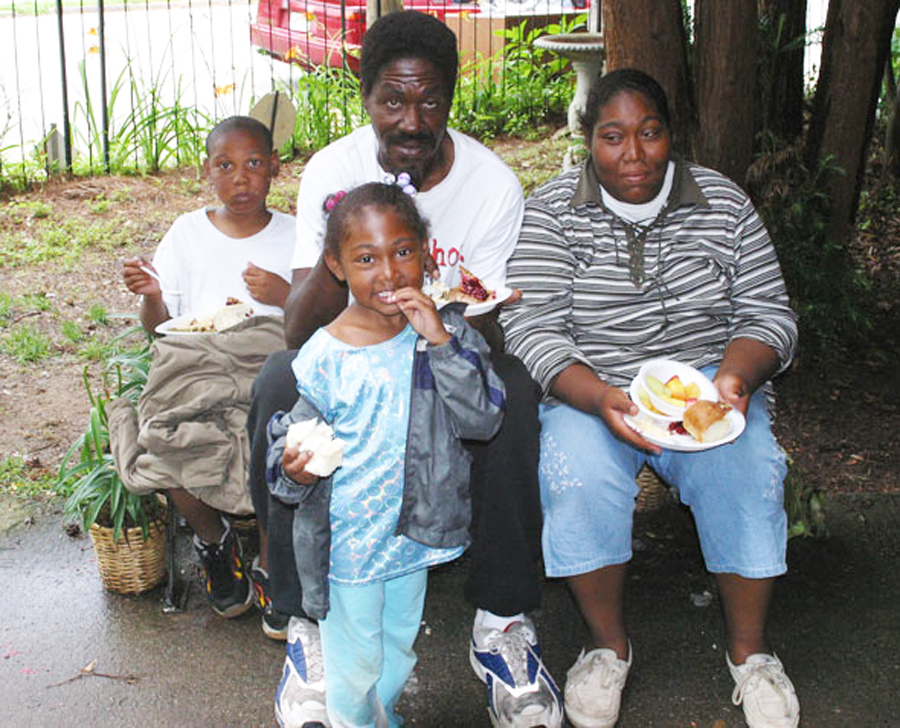 Atlanta, GA (August 18, 2003) — Orthodox Christians are known more for their food festivals than their food programs. But in places like Atlanta, that's changing.
In January, the 13 Orthodox parishes of Greater Atlanta, representing eight jurisdictions, began a cooperative effort to support the "Loaves & Fishes" food ministry of St. John the Wonderworker Orthodox Church (OCA) near downtown Atlanta. Since then, Orthodox Christians have been giving their volunteer labor, as well as donations of perishable and non-perishable food items, to assist the poor and homeless of inner-city Atlanta.
"It's been very helpful to us," said Fr. Jacob Myers, pastor of St. John's. "I haven't gone to the Atlanta Community Food Bank at all in the past six months because I've been able to rely on the Orthodox donations."
The pan-Orthodox effort was launched with the support of the U.S. Program of International Orthodox Christian Charities (IOCC) and under the auspices of IOCC's Atlanta Metropolitan Committee. It soon received the blessing of His Eminence Metropolitan Alexios of the Greek Orthodox Metropolis of Atlanta and the Orthodox clergy association of Atlanta.
"People are excited when they see something that's organized and unified," said Costa Panos, chairman of the Atlanta Metropolitan Committee. "It makes us more visible as Orthodox Christians and shows that we're working together to help alleviate poverty in Atlanta."
Panos said the current economic downturn has aggravated the problems of homelessness, poverty and hunger in Atlanta. The "Loaves & Fishes" program feeds up to 100 people every weekday at 10 a.m. and 2 p.m. What kind of food the people receive depends on donations, Fr. Jacob said. Individuals and families are served a hot meal or a sandwich, and families receive canned goods that they can take home with them.
Through collection barrels that have been set up all participating churches, parishioners are able to donate canned goods, which are delivered to St. John's once a week. Lately, hot meals have been donated from parish festivals and other parish events in the city. Metropolitan committee members have started soliciting donations of food from grocery stores and Orthodox-owned restaurants. Through monetary donations, Fr. Jacob is able to keep the program well-stocked with lunchmeats and other necessities.
"I was getting a little worn out after 10 years of doing it," he said. "This makes our job easier, and the people seem to enjoy having a unified service program in the city."
IOCC's U.S. Program Director Robert Pianka said the Atlanta initiative demonstrates how regional pan-Orthodox cooperation can have an immediate positive impact. "If we focus our resources, we can help more people, better and better, in more ways," Pianka said. "This combination of stewardship and the sharing of God's gifts in projects like 'Loaves & Fishes' is the essence of Orthodox philanthropy."
Fr. Jacob started the "Loaves & Fishes" program soon after St. John's was founded in 1989, a mile away from one of Atlanta's poorest neighborhoods. "There's an Orthodox principle that you never turn anybody away when they ask you for help," he said. "We could not ignore the fact that there were poor and homeless people all around us, and that they were hungry."
Panos said the energy behind the pan-Orthodox initiative has not waned. If anything, it's gotten stronger. "It's certainly awakened a lot of people to see the problems we're having in the city," Panos said. "People are starting to realize that making a little sacrifice once or twice a week goes a long way, especially if every Orthodox family does it. We want to get all Orthodox Christians into the habit of buying a little extra food and bringing it to church."
Pianka said the "Loaves & Fishes" program could serve as a model for other U.S. cities.
Founded in 1992, IOCC is the humanitarian aid agency of Orthodox Christians. For more information about IOCC's U.S. Program, please visit www.iocc.org or call toll-free 1-877-803-4622.
###