New School Removes Barrier
to Learning for Uganda's Children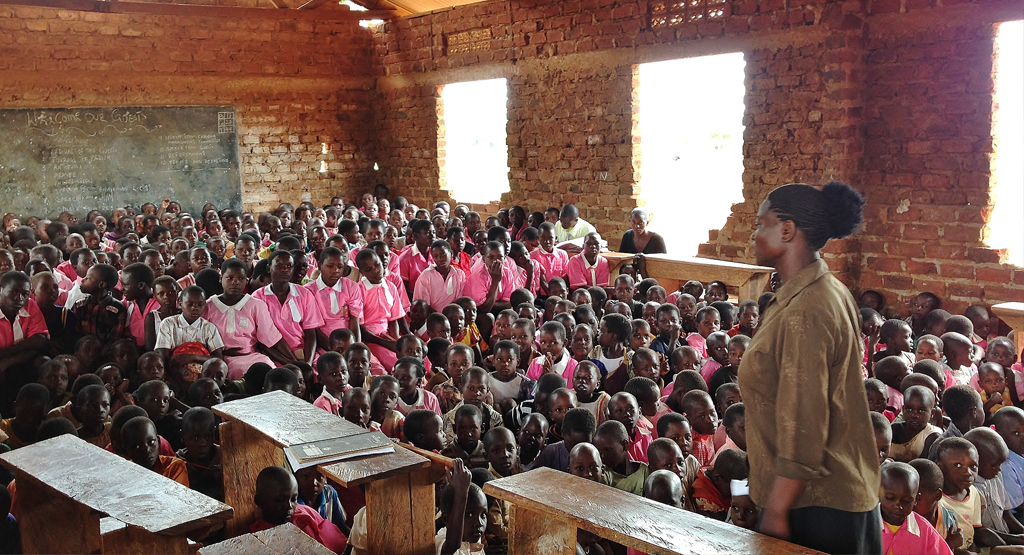 Baltimore, MD (July 23, 2014) — The one-room, red-brick village school near the shores of Lake Victoria in Butembe, Uganda, fills quickly each morning as hundreds of children, barefoot and humbly dressed, file in and sit shoulder to shoulder on the packed earth floor to receive their lessons. One teacher provides instruction for 500 students from kindergarten to eighth grade in two shifts, with children waiting outside for their class to be called. There are no desks, chairs or books, only a solitary chalkboard at one end of the room used by the teacher to instruct them in reading and math.
The children of Uganda have endured decades of unimaginable hardship, from civil war and economic decline to an AIDS pandemic that left a staggering 2.7 million of the country's children orphaned and millions more with no education. Those who tried to seek a better future through learning have been impeded by overcrowded schools and a chronic shortage of study materials and well-trained teachers. Recent efforts by Uganda's government to improve the quality of education through better school management and teacher training have resulted in a sharp rise in boys and girls completing their primary education. This, in turn, has spiked a demand for secondary education from older students who seek the knowledge and skills needed to face the challenges of adulthood.
The opportunity to pursue a secondary education is virtually out of reach for Butembe's older children. The village where they live is isolated, cut off from other communities and schools by a steep mountain ridge. International Orthodox Christian Charities (IOCC) is tackling this obstacle by improving access to learning for Uganda's youth. With the cooperation of the Holy Archdiocese of Kampala and All Uganda of the Greek Orthodox Patriarchate of Alexandria and All Africa and a generous grant from the St. Nektarios Education Fund, IOCC is constructing a new secondary school in Butembe. The 240-student capacity school will include four classrooms equipped with desks, chairs, essential teaching equipment, as well as bathrooms and a school office.
IOCC is also committed to improving health and hygiene conditions for the children. With funding from its Katherine Valone St. Photini Water Initiative, IOCC will provide a reliable and sustainable clean water system near the school to ensure that students have access to clean and safe water. The nearby lake that currently serves as the area's main water resource is contaminated and exposes the children and their families to life-threatening diseases such as cholera, diarrhea and dysentery.
"For the children of Butembe, it's like 10,000 Christmas mornings to be given this kind of opportunity and school," said Saint Nektarios Education Fund founder and chairman, Father Evan Armatas. "The elders in the village were desperate to welcome a secondary school. They saw the potential in their youth, but lacked the resources to nurture that potential into a better future for their children." Father Evan's desire to provide children in Africa a way out of poverty and hardship began 12 years ago while still a seminary student. Now a parish priest at Saint Spyridon Greek Orthodox Church in Loveland, Colorado, Father Evan and IOCC have partnered since 2010 to construct schools in Uganda and open the doors to education and opportunity for thousands of children. "We couldn't have found a more willing, professional, and efficient partner to take our vision, understand it, and make it happen. We couldn't have done it without IOCC," added Father Evan.
The Uganda Orthodox Church (UOC) has been involved in youth education for a long time and has constructed 75 schools and learning centers in the country. Through support from the St. Nektarios Education Fund, IOCC and the UOC have constructed Archangel Michael Orthodox School, a middle and secondary boarding and day school for more than 500 students in Gulu, northern Uganda, and Trenton White Memorial High School, a secondary school to accommodate 240 students living in the Lwemiyaga region of Uganda.
###
IOCC is the official humanitarian aid agency of the Assembly of Canonical Orthodox Bishops of the United States of America. Since its inception in 1992, IOCC has delivered $488 million in relief and development programs to families and communities in more than 50 countries. IOCC is a member of the ACT Alliance, a global coalition of more than 140 churches and agencies engaged in development, humanitarian assistance and advocacy, and a member of InterAction, the largest alliance of U.S.–based secular and faith-based organizations working to improve the lives of the world's most poor and vulnerable populations.