No Running Water For Two Million Syrians In War-Ravaged Aleppo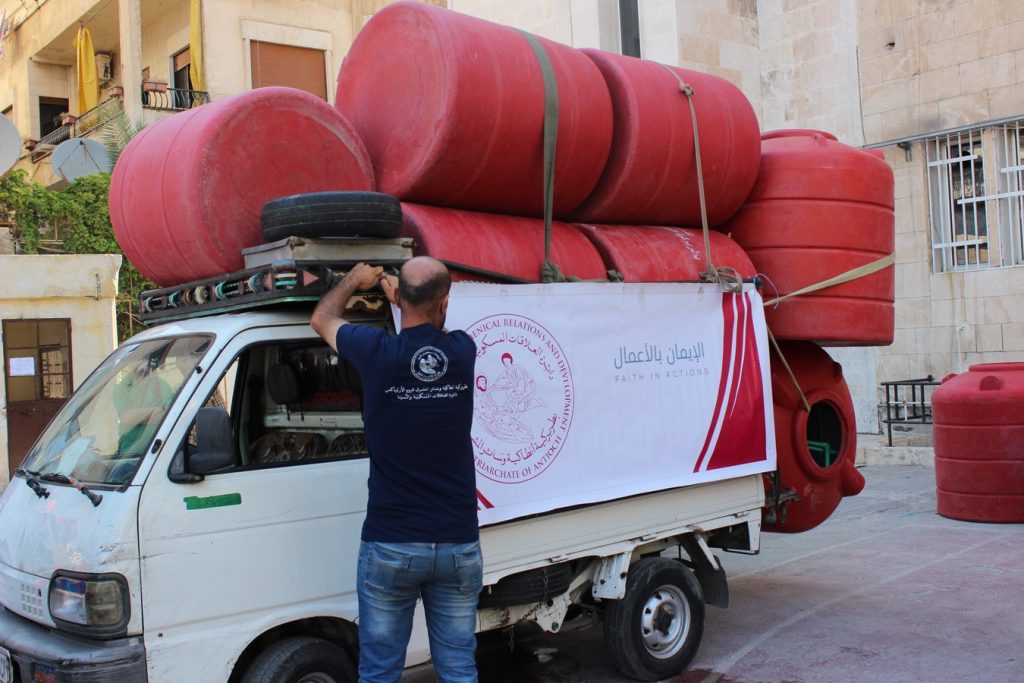 Baltimore, MD (IOCC) — Two million people in Aleppo, Syria have no access to running water after intensified fighting in the city damaged electrical networks needed to pump water into family homes. Lack of access to safe water in war-torn communities such as Aleppo has created a humanitarian emergency for Syrian families caught in the conflict. Many have had to resort to collecting water from unsafe sources, leaving them vulnerable to life-threatening waterborne diseases. IOCC with Syria partner, DERD, the humanitarian arm of the Greek Orthodox Patriarchate of Antioch, has been working in communities throughout Syria during the course of the war to ensure safe water access for families by digging new wells, restoring damaged water systems, and distributing water storage tanks and purification filters.
The situation is especially critical for displaced families with small children, like Mohammad. He fled with his wife and seven small children to a safer area of Aleppo last spring when their neighborhood came under attack. "We escaped from the fighting and now suffer from such extreme poverty," he said.
Mohammad supports his wife and his seven children with wages earned as a day laborer, but work isn't available every day. His greatest worry is that he can't provide safe water for his children and is forced to keep water in an old rusted barrel. "I know that when one of my children drinks from the water stored in a rusted barrel, he will get sick. However, I have no other choice – the tanks are so expensive and I cannot pay for one."
In Aleppo, IOCC has responded to the urgent water needs of displaced Syrians like Mohammad by distributing heavy duty plastic storage tanks to 225 displaced families. The two sizes of tanks distributed hold up to 132 gallons or 263 gallons of water. For Mohammad, the tank has eased concerns about the health of his children. "I received a big, clean water tank," Mohammad said. "My dream has come true and from now on, my children will drink clean water again."
Water tanks distributed by IOCC are usually filled through the public water network during the water rationing periods. When there is no electricity to power the water pumps, water trucking services fill their tanks with enough water cover the needs of a family for three days. The trucked water comes from wells established and treated by UNICEF and the International Committee for the Red Cross to ensure its safety.
In addition to improving access to safe water, IOCC has also been providing ongoing humanitarian relief to thousands of displaced and affected families in Aleppo including clothing, bedding, infant and hygiene kits; urgent medical care, including women in need of obstetric care; assistance to help displaced students continue their education; and crisis counseling for hundreds of children and parents displaced from their homes.
IOCC maintains one of the largest established networks in Syria delivering life-saving humanitarian aid. IOCC's reach extends to large parts of Syria through programs that provide emergency relief with health, education, water, sanitation, hygiene, shelter, crisis counseling and economic recovery assistance. Since 2012, IOCC has provided humanitarian relief to four million Syrian people displaced in their own country, or living as refugees in Jordan, Lebanon, Iraq, Armenia, Greece and Serbia.
###
HOW YOU CAN HELP
You can help the victims of poverty and conflicts around the world by making a financial gift to the IOCC International Emergency Response Fund which will provide immediate relief, as well as long-term support through the provision of emergency aid, recovery assistance and other support to help those in need. To make a gift, please visit iocc.org or call toll free at 1-877-803-IOCC (4622), or mail a check or money order payable to IOCC, P.O. Box 17398, Baltimore, MD 21297.
ABOUT INTERNATIONAL ORTHODOX CHRISTIAN CHARITIES
IOCC is the official humanitarian aid agency of the Assembly of Canonical Orthodox Bishops of the United States of America. Since its inception in 1992, IOCC has delivered $580 million in relief and development programs to families and communities in more than 50 countries. IOCC is a member of the ACT Alliance, a global coalition of more than 140 churches and agencies engaged in development, humanitarian assistance and advocacy, and a member of InterAction, the largest alliance of U.S.–based secular and faith-based organizations working to improve the lives of the world's most poor and vulnerable populations. To learn more about IOCC, visit iocc.org.