Orthodox Christian Volunteers Serve Their Neighbors in St. Louis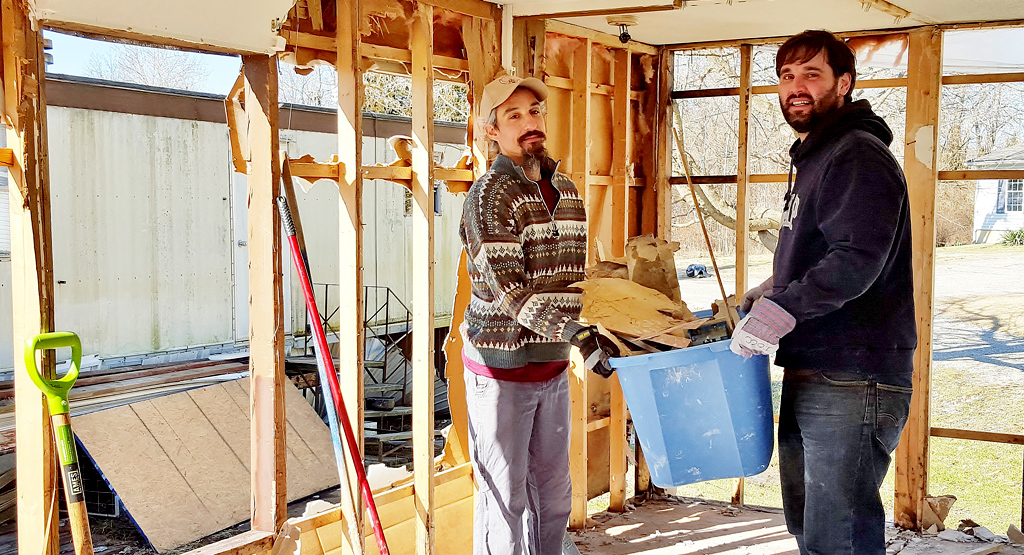 Baltimore, MD (March 17, 2016) — With support from International Orthodox Christian Charities (IOCC), Orthodox Christian parishes from suburban St. Louis, Missouri, responded to the needs of their neighbors by helping to clean out homes that were damaged following record-setting flooding this winter. During January and February, members of the young adult group of Assumption Greek Orthodox Church in Town and Country, Missouri, as well as parishioners of Ss. Constantine and Helen in Swansea, Illinois, and St. Nicholas Greek Orthodox Church in St. Louis, Missouri, helped clean out some of the more than 4,000 homes affected by the Christmastime flooding.
"The damage in the neighborhood where we were working was catastrophic," recounted Fr. Anastasios Theodoropoulos of Assumption Greek Orthodox Church, whose young adult group held an IOCC Saturday of Service in January. "The particular home that we were working in had been completely submerged by the rising river water, resulting in an almost total loss for the family. The family was grateful for our assistance, as it took us, along with another dozen or so volunteers from another Christian group, an entire day to pull out their destroyed belongings, carpets, drywall, and even the ceiling."
Floods in December 2015 severely damaged homes, businesses, and farms that line the Mississippi River and its tributaries in Missouri and Illinois.
"It was very emotional both for us to enter a family home and leave behind only a frame of 2×4s," said Fr. Anastasios. "The work gave us an opportunity to support our local community here in St. Louis and provided our parishioners an outlet to help our neighbors in what is certainly one of their lowest moments."
Kara Tsikalas, a high school sophomore, was one of the parishioners who participated, along with her parents. "I think that it's really important to help our neighbor, especially in the wake of natural disasters, and being able to be here, and meet those whose homes were destroyed, makes me realize that real lives are affected, and we need to help."
Support for community-based outreach by Orthodox Christians like the Saturday of Service in St. Louis is one part of IOCC's national Orthodox Community Action Network (Orthodox CAN!), which promotes volunteerism across all age groups.
"We are excited to support community-based efforts by Orthodox Christian parishes like this—not just in times of acute need but also in serving the ongoing needs of the communities where Orthodox Christians are present," said IOCC US Country Representative Dan Christopulos. "Through acts of service to our neighbors, we not only grow in our own faith but also have the opportunity to share the love of Christ in a tangible way."
IOCC is now equipped with an emergency vehicle carrying clean-up supplies and gear to support swift response to large-scale disasters in the United States.
"We are grateful for the continued support provided by Bill and Anastasia Hoeft to acquire and equip this vehicle to assist in disaster response efforts in the United States," said Christopulos. Its deployment after the flooding in the St. Louis area marked the first time the vehicle was utilized.
HOW YOU CAN HELP
You can help the victims of disasters in the United States, like the Midwest floods, by making a financial gift to the United States Emergency Response Fund, which will provide immediate relief as well as long-term support through the provision of emergency aid, recovery assistance and other support to help those in need. To make a gift, please visit iocc.org, call toll-free at 1-877-803-IOCC (4622), or mail a check or money order payable to IOCC, P.O. Box 17398, Baltimore, MD 21297-0429.
###
IOCC is the official humanitarian aid agency of the Assembly of Canonical Orthodox Bishops of the United States of America. Since its inception in 1992, IOCC has delivered $580 million in relief and development programs to families and communities in more than 50 countries. IOCC is a member of the ACT Alliance, a global coalition of churches and agencies engaged in development, humanitarian assistance and advocacy.