Orthodox Christian Youth Bring Help Locally, Globally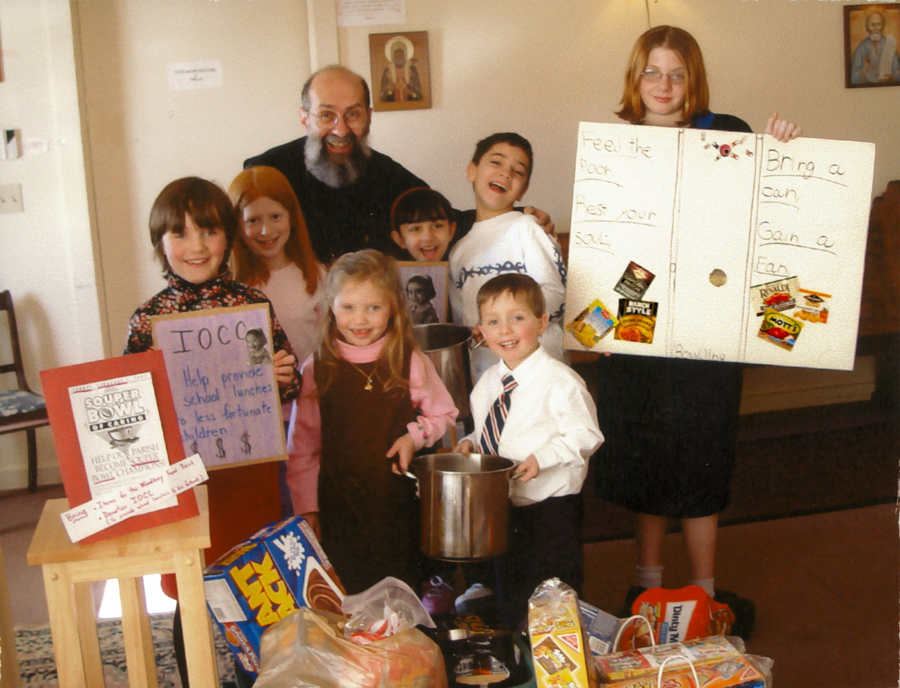 Baltimore, MD (December 17, 2004) — The children at Christ the Savior Orthodox Church in Southbury, Conn., are "small but mighty" when it comes to raising money for charity.
On February 1, 2004, when the nation's attention was on Super Bowl XXXVIII, they raised more than $300 for International Orthodox Christian Charities (IOCC) as part of the "Souper Bowl of Caring" event.
"They were really enthusiastic, and I think that's why the adults responded the way they did," said Fr. Vladimir Aleandro, pastor of Christ the Savior, a mission of the Orthodox Church in America (OCA).
Christ the Savior is one of a growing number of Orthodox parishes in the U.S. that participate in the annual "Souper Bowl of Caring," an ecumenical fund-raiser to help charitable organizations such as IOCC.
Their game plan is simple: collect dollars and nonperishable food items after Divine Liturgy on Super Bowl Sunday, Feb. 6, 2005, and give the material and monetary donations to charity.
IOCC, the humanitarian aid agency of Orthodox Christians, encourages participation in the "Souper Bowl of Caring" as a way to promote volunteerism and community service among Orthodox young people. IOCC also makes "Souper Bowl" materials available to parishes through a special mailing and on the Internet at www.iocc.org/souperbowl.
"I think the children were conscious that they were helping people both locally and all over the world," Fr. Vladimir said. "One little boy said, 'Wow, I hope somebody gets a really good meal from this.' "
In addition to raising money, the children collected 10 grocery bags full of nonperishable food items for a local food bank. The "Souper Bowl" activity was reinforced by the day's church school lesson, and a trip to the Woodbury Food Bank, Fr. Vladimir said.
The "Souper Bowl of Caring" began at a Presbyterian church in Columbia, S.C., in 1990 and has grown into a grassroots movement linked with the national pastime of Super Bowl Sunday. In 2004, more than 12,500 congregations, including many Orthodox parishes, participated and raised $4.5 million for various charities.
This year's game plan calls for young people to receive donations in large soup pots at their church exits. As parishioners leave worship on Super Bowl Sunday, they are invited to give a monetary and canned-good donation.
The young people, with the guidance of their youth leader or parish priest, can help locally by giving the food items to a food pantry or soup kitchen, and globally by send their monetary donation to a charity such as IOCC. "Souper Bowl" organizers expect 15,000 churches to raise support for worthy organizations nationwide in 2005.
By selecting IOCC as their charity of choice, youth groups will be able to support programs that feed and clothe vulnerable children and educate and train young people in 16 countries.
Once the donations are counted, each parish is encouraged to call 1-800-358-SOUP or visit www.souperbowl.org to report the amount collected, so that the efforts of Orthodox Christians can be added to the national total. All the money raised goes to the charities selected by the participants.
Since its founding in 1992, IOCC has helped people in more than 25 countries through programs of development, emergency assistance and community empowerment.
###