ORTHODOX YOUTH GAIN LEADERSHIP AND SERVICE EXPERIENCE THROUGH IOCC CONFERENCE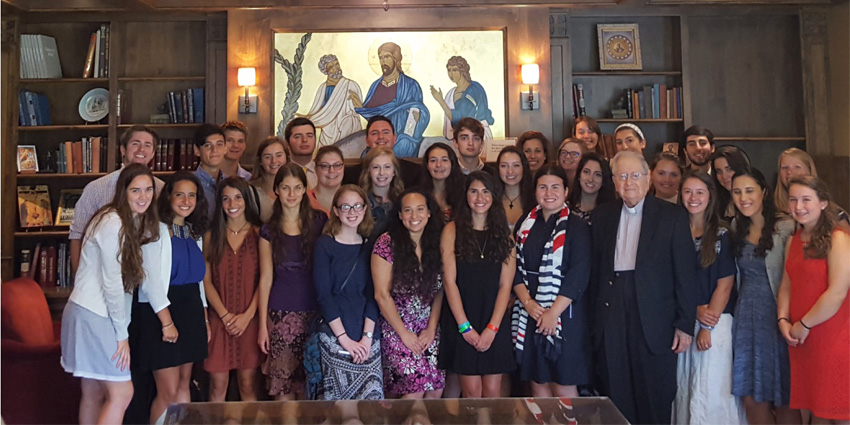 September 15, 2016
Baltimore, MD (IOCC) — More than two dozen high school seniors from eight Orthodox Christian jurisdictions across the US participated in the International Orthodox Christian Charities (IOCC) third annual Serv-X-Treme! Youth Leadership Conference in Minneapolis this summer. The conference was made possible the past two years by a generous grant from The Archbishop Iakovos Leadership 100 Foundation.
The 26 participants, who were each selected by their respective hierarch, came together to gain a deeper understanding of Orthodox philanthropy and diakonia (service) and to engage in meaningful service opportunities. They also participated in Orthodox worship during the eight-day conference and had the opportunity to forge new friendships with their Orthodox peers.
The Orthodox youth took part in hands-on service opportunities with a variety of organizations that provide services ranging from basic needs – meals, food, housing – to after-school programs and disaster response. One of the highlights of the volunteer experience was play time with children at the Twin Cities Boys and Girls Club. The Serv-X-Treme participants gained a new understanding of how important giving their time could be, even if it was just helping a child draw a picture or play a game of Duck, Duck, Goose. The participants also welcomed the opportunity to take on more physically demanding volunteer work and helped hang sheet rock at a Habitat for Humanity build project which provides affordable housing for families who can't typically qualify for a conventional loan.
"These young leaders from our parishes and our communities are newly equipped with practical ways to be service leaders from an Orthodox perspective, and they're already starting to implement what they've learned," stated IOCC US Country Representative and conference coordinator Daniel Christopulos.
The parent of one Serv-X-treme! participant reflected on how the experience had such a profound impact on her daughter.
"In her words, 'it was life-changing.' We hear this phrase thrown around quite often," said the mother, "but in this case the week altered her future plans. She is seeking more ways to stay connected to the Church and Orthodox organizations while in college."
IOCC anticipates hosting this conference again in the summer of 2017. Please reach out to your Hierarch if you know a student who would be a qualified candidate to participate. For more details about the program, please contact IOCC's US Program staff at usprograms@iocc.org.
###
ABOUT INTERNATIONAL ORTHODOX CHRISTIAN CHARITIES
IOCC is the official humanitarian aid agency of the Assembly of Canonical Orthodox Bishops of the United States of America. Since its inception in 1992, IOCC has delivered $580 million in relief and development programs to families and communities in more than 50 countries. IOCC is a member of the ACT Alliance, a global coalition of more than 140 churches and agencies engaged in development, humanitarian assistance and advocacy, and a member of InterAction, the largest alliance of U.S.–based secular and faith-based organizations working to improve the lives of the world's most poor and vulnerable populations. To learn more about IOCC, visit iocc.org.