Over 100 Health Care Kits Sent to Orthodox Communities Worldwide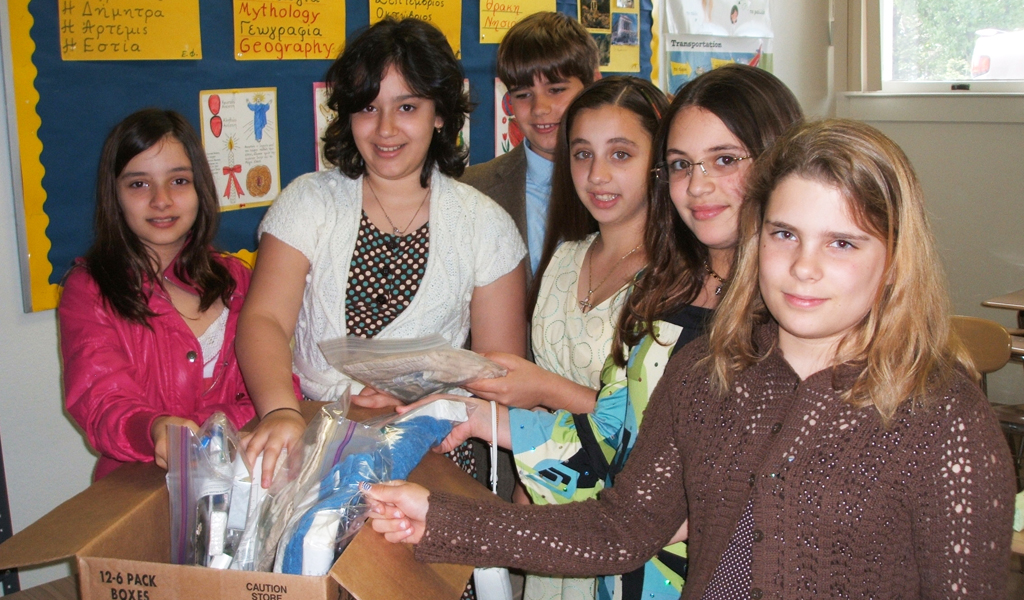 Clifton, NJ (June 2, 2008) — The St. George Church community – both adults and children of all ages – worked hard to create more than 100 health care kits that were sent to the International Orthodox Christian Charities (IOCC). These kits will be distributed worldwide, as needed, to Orthodox communities and others in need of help. Each kit contained basic necessities, like soap, toothbrush, comb and bandages.
This effort was part of a program put together by the Church School to increase awareness at St. George about the IOCC's efforts worldwide to help those Orthodox Christians and others in need. In addition to encouraging the creation of the health care kits, the Church School held an IOCC religious retreat attended by about twenty-five children and twenty adults on April 19 (Saturday of Lazarus).
"The IOCC retreat and effort to make the health care kits instills in all of us that we must follow Christ's command when he says, '…for I was hungry and you gave me food; I was thirsty and you gave me drink; I was naked and you clothed me; I was sick and you visited me,'" said Presvytera Margaret Orfanakos, Church School Director.
"The IOCC teaches you to open up your heart," said Tina Janulis, one of the church school students who participated in the retreat and making the health care kits.
To help pay for the postage for shipping the health care kits, the Church School put a collection basket out at the church's coffee hour on two Sundays. After taking into account the expense of the postage, the Church School had $100 left to send as a donation to the IOCC.
"I want to thank everyone in the Church community for coming together to make this retreat a success. Special thanks to Nick Janulis for spearheading this project. He worked to raise awareness, within our community, about the important work of the IOCC," said Barbara Pepe, Church School Assistant Director.
"One important thing that many of us learned about IOCC is that there are many different ways to get involved, even if you don't have a whole lot of free time," said Nick Janulis. "For instance, you can make a health care kit at your own convenience and send it to the IOCC. It doesn't necessarily have to be a part of a retreat. IOCC has instructions on its website, www.iocc.org, on how to make a health care kit and where to send it. There are other types of kits and projects also listed on the website."
Mrs. Pepe and Presvytera Orfanakos also want to thank the adult session presenter, Peter Salierno, and to the many Church School teachers who assisted in teaching the church school students. They are: Gina Pramagioulis, Chris Pandazis, Sandra Kleiner, Anita Poulos, Diana Pitskoulis and Catherine Youlios. They also want to thank the V. Rev. Ambrose Bitziadis-Bowers, who is the presiding priest at St. George, and Rev. John Orfanakos, pastor emeritus of St. George, for their spiritual support.
###