Patriarch John X Blesses Humanitarian Work of IOCC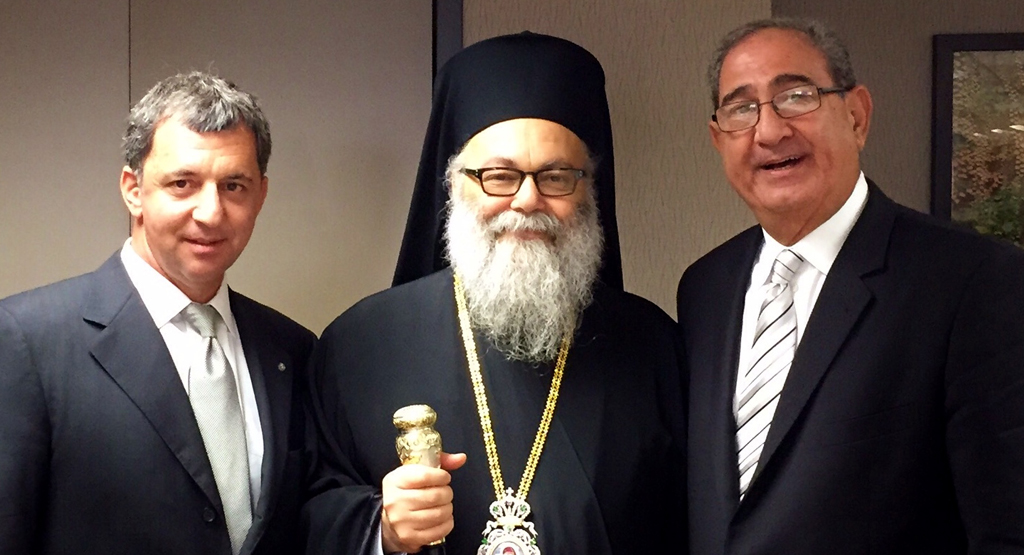 Baltimore, MD (July 24, 2015) — Speaking on behalf of the Assembly of Canonical Orthodox Bishops in the United States of America as Episcopal Liaison to International Orthodox Christian Charities (IOCC), Archbishop Nicolae of the Romanian Orthodox Archdiocese in the Americas welcomed Patriarch John X of the Greek Orthodox Patriarchate of Antioch and All the East and Metropolitan Joseph of the Antiochian Orthodox Christian Archdiocese of North America to a luncheon with the IOCC Board of Directors during the Antiochian Archdiocesan Convention in Boston on July 22, 2015.
Working in close partnership with the Greek Orthodox Patriarchate of Antioch's humanitarian arm, the Department of Ecumenical Relations and Development, IOCC has provided assistance to more than 3 million Syrians affected by civil war. During the luncheon, Patriarch John X blessed IOCC and its partnership with the Church in Syria, said IOCC Chairman, Mark Stavropoulos. Working in support of the Patriarchate's humanitarian efforts, IOCC has served more than 2.6 million people in need inside Syria since 2012.
###
IOCC is the official humanitarian aid agency of the Assembly of Canonical Orthodox Bishops of the United States of America. Since its inception in 1992, IOCC has delivered more than $534 million in emergency relief and development assistance to families and communities in more than 50 countries. IOCC is a member of ACT Alliance, a global coalition of more than 140 churches and agencies engaged in development, humanitarian assistance and advocacy, and InterAction, the largest alliance of U.S.–based secular and faith-based organizations working to improve the lives of the world's most poor and vulnerable populations.