Penelope House, Fortress for Battered Women and Their Children
IOCC Educates Children to Prevent Domestic Violence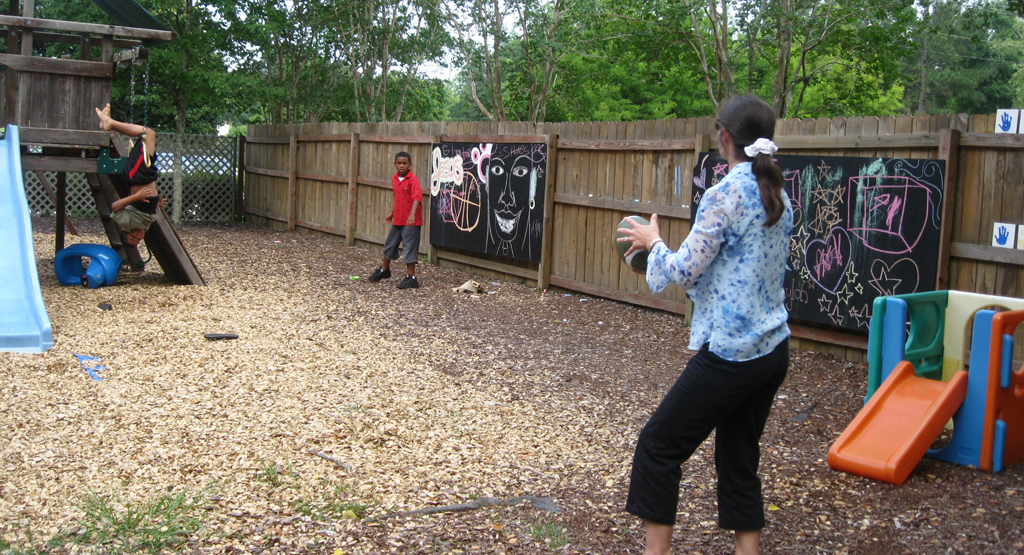 Mobile, Alabama (July 23, 2009) — Tonie Ann Torrans takes pleasure in describing Penelope House, the shelter she runs for battered women, as "Fort Knox." She leads a visitor through an electronic fence lined with barbed wire. A second fence will not open until they are cleared through a call box. The compound has lights, a security camera, a good relationship with local police, and – if that were not enough – "a third line of defense with the moat," said Torrans, referring to the reservoir ditch in front of the shelter that she hopes will make perpetrators think twice about trying to get to their wives or girlfriends.
Some are quite determined. "We've had gentlemen climb the fence, or park their cars nearby, or even make calls threatening the children if their partner didn't come out," said Torrans.
She excuses herself for a few minutes to check on a television crew from a local news station. Yesterday, a Mobile woman was shot and killed by her ex-husband in front of her parents. Torrans explains that the woman had moved her belongings out of the house, but when she went back to pick up some items, her ex-husband was waiting. "It's best to just leave your belongings and start a new life," said Torrans. "Women tend to minimize the danger or they justify it – 'well, he hit me because I burned the chicken' – but there is no justifiable hitting."
According to the National Coalition Against Domestic Violence, nearly 1 in 3 adult women are assaulted by a husband or partner. Of the 6 million women who are beaten each year by an intimate partner, 4,000 are killed, and only one-fourth of domestic violence cases are reported.
Domestic abuse laws are relatively new and not every state has declared domestic violence a crime. "If a man hit his wife and she called the police," says Torrans, "they might take him for a drive to cool him down, but he would not be arrested and the matter would be treated as a private affair." Penelope House was founded in 1979 in a two-room house by Torrans's mother, Kathryn Coumanis, a state social worker. Initial funding was provided by the Daughters of Penelope. This was Alabama's first shelter for battered women and their children. Today, it is one of 18 such shelters in the state.
In 1990, they moved to their current location, a compound large enough to accommodate 50 mothers and their children, although no one is ever turned away even if they are at capacity. In 2009, Torrans succeeded her mother as executive director having "grown up with Penelope House." At age 12, she was one of the shelters first volunteers. Six years later, she lost her best friend who was killed by her mother's ex-husband.
In 2008, about 1,000 women and their children received some form of help from Penelope House. The shelter has a 24-hour crisis hotline available 365 days per year to provide counseling. A woman is accepted into the shelter if she is in imminent danger. She is asked to arrive with a police escort and is then assigned a room and provided with food, clothing, and hygiene supplies.
The average stay is 35-40 days, but some women stay for as long as 6 months while they assess their situation with the help of a counselor and set life goals. The shelter also offers job training referral and transitional apartments. "They have to rebuild their lives, things as basic as getting a birth certificate or changing a workplace," said Torrans.
The shelter also provides court advocates to help women navigate the Mobile and Washington County court systems. The advocates provide information to victims about their rights and options in the legal system, assist with obtaining warrants and protection orders, and accompany them to court.
Torrans is a firm believer in community outreach and education to help prevent domestic violence – particularly among children who grow up thinking that violence is normal in relationships. According to Torrans, "most youth delinquency is caused by being raised in a home where there was domestic violence." IOCC recently provided a $19,000 grant to Penelope House's Prevention Education program for grades K-12. Counselors from the shelter teach Mobile schoolchildren to cope with stress at home, learn what safety measures to take when there is violence, and know where to go for help. In the 2008-2009 school year, they reached 20,000 children with messages of prevention.
Like most non-profits in this economy, Penelope House is experiencing cutbacks in giving. It affects their services and the women they help who may have to stay at the shelter longer because relatives or friends can't take them in. Torrans, however, is staying focused on her ultimate goal: "Provide a safe place for women in danger and help them get back to themselves."
If you would like to help IOCC's US program support projects like Penelope House, call IOCC's donation hotline toll-free at 1-877-803-4622, make a gift on-line at www.iocc.org, or mail a check or money order payable to "IOCC" and write "US Emergency Response" in the memo line to: IOCC, P.O. Box 17398, Baltimore, Md. 21297-0429.
IOCC, founded in 1992 as the official humanitarian aid agency of the Standing Conference of Canonical Orthodox Bishops in the Americas (SCOBA), has implemented over $300 million in relief and development programs in more than 33 countries around the world.
###