Philadelphia Children Send IOCC Kits to Children in Need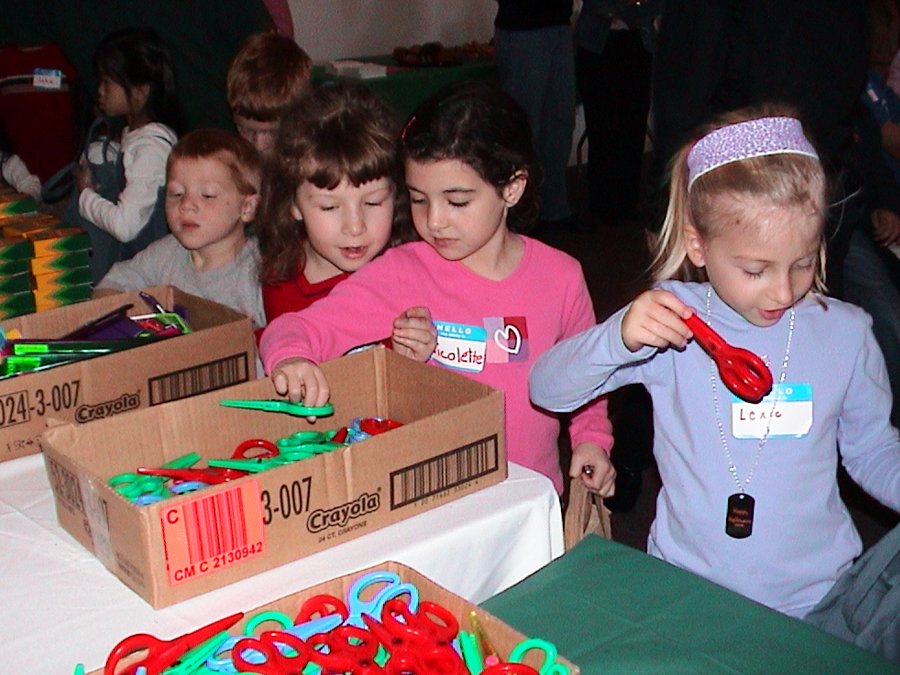 Philadelphia, PA (December 4, 2003) — The children lined up single-file behind the table, where, spread out before them, was a "buffet" of school supplies.
The fellowship hall of St. Sophia, Sts. Faith, Hope & Charity Greek Orthodox Church in Jeffersonville, Pa., buzzed with excitement as each child took a cloth bag and filled it with the supplies – crayons, rulers, scissors, pencils, pencil sharpeners, erasers and other things.
When the children were done, 200 school kits were assembled and ready for distribution to children in need around the world.
"It's important to share what we have with other people," said William Galiatsatos, 12. William and his sister, Effie, 11, were among 60 children from the Philadelphia area who assembled the school kits for International Orthodox Christian Charities (IOCC) on Saturday, Nov. 22.
The service project is one way that Orthodox parishes in the United States are partnering with IOCC, the humanitarian aid agency of Orthodox Christians, to help children in need.
"As Christians, Christ gives us the power to do good with our lives. Today, we came together to do good," Fr. James Pavlow, pastor of St. Sophia's, told the children. "Today, we did a little thing to make this imperfect world perfect. We still have a lot of work to do."
Other participating Orthodox parishes were Annunciation Church, Elkins Park, Pa.; St. Sophia Church, Valley Forge, Pa.; St. Demetrios Church, Upper Darby, Pa.; St. George Cathedral, Philadelphia; St. Luke Church, Broomall, Pa.; and St. Thomas Church, Cherry Hill, N.J. Each church donated supplies for the kits.
"This effort demonstrates the tremendous volunteer energy of Orthodox Christians in the United States," said IOCC Board Member Dr. Beverly Yanich. "Through the school kit project and other initiatives, IOCC is working to channel this energy into effective, meaningful service on behalf of people in need."
The school kit project is made possible through a special arrangement with IOCC's partner Church World Service and its "Gift of the Heart" program, and through the active involvement of Orthodox children across the country.
"Sometimes I just like to help others," said Maria Eliades, 9, noting that it's hard to imagine some children not having basic school supplies.
"They don't have anything," said Roula Kavallieratos, 11. "It's neat to be able to help them."
Fr. Pavlow offered a spiritual reflection after all the school kits were assembled. The event was organized by the Delaware Valley Youth Commission of the Greek Orthodox Metropolis of New Jersey.
IOCC first began promoting the school kit project in August 2003 with the publication of its children's prayer journal, which the Youth Commission helped fund.
Individual children also can assemble the kits and send them to Church World Service, which has agreed to handle the warehousing and processing required for international shipments of humanitarian assistance.
IOCC is distributing the kits to children served through its program overseas. A shipment of more than 15,000 school kits has already been delivered to school children in the Republic of Georgia as part of a larger IOCC education program. The partnership with Church World Service significantly reduces the overhead costs of the shipments.
Providing students with necessary school supplies is just one way that IOCC helps children and young people around the world — through programs of dental hygiene, counseling, vocational training, good nutrition, and computer literacy.
Kits will be accepted on an ongoing basis, but the earlier the kits are contributed, the faster they can be shipped to children who need them.
###