Plight of Syrian Refugee Mothers Focus of IOCC Aid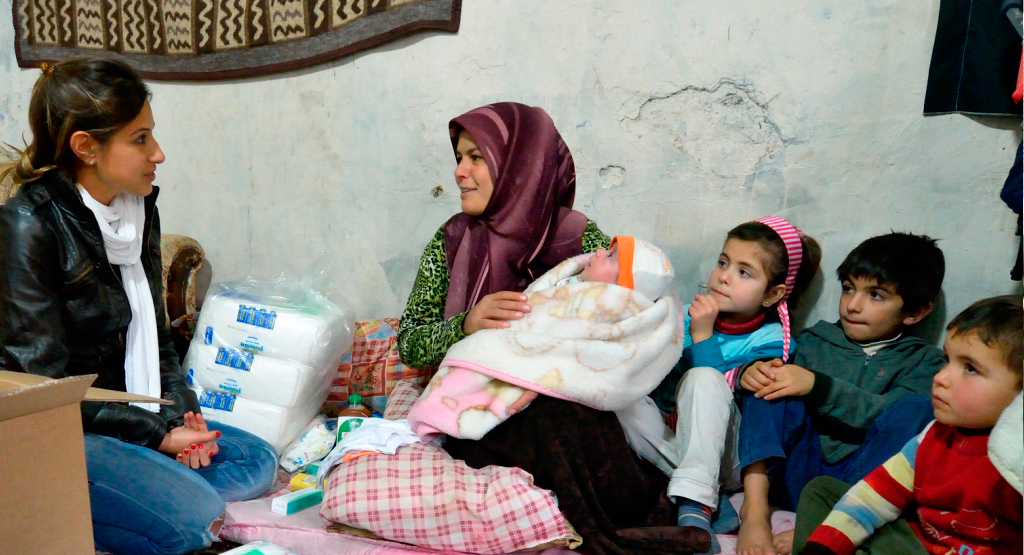 Baltimore, MD (January 18, 2013) — When Khawlah fled her home in Syria with a two-week-old son in her arms and his three siblings gathered around her, she was instructed to pack only what her family needed in order to survive. Any precious space in the car transporting them was needed to fit them all in. Thinking only of her children, the young mother jam-packed her children's most basic necessities into one small bag. Khawlah's husband handed her all the money they had to pay for the journey and said their goodbyes. She and the children made it to Lebanon safely, but are now penniless and without any possessions.
Thousands of young Syrian mothers share Khawlah's plight, women who fled the conflict in Syria either pregnant or with newborns with little, if any, money or personal belongings. Most of the women also have other young children and almost all of them left without their husbands. International Orthodox Christian Charities (IOCC), a member of the ACT Alliance, is working to meet the needs of these vulnerable women with the distribution of special personal care kits filled with important basics which are often forgotten and difficult to ask for in a society where a woman's needs are not discussed.
Working in partnership with the ACT Alliance and United Nations humanitarian agencies, IOCC distributed "dignity kits" to 2,000 Syrian female refugees in Lebanon. Each kit contains feminine hygiene products and personal care items such as bath towels and new undergarments. Most of the kits were distributed to young women who were either expectant mothers or had recently given birth. "Providing protection and humanitarian assistance to vulnerable groups such as women with young children is integral to our ongoing relief efforts," said Mark Ohanian, IOCC director of programs. "They need someone to support their well-being so that they can continue to support their families."
"I had nothing!" said Khawlah. "A mother always puts her children ahead of her, but she has needs too." For Khawlah, the kit not only provides her with some of the items she desperately needed and couldn't easily have, but also provides reassurance that she and thousands of women like her are not forgotten. "This kit is going to be extremely helpful to me, I truly need it. People don't know that in some circumstances, any help is a great one." The dignity kit distribution is part of a larger effort by IOCC to provide Syrian refugee mothers with infants support in emergency nutrition.
Syria's widespread conflict has forced more than 600,000 people like Khalwah and her children to leave everything behind and flee for their lives to neighboring countries. As thousands more refugee women and children arrive each day in Jordan's Za'atari Camp and Lebanon's Bekaa Valley, IOCC is working earnestly in the host countries to keep up with the growing demand for urgent relief items such as blankets, heaters and winter clothing. The sweeping violence has also left more than 1.5 million Syrian men, women and children displaced in their own country, where IOCC is working in cooperation with the Greek Orthodox Patriarchate of Antioch and All the East (GOPA) to deliver emergency relief items to families trying to survive in the dead of winter without enough food, heating fuel and basic necessities like blankets and hygiene items.
HOW YOU CAN HELP
You can help the victims of poverty and conflicts around the world, like those in Syria, by making a financial gift to the International Emergency Response Fund which will provide immediate relief as well as long-term support through the provision of emergency aid, recovery assistance and other support to help those in need.
To make a gift, please visit www.iocc.org or call toll free at 1-877-803-IOCC (4622), or mail a check or money order payable to IOCC, P.O. Box 17398, Baltimore, MD 21297.
###
IOCC is the official humanitarian aid agency of the Assembly of Canonical Orthodox Bishops in North and Central America. Since its inception in 1992, IOCC has delivered more than $400 million in relief and development programs to families and communities in 50 countries. IOCC is a member of the ACT Alliance, a global coalition of more than 130 churches and agencies engaged in development, humanitarian assistance and advocacy.