Presvytera Takes Leap of Faith
By Presvytera Stephanie Panagos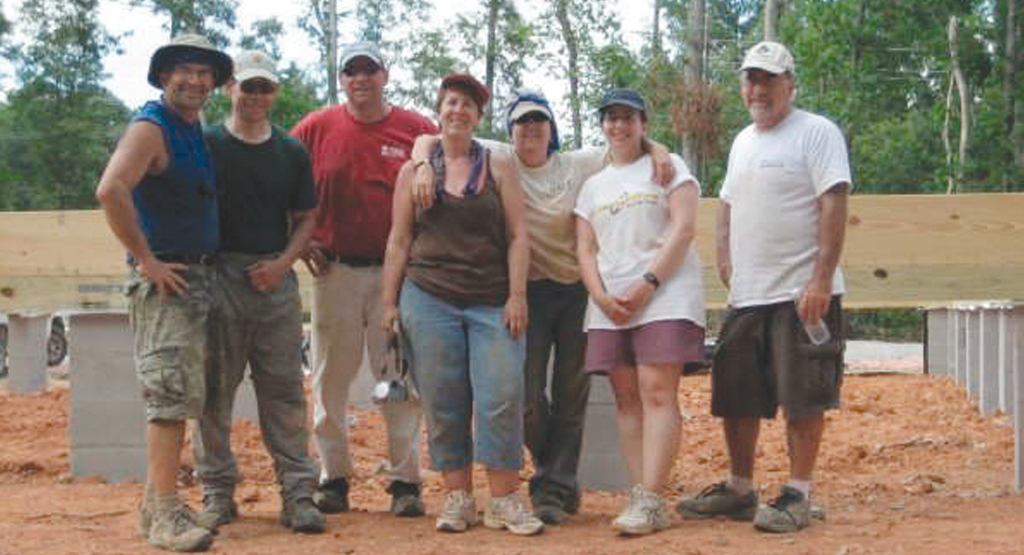 Since 2006, IOCC has been sending hundreds of Orthodox volunteers from throughout the U.S. to help build new homes on the hurricane-battered US Gulf Coast. Presvytera Stephanie Panagos gives a firsthand account of what it was like to make a difference.
Baltimore, MD (May 13, 2009) — "Where are you from, Presvytera?" is a common opening question that I often struggle to answer. I was born in California and lived there for 32 years before marrying a guy named Dean who happened to want to become a priest. Since becoming a presvytera some sixteen years ago, I have packed our household six times. And, I've had to say tearful goodbyes six times.
So, where am I from? Where is home? A frame in our family room displays a picture of the four of us from various places we have lived and the message, "Wherever you are, that is home." I draw strength from that. God has placed Dean, Eleana and Chrysanthy by my side – and wherever we are, that is my home. But still, I can't help missing my family and friends in California. And, to be honest, sometimes I miss just being Stephanie.
Although it isn't easy to walk into a new church and find your place among those who have been together for years, the church does offer a place of familiarity. And, if you are lucky, the people will be kind and welcoming.
For most people, the opportunity for this fellowship is only experienced on Sunday mornings. Have you ever wondered what happens to these newcomers the other six days of the week?
I'm pretty sure that I am not alone in my struggle and longing to belong. It wasn't until I took a leap of faith and traveled with International Orthodox Christian Charities (IOCC) to volunteer on the Gulf Coast that I realized that what I was looking for wasn't really found within the walls of 200 Hempstead Street. No, my friends, it is bigger than that. What I learned as I toiled for five days in the blazing Louisiana sun was that it isn't enough to go to church. To really belong, you need to be the church.
Earlier this year, I clicked on iocc.org and saw an article about IOCC's "Volunteer in the Gulf Coast" program through Habitat for Humanity to build new homes for families that had been devastated by the 2005 Hurricane season (Remember Katrina?). Weeks later I mustered the courage to send an email to inquire about the details. It was all too easy. Just send a small donation and they would do the rest. So, I had to decide: Do I talk the talk, or walk the walk? I mailed the check.
Weeks later an email arrived with my flight details. I was now committed, and I couldn't back out. I was headed to the New Orleans area to work on a new home. That's pretty much all I knew. Oh, I was supposed to bring a sleeping bag and my own towels. I kissed my kids and husband goodbye. As I walked into the airport, Tim McGraw's "Live Like You Were Dying" was playing. Really.
I arrived in New Orleans and was met by an IOCC representative who introduced me to my team members. He then took us to our new "home" for the week. A simple retreat-like setting where we would sleep, cook our meals, and enjoy fellowship. Our team consisted of five Orthodox Christians from various states and one from Canada. We clicked immediately. It was as if we had known each other for years.
Our first full day together was spent touring New Orleans, specifically the areas affected by Hurricane Katrina. I am pleased to say that Holy Trinity Orthodox Church, which was underwater, is today restored and beautiful. The homes surrounding the church, however, are still under re-construction. FEMA trailers are everywhere. The smell of mold lingers. Some houses are vacant; the homeowners just walked away.
The next day we awoke early and drove to the Habitat for Humanity office for our morning meeting and prayer. Each day starts with the volunteer groups praying together. Nice. Our group was assigned to Hope Village II. Our foreman explained that we would spend our five workdays putting in the flooring system and porches on four houses which would be finished by volunteer groups later that month. Needless to say, I was more than a little apprehensive as I have no construction experience whatsoever.
We worked hard. Really hard. And it was hot. Really hot. After hammering in what felt like the 1,000th nail of the day I thought: a simple piece of metal – a nail – once changed the world when Christ was crucified. And now, nails pounded by simple sinners like me are changing the world one at a time. For the first time in a long time, I felt "home." I was making a small difference in this very large world. I stashed that nail in my pocket, fought back tears, and continued until quitting time.
As our fifth work day came to an end, our team lingered by "our homes" and reflected on an amazing week. We imagined the four families sitting together on the porches we built. Did I find what I was looking for? I found more. I felt the hand of God on my hand with each nail I hammered, each pile of wood I moved, with each task I encountered. He not only led me to this very challenging experience, He carried me through it. And He brought five amazing people into my life. We arrived as strangers and left bonded as friends having experienced something very powerful together. Oh, and that nail I tucked into my pocket on the jobsite? – I still carry it as an anchor of strength.
IOCC, founded in 1992 as the official humanitarian aid agency of the Standing Conference of Canonical Orthodox Bishops in the Americas (SCOBA), has implemented over $300 million in relief and development programs in more than 33 countries around the world.
###