Project Opens Doors to Jobs and Hope in Gaza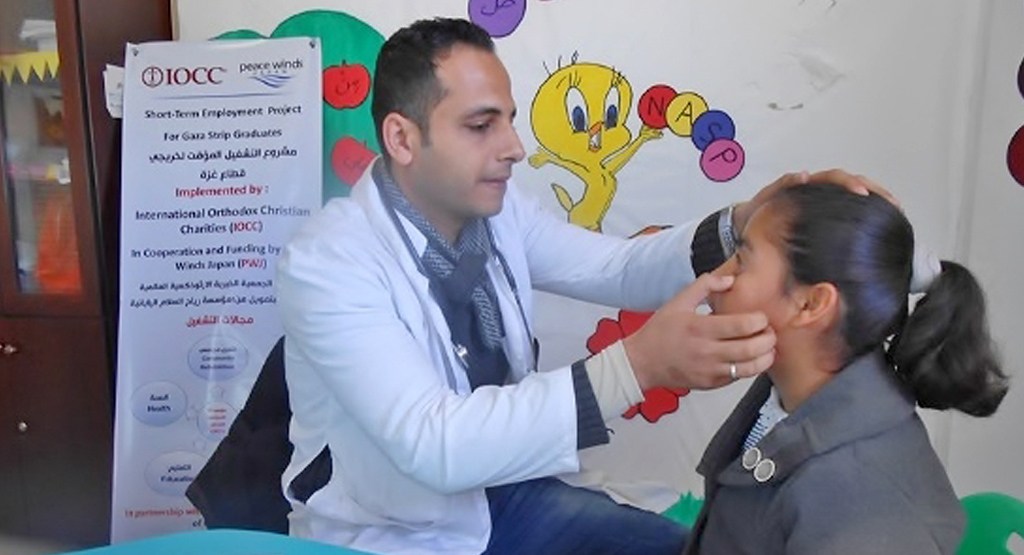 Baltimore, MD (March 18, 2016) — Growing up in the Gaza Strip, Sami, 24, was driven by a dream to ease the suffering of others. He pursued that dream by attending nursing school, from which he graduated with honors. Harsh reality quickly followed as he was unable to find a nursing job or a way to support his wife and two young daughters. Sami even volunteered long hours at public hospitals in the hope that doing so would lead to work, but the hospitals weren't hiring.
Anwwar, 23, faced the same struggle. One year after graduating with a degree in accounting, the young woman could not find work. With a terminally ill father and younger siblings still in school, Anwwar felt pressure to be the family's only breadwinner. "My education cost me and my family a lot of money; we went into debt to pay for it," she said. "I have to work so I can earn an income to support my family, pay for my father's medication, and pay off my school debt."
Nine years of living under a strict blockade has crippled Gaza's economy. The lack of jobs has created widespread poverty and overwhelmed community service agencies. More than 80 percent of Gazans rely on assistance in order to survive. IOCC is working to reduce the rising unemployment and ease the burden on understaffed service organizations in Gaza by creating short-term job opportunities for Gaza's college graduates. With support from Peace Winds Japan, the IOCC program has paired 210 recent university graduates with paid positions at 30 grassroots organizations that serve the educational, health, agricultural, and community rehabilitation needs of Gaza's people.
"Through this program, IOCC is striking three birds with one stone," Gaza Program Director Nael Younis explained. "First, we are creating cash-for-work opportunities for new graduates from households facing food insecurity so they can earn money for basic necessities; second, we are providing opportunities for new graduates to build and grow their professional skills; and third, we are empowering local partners by providing them with additional human resources for expanding their community services and outreach."
Anwwar's new position as an accountant for a local organization is generating an income for her and earning praise from her boss, who plans to keep her on after the three-month project is over. Sami now works as a nurse at a community health center in his hometown of Khan Younis, treating children who suffer from malnutrition and teaching parents how to improve their children's health. His addition to the healthcare staff fills an unmet need in the community and gives Sami the opportunity he says he has hoped for since his own childhood. "Having a job that matches my field of study and generates an income to support my family while I serve the community is a great feeling."
"This project is instilling hope in the hearts of Gaza's young people at a time when all doors are closed in their faces and around them," stated IOCC Country Representative George Malki. "It really gives meaning to what they have worked to achieve in a place where signs of hope seem to be fading away."
IOCC has been providing humanitarian assistance in Jerusalem, the West Bank, and Gaza since 1997, working to help improve the lives of the region's most vulnerable people in times of conflict and increased isolation.
###
IOCC is the official humanitarian aid agency of the Assembly of Canonical Orthodox Bishops of the United States of America. Since its inception in 1992, IOCC has delivered $580 million in relief and development programs to families and communities in more than 50 countries. IOCC is a member of the ACT Alliance, a global coalition of more than 140 churches and agencies engaged in development, humanitarian assistance and advocacy, and a member of InterAction, the largest alliance of U.S.–based secular and faith-based organizations working to improve the lives of the world's most poor and vulnerable populations.