IOCC Providing Comfort And Cleanup Assistance To Families Affected By Louisiana Floods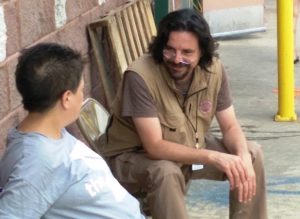 Baltimore, MD (IOCC) — International Orthodox Christian Charities (IOCC) is on the ground in Louisiana providing support to victims of catastrophic flooding that has engulfed much of southern Louisiana, claimed 13 lives and forced more than 30,000 people from their flooded homes.
The IOCC Emergency Response Network, also know as Frontliners, are in the hardest hit areas around the state's capital, Baton Rouge, to assess the immediate and ongoing needs of families in flood affected communities as well as provide cleanup assistance and crisis counseling. "Most of the water has subsided, but everywhere you look there is destruction," said Father Serge Veselinovich, an IOCC Frontliner and Orthodox priest. "We have met dozens of families who have lost everything — their homes, their possessions, their cars and their livelihoods — but not their faith. We are doing what we can to console them and determine the best way to assist with cleanup and recovery so that with God's grace these families can resume their lives as quickly as possible."
###
HOW YOU CAN HELP
IOCC anticipates the need for emergency clean-up buckets which are in low supply. For directions on how to assemble emergency clean-up buckets, please visit iocc.org/kits
IOCC supporters can help the victims of disasters in the United States, like the Louisiana floods, by making a monetary gift to the United States Emergency Response Fund. Your support will provide immediate relief as well as long-term support through emergency aid, recovery assistance and other support to help those in need. To make a gift, please visit iocc.org, call toll free at 1-877-803-IOCC (4622), or mail a check or money order payable to IOCC, P.O. Box 17398, Baltimore, MD 21297-0429.
ABOUT INTERNATIONAL ORTHODOX CHRISTIAN CHARITIES
IOCC is the official humanitarian aid agency of the Assembly of Canonical Orthodox Bishops of the United States of America. Since its inception in 1992, IOCC has delivered $580 million in relief and development programs to families and communities in more than 50 countries. IOCC is a member of the ACT Alliance, a global coalition of churches and agencies engaged in development, humanitarian assistance and advocacy. To learn more about IOCC, please visit our website at iocc.org.