Reaching the Neediest of the Needy in Southern Lebanon
By Chrysanthe Loizos, IOCC Lebanon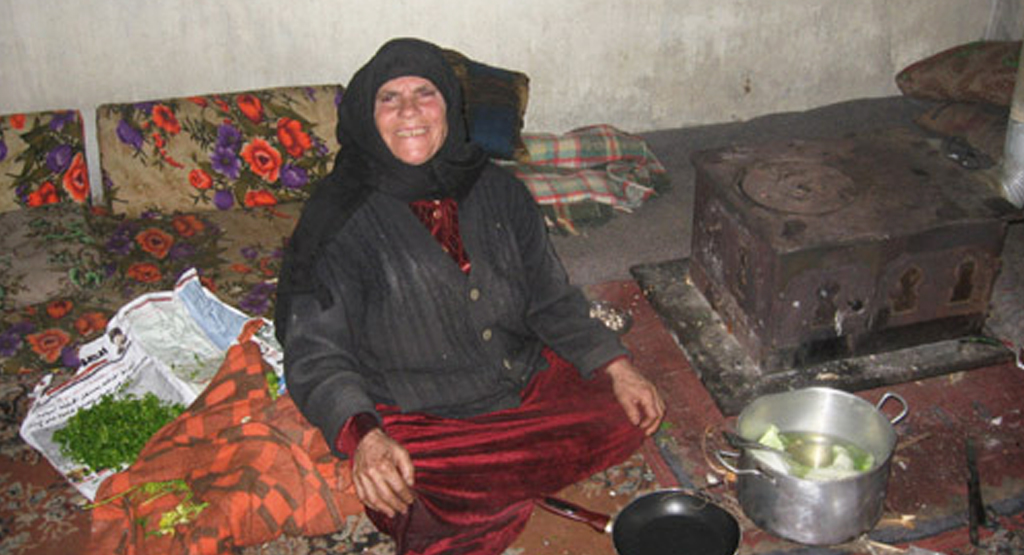 Baltimore, MD (April 2, 2007) — Perhaps the most striking — and humbling — part of a recent visit to IOCC beneficiaries in southern Lebanon is the gratitude and joy expressed by people with very little.
Zeinab is seated on the floor of her home, as is customary in parts of southern Lebanon. The room's cement walls are unfinished and there are only the most basic of furnishings. She is boiling cabbage leaves on the stove beside her. At the sight of IOCC Lebanon staff, she smiles broadly and repeatedly touches her palm to her head in a gesture that indicates great pleasure.
To the question "Do you need anything?" she replies, "I am just happy you came to visit. This is more than anything for me."
She is a widow, and lost the use of her legs eight years ago. She has seven children between the ages of 13 and 40 whom she relies on for support. "If they work, that is good. If not, we try and manage."
In the nearby village of Hebbariyeh, Kassim is also sitting on the floor. He is nearly 90, blind, hard of hearing and cannot walk without assistance. A blanket covers his outstretched legs. IOCC Lebanon Project Officer Rita Zorba pulls up a chair beside him and leans into his ear to announce her arrival. "God bless you," he responds enthusiastically, over and over again. "May God give you more than you are giving."
Kassim, his 85 year-old wife, and their grown daughter have no income, living solely off what they grow on their land. Taish and Kassim are representative of IOCC's beneficiaries in the South — the disabled, the elderly, families without incomes — in short, those most in need. Asked if there are other families in the village in similar circumstances, Shawki Youssef, Hebbariyeh's mayor, replies that there are many, and that IOCC was the only organization to provide assistance after the war specifically for the disabled.
"We chose the most vulnerable from each village because they often face challenges even under normal circumstances, let alone after a war," says Linda Shaker Berbari, IOCC Lebanon Program Coordinator. "In the case of the disabled, special medical needs can put a great financial burden on families," she continued. The cost of eye drops for Kassim — $40 a month — "is killing us," says his daughter. The family's kitchen was badly damaged during last summer's conflict between Israel and Hizbullah, as was their water tank. Like other families in the region, they cannot afford to repair the damages themselves.
More than 3,500 families in southern Lebanon have been directly assisted by IOCC since last summer's conflict through a grant by the US Government's Office of Foreign Disaster Assistance (OFDA). In the immediate aftermath of the war, IOCC gave each family hygiene parcels and blankets. In the months since, they have received a four month supply of diesel fuel to heat their homes during the winter. Kassim and his family received a heater and Zeinab received a stove — it's the one she is cooking on when her guests arrive. Most recently, both families received carob, almond and olive trees, vegetable seeds and agricultural tools, as part of IOCC's agricultural support to families in the region.
And yet, while each family bears great hardship, each is touchingly grateful. Asked by Zorba what she hopes for from the trees, Zeinab responds, "Anything they provide, I thank God for."
To help in providing emergency relief, call IOCC's donation hotline toll-free at 1-877-803-4622, make a gift on-line at www.iocc.org, or mail a check or money order payable to "IOCC." Donors can write "Lebanon Crisis 2006," in the memo line. Mail to: IOCC, P.O. Box 17398, Baltimore, MD 21297-0429.
###