IOCC Volunteers Bring Relief to Victims of Extreme Weather in West Virginia and Minnesota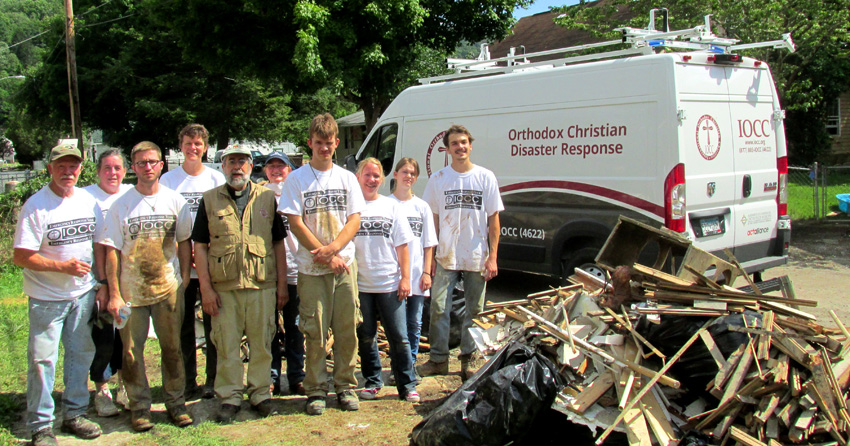 July 21, 2016
Baltimore, MD (IOCC) — Severe summer weather is leaving behind a path of destruction across the US, from flash floods in West Virginia to wind damage from tornadoes and flooding in Minnesota. International Orthodox Christian Charities (IOCC) is responding with Orthodox Christian volunteers in the affected areas rallying to respond to their neighbors in need with cleanup assistance.
In West Virginia, members of St. Nicholas Antiochian Orthodox Church from the town of Beckley wasted no time rolling up their sleeves and joining parish priest, Father Samuel Haddad, to remove waterlogged floors and walls from a flooded home in the hard hit community of Rainelle. At least 23 lives were lost and more than 1,200 homes and businesses were damaged or destroyed there and in surrounding small towns. "Being able to support our fellow citizens who have been affected by the recent flooding was humbling for our small parish," stated Father Samuel, "and we are so thankful that we could do our part with the support of IOCC. We look forward to continuing to help as we progress to the long-term needs and rebuilding efforts to follow." Along with hands-on support from the Orthodox Action Team volunteers, IOCC also worked in partnership with Mennonite Disaster Services to support cleanup efforts and with the West Virginia Council of Churches to help provide emotional and spiritual care to flood victims at local disaster recovery centers set up by Federal Emergency Management Agency (FEMA).
More than a 1,000 miles away and five days later, IOCC and Orthodox Action Team volunteers mobilized in Watkins, Minnesota. The destructive forces of a summer tornado tore through 99 homes in the small central Minnesota town of 2,000 people. IOCC Orthodox Action Team volunteers worked side-by-side with volunteers from Catholic United Disaster Response (right) to clear debris around five homes, including one of which was totally leveled while Tootz, the homeowner, sheltered in her basement. "In seeing first-hand the recent destruction in West Virginia and now in Minnesota, I am struck by the resilience of these small town folk who while welcoming the help, don't wait to start helping each other," stated IOCC US Country Representative Daniel Christopulos. "As we pulled up in our IOCC Emergency Response Van accompanied by volunteers at both disaster sites, the people were so gracious and appreciative of any help that we offered and exhibited what it truly means to be a 'neighbor.'"
###
HOW YOU CAN HELP
Make a donation. You can help the victims of disasters in the United States, like the West Virginia floods and Minnesota floods and tornados, by making a financial gift to the United States Emergency Response Fund. Your support will provide immediate relief as well as long-term support through emergency aid, recovery assistance and other support to help those in need. To make a gift, please visit iocc.org, call toll free at 1-877-803-IOCC (4622), or mail a check or money order payable to IOCC, P.O. Box 17398, Baltimore, MD 21297-0429.
Assemble emergency kits. IOCC also anticipates the need for Emergency Clean-Up Buckets which are in low supply. For directions on how to assemble Emergency Clean-Up Buckets, please visit www.iocc.org/kits.
ABOUT INTERNATIONAL ORTHODOX CHRISTIAN CHARITIES
IOCC is the official humanitarian aid agency of the Assembly of Canonical Orthodox Bishops of the United States of America. Since its inception in 1992, IOCC has delivered $580 million in relief and development programs to families and communities in more than 50 countries. IOCC is a member of the ACT Alliance, a global coalition of churches and agencies engaged in development, humanitarian assistance and advocacy. To learn more about IOCC, please visit our website at iocc.org.