Restoring Water Access to
Gaza's Embattled Families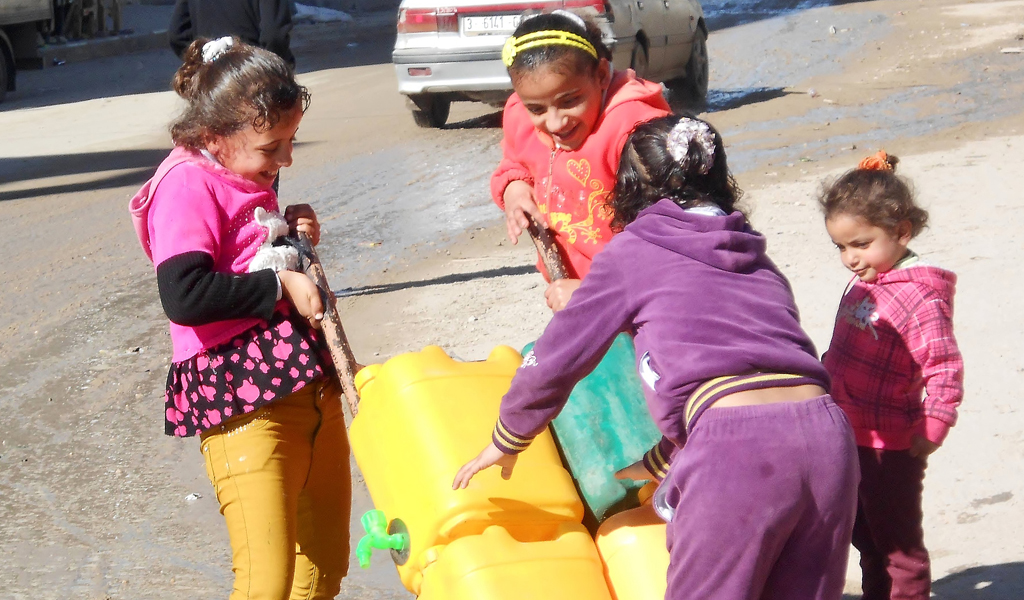 Baltimore, MD (February 24, 2015) — For Suha, 10, and her friend, Nada, 9, each day begins with a visit to a communal water storage tank in the Gaza neighborhood of Shuja'iyeh. They patiently wait their turn to fill numerous empty plastic water cans that they must carry back to their family homes a quarter mile away. Each filled container can weigh over 40 pounds. It's a heavy burden for a young child, but without the daily trips to this sole source their families would go without water for drinking, cooking, and washing.
The war-ravaged Gaza neighborhood where the girls live with their families is among many which suffered heavy damage during last summer's conflict with Israel. Widespread destruction of homes and infrastructure, including the water and sanitation systems, left thousands of Gaza's families displaced and with no safe, reliable source of water.
International Orthodox Christian Charities (IOCC), with support from relief partner, Norwegian Church Aid (NCA), is responding to this urgent and most basic need with water delivery to 20 large refillable water storage tanks installed in the affected communities. The soft-sided, balloon-like bladders with a capacity of more than 900 gallons each ensure access to clean water for more than 27,600 vulnerable people living in Beit Hanoun, Shuja'iyeh, and Khan Younis neighborhoods of the Gaza Strip. IOCC is also providing affected families with hygiene kits, dignity kits and cleaning supplies for laundry and living spaces.
IOCC has had a humanitarian presence in Jerusalem, the West Bank, and Gaza since 1997. In the past year, IOCC has assisted more than 10,000 Gazan families with emergency food and household items, as well as provided community support to improve access to food, water, employment opportunities, and agricultural production.
HOW YOU CAN HELP
You can help the victims of poverty and conflicts around the world by making a financial gift to the International Emergency Response Fund which will provide immediate relief, as well as long-term support through the provision of emergency aid, recovery assistance and other support to help those in need. To make a gift, please visit iocc.org or call toll-free at 1-877-803-IOCC (4622), or mail a check or money order payable to IOCC, P.O. Box 17398, Baltimore, MD 21297.
###
IOCC is the official humanitarian aid agency of the Assembly of Canonical Orthodox Bishops of the United States of America. Since its inception in 1992, IOCC has delivered $534 million in relief and development programs to families and communities in more than 50 countries. IOCC is a member of the ACT Alliance, a global coalition of more than 140 churches and agencies engaged in development, humanitarian assistance and advocacy, and a member of InterAction, the largest alliance of U.S.–based secular and faith-based organizations working to improve the lives of the world's most poor and vulnerable populations.