Single Working Moms Survive Hurricane, Realize Dream of Homeownership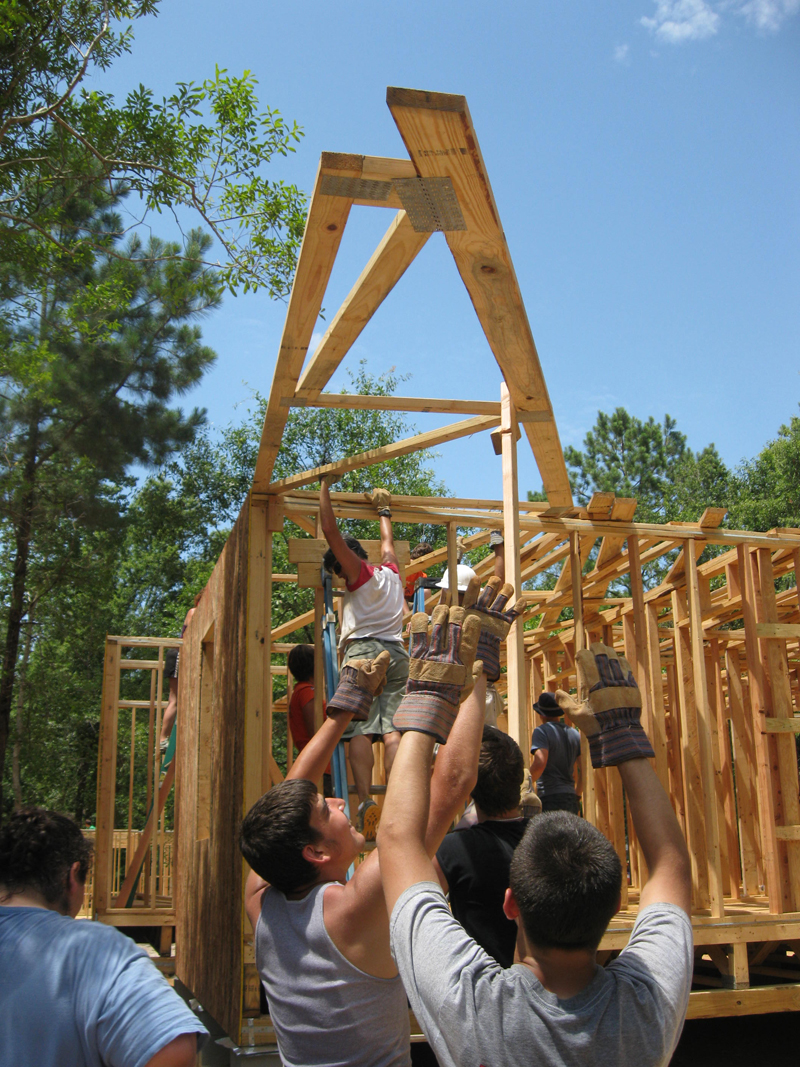 Covington, Louisiana (June 25, 2009) — At 43, tan, and muscular, Michelle bounds up a ladder and uses her shoulder to hoist a "truss," a large wooden structure that will secure the roof of a new home. When she ducks as the team below her slides the truss into place, Michelle, a New Orleans native, reminds you of a pioneer woman. In fact, she is one. For the first time in her life, she will own a home, something that this landscape gardener and single mother never thought was possible.
Michelle is working on a Habitat for Humanity home, putting in the 300 hours of sweat equity required towards the acquisition of her own house. Her American dream is about to come true thanks in part to the hundreds of IOCC volunteers who have toiled in the Louisiana sun since 2006 to build new Habitat homes for the survivors of Hurricane Katrina. "The idea of owning my own home for personal security, for personal investment, for my two growing sons – plus one that is affordable and that can withstand a Category 5 hurricane is something I never thought possible," says Michelle.
In this year's deepening recession and subprime mortgage meltdown, her story of home ownership is a refreshing change. She's not alone. Of the 127 families in the St. Tammany Parish area who received Habitat homes since Katrina, 100 are single working mothers. Katrina devastated them, but it also gave them the impossible: first-time home ownership at an affordable price.
Habitat homes are 1,100 – 1,300 square feet with 3-4 bedrooms and are worth approximately $135,000 in the St. Tammany market, although they cost only $89,000 to build with volunteer labor and are sold to homeowners for $75,000. The average Habitat owner has a 20-year, 0% mortgage that requires monthly payments of $420. To qualify for a Habitat home in the St. Tammany area, a family of four can earn no more than $35,800.
Joy is a lively, middle-aged woman from New York's Spanish Harlem who calls out "hey baby" to everyone who comes into the Mandeville, Louisiana Habitat building supply store that she manages. She and her diabetic daughter lived in a FEMA trailer for three years after Katrina forced them to leave their apartment in St. Bernard Parish. Last May, they finally moved into their new Habitat home. "When you're building it, it's exciting," says Joy, "but there's nothing like when you go to sign the papers and you say, 'this is mine.'"
The program, however, aims to provide a lot more than just a house. As part of their 300 hours of sweat equity, homeowners are required to take classes in personal finance, home repair, landscaping, career skills, and even parenting. "Some of our homeowners may not have ever balanced their checkbook," says Joy.
The "Volunteer in the Gulf Coast" program is IOCC's largest volunteer program. In 2008, IOCC mobilized 204 volunteers from 55 Orthodox parishes to work on Habitat homes in Louisiana. Participants put in over 8,000 volunteer hours, worth a total of $160,000, towards the completion of 50 new homes. Now in its third year, the program is still recruiting volunteers for the 2009 season.
Joy remembers fondly the volunteer work crews who helped build her home. "I have a lot of respect for volunteers," she says. "The government didn't do much for us and our houses wouldn't have been built as quickly if it wasn't for groups like IOCC." But keep coming, she adds, because there are still people in Louisiana who are living in FEMA trailers and tents.
IOCC, founded in 1992 as the official humanitarian aid agency of the Standing Conference of Canonical Orthodox Bishops in the Americas (SCOBA), has implemented over $300 million in relief and development programs in more than 33 countries around the world.
###