Syrians Evacuated from Homs
Arrive Weak and Traumatized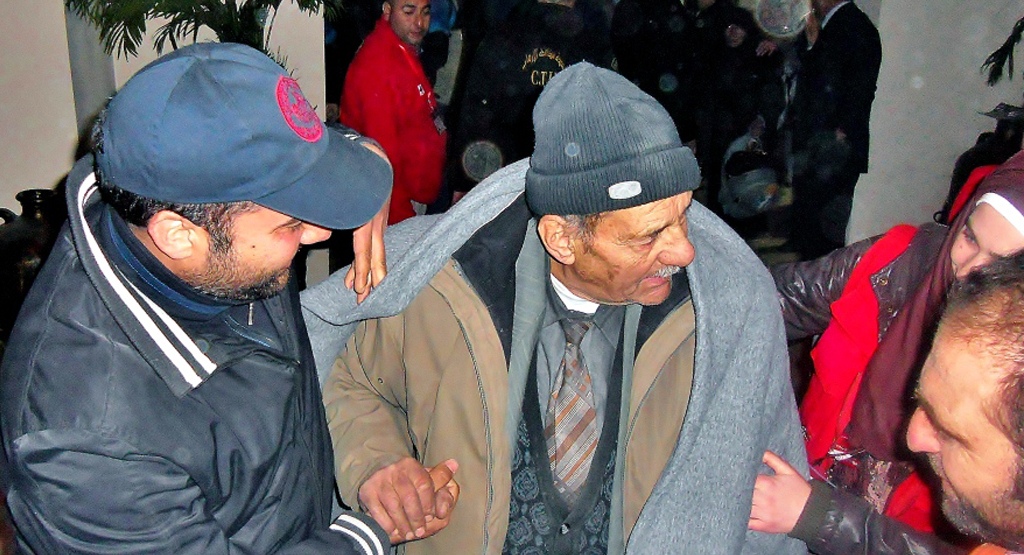 Baltimore, MD (February 17, 2014) — As hundreds of weak and exhausted Syrian residents of the Old City of Homs continue to evacuate the besieged city, International Orthodox Christian Charities (IOCC), with the Greek Orthodox Patriarchate of Antioch and All the East (GOPA), is providing the latest group of evacuated Christian and Muslim families with refuge, medical attention, and emergency aid. IOCC/GOPA responded to the immediate needs of more than 400 evacuees at temporary shelters in the Al Ghouta neighborhood of Homs and in Waer with the distribution of relief items such as food, bedding, cooking sets, hygiene kits, dignity kits, and children's clothing. Working in cooperation with the World Health Organization, IOCC/GOPA is also addressing the medical needs of evacuees who arrived with injuries or were too frail to walk.
The lack of food has taken a physical toll on the evacuees, with many arriving in clothing that hangs loosely on their thinning frames. "My parents and I survived on boiled wheat and water," said Dima, a distraught 23-year-old evacuee whose elderly parents still remain in Homs. The constant threat from the violence surrounding their neighborhoods and months of living in isolation have also affected the emotional well-being of the former residents of the Old City of Homs. "When the battle in our part of town began, I thought it would be a matter of hours or a few days before things settled down and we could leave our homes, but 600 days passed with no end in sight," recalled Dima. "It was like living in a jungle. Your home offered little protection. Anyone could enter at any time and take whatever they wanted." IOCC/GOPA is responding to traumatized evacuees like Dima with on-the-spot counseling as they arrive to safe shelter, and arrangements for additional psychosocial support for evacuees once they relocate to the home of family or friends.
IOCC, an ACT Alliance member, is one of the few humanitarian organizations inside Syria providing immediate assistance to evacuated families and elderly who have endured nearly two years of being trapped in the war-torn city. Working in Homs and 24 offices across Syria, IOCC has provided relief to nearly one million vulnerable people inside Syria since 2012.
HOW YOU CAN HELP
You can help the victims of poverty and conflicts around the world by making a financial gift to the International Emergency Response Fund which will provide immediate relief, as well as long-term support through the provision of emergency aid, recovery assistance and other support to help those in need. To make a gift, please visit www.iocc.org or call toll free at 1-877-803-IOCC (4622), or mail a check or money order payable to IOCC, P.O. Box 17398, Baltimore, MD 21297.
###
IOCC is the official humanitarian aid agency of the Assembly of Canonical Orthodox Bishops of the United States of America. Since its inception in 1992, IOCC has delivered $438 million in relief and development programs to families and communities in more than 50 countries. IOCC is a member of the ACT Alliance, a global coalition of more than 140 churches and agencies engaged in development, humanitarian assistance and advocacy, and a member of InterAction, the largest alliance of U.S.–based secular and faith-based organizations working to improve the lives of the world's most poor and vulnerable populations.