Syria's Displaced Gain Income and Dignity from Cash for Work Program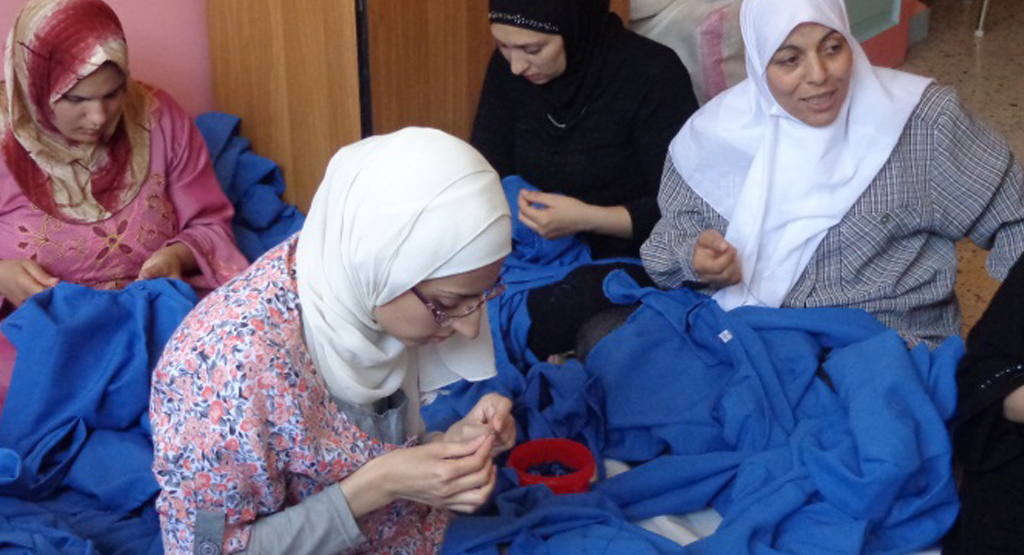 Baltimore, MD (November 20, 2013) — Ahmed's many years of working as a concrete mason in Syria afforded him and his wife a spacious home with a small vegetable garden and a comfortable life for themselves and their six children. When Syria's civil war overran the Dara'a region and threatened their safety, the family sought refuge in Damascus. Ahmed struggled to keep his family sheltered and fed, but he felt useless without a job to support his loved ones and fell into despair.
Young Sawsan shared those feelings of hopelessness as her lifelong dream of becoming a chemist was dashed by rising bloodshed in her hometown of Zamalka, a Damascus suburb. The university student's final year was cut short when the family fled to a shelter in Damascus. With no job skills and an incomplete education, the 21-year-old began to feel like an immense burden on her suddenly impoverished parents.
These two displaced Syrians from different walks of life share the same agonizing feelings of uncertainty and loss of self-worth as thousands of other Syrians uprooted from their homes and livelihoods. For more than 28,000 displaced people, a cash-for-work program established by International Orthodox Christian Charities (IOCC) provides an essential source of income to jobless Syrians and also helps to support the local economy.
IOCC and its church partner, the Greek Orthodox Patriarchate of Antioch and All the East (GOPA), established the program in cooperation with local community leaders to provide employment for displaced Syrian families. Participating displaced workers must be unemployed with no other source of income, physically able to work for the duration of the job, and support their family with the earnings. The selected workers receive a home visit by IOCC/GOPA to verify their situation and to ensure that the program is putting money into the pockets of those who need it most.
Like Ahmed, many of the displaced are craftsman and construction industry professionals who lost their jobs and businesses. The IOCC/GOPA program harnesses this skilled manpower for projects like cleaning up and restoring public spaces in the community by identifying and hiring displaced Syrians with the necessary skills and abilities needed.
Other displaced Syrians, like Sawsan, are taught new skills such as sewing in order to boost their earning ability as they provide school uniforms to 1,000 children currently living in public shelters. Those hired by the program to make the uniforms are internally displaced adults residing at a school shelter. The children benefiting from these uniforms are also displaced and living in area shelters.
Beyond the immediate benefits of providing income, the program helps empower displaced populations by providing productive activities. For families whose lives have been devastated by the civil strife in Syria, the psychological benefits of the work may be as beneficial as the economic impacts the program has. Ahmed's earnings helped improve his family's living conditions, and he's grateful to the project for restoring the purpose he was lacking from being idle. "Only work can help us forget our tragedy," said Ahmed. "We need work, and we prefer that to receiving charity."
Sawsan quickly excelled in her new role as seamstress of school uniforms for the children whose families share the same shelter with her. "That program provides the needy with assistance, but in a dignified and civilized manner," added Sawsan. "Getting paid in return for the work you have done is rewarding and instead of feeling ashamed and useless, you feel fulfilled and proud."
"The work campaign in the town of Sahnaya in the Rif Dimashq Governorate to clean and rehabilitate public spaces used by everyone in the community is an essential and unifying initiative by GOPA," said Sheikh Barnawi Faisal, a local Sunni imam who shared his appreciation for the IOCC/GOPA program and long-term positive impact on the families it serves. "We all live together in this community without discrimination and are thankful for the emerging role of the church in this trying time."
"Such programs serve several objectives, for they do good to both the displaced families and the inhabitants of the area," added Sheikh Abo Imad Haj Ali, a cleric from the governorate's local Druze community. "The displaced workers are employed in projects that are to the benefit of everyone; improving schools, public parks, sanitation facilities, etc. We are very grateful to IOCC/GOPA for the valuable services it is offering to their dear countrymen during these hard times. May God bless their work."
Since 2012, IOCC, an ACT Alliance member, has been addressing the well-being of Syria's most vulnerable people by providing urgently needed humanitarian aid and self-help programs like the cash for work program to nearly 890,000 Syrians who have been displaced by the civil war inside Syria or struggling to survive as refugees in Jordan, Lebanon, Iraq and Armenia.
HOW YOU CAN HELP
You can help the victims of poverty and conflicts around the world by making a financial gift to the International Emergency Response Fund which will provide immediate relief, as well as long-term support through the provision of emergency aid, recovery assistance and other support to help those in need. To make a gift, please visit www.iocc.org or call toll free at 1-877-803-IOCC (4622), or mail a check or money order payable to IOCC, P.O. Box 17398, Baltimore, MD 21297./p>
###
IOCC is the official humanitarian aid agency of the Assembly of Canonical Orthodox Bishops of the United States of America. Since its inception in 1992, IOCC has delivered $438 million in relief and development programs to families and communities in more than 50 countries. IOCC is a member of the ACT Alliance, a global coalition of more than 140 churches and agencies engaged in development, humanitarian assistance and advocacy, and a member of InterAction, the largest alliance of U.S.–based secular and faith-based organizations working to improve the lives of the world's most poor and vulnerable populations.