Team IOCC Goes the Distance in
Baltimore to Race against Poverty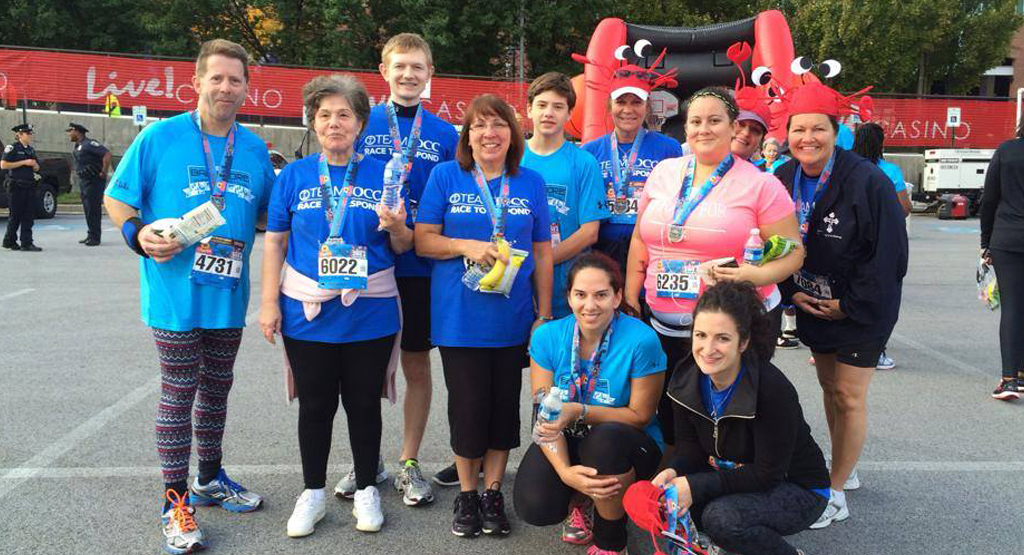 Baltimore, MD (October 20, 2014) — An Orthodox priest, a kindergartner and a retired grandmother joined nearly 30 other supporters of International Orthodox Christian Charities (IOCC) at dawn on Saturday to go the distance in the 14th Annual Baltimore Running Festival, and to raise money and awareness about the people it serves worldwide with every stride.
More than 25,000 US and international runners and walkers competed in this year's marathon, half-marathon, relay and 5K races. Team IOCC (right) included participants from Ohio, Virginia, Pennsylvania, Minnesota, New York, Washington, D.C. as well as IOCC staff from its Baltimore headquarters. The group raised nearly $25,000 to provide life-saving humanitarian assistance to families displaced by war, overcoming natural disasters or working their way out of poverty.
One of Team IOCC's marathoners, Father Andrew Lentz (left), is an assistant priest and an IOCC Frontliner who also completed last year's Baltimore Marathon to support IOCC's emergency relief and development programs. This year Father Andrew returned with a team of six from his parish, Annunciation Greek Orthodox Church in Akron, Ohio, including grandmother of 12, Irene Theodore. "I have never competed in a race, but at age 82, I'm excited to walk the 5K to benefit IOCC, an organization I love and respect." Irene has been an active IOCC supporter since its earliest days more than 20 years ago, when she and her husband, Ted, helped launch IOCC's Cleveland Metropolitan Committee.
This is the second year that Team IOCC has participated in the Baltimore Running Festival to support IOCC's humanitarian mission. The event is one example of IOCC's Race to Respond program that provides runners, cyclists, and triathletes an opportunity to support IOCC's humanitarian relief efforts and create real change through their participation in a race. Race to Respond participants receive a personal fundraising page for friends and family, promotional materials, pledge forms, and additional benefits when they meet certain fundraising goals. To learn more about how you can support IOCC through Race to Respond, visit us at iocc.org/racetorespond
###
IOCC is the official humanitarian aid agency of the Assembly of Canonical Orthodox Bishops of the United States of America. Since its inception in 1992, IOCC has delivered $488 million in emergency relief and development assistance to families and communities in more than 50 countries. IOCC is a member of ACT Alliance, a global coalition of more than 140 churches and agencies engaged in development, humanitarian assistance and advocacy, and InterAction, the largest alliance of U.S.–based secular and faith-based organizations working to improve the lives of the world's most poor and vulnerable populations.