The Future Threatened for Syria's School Children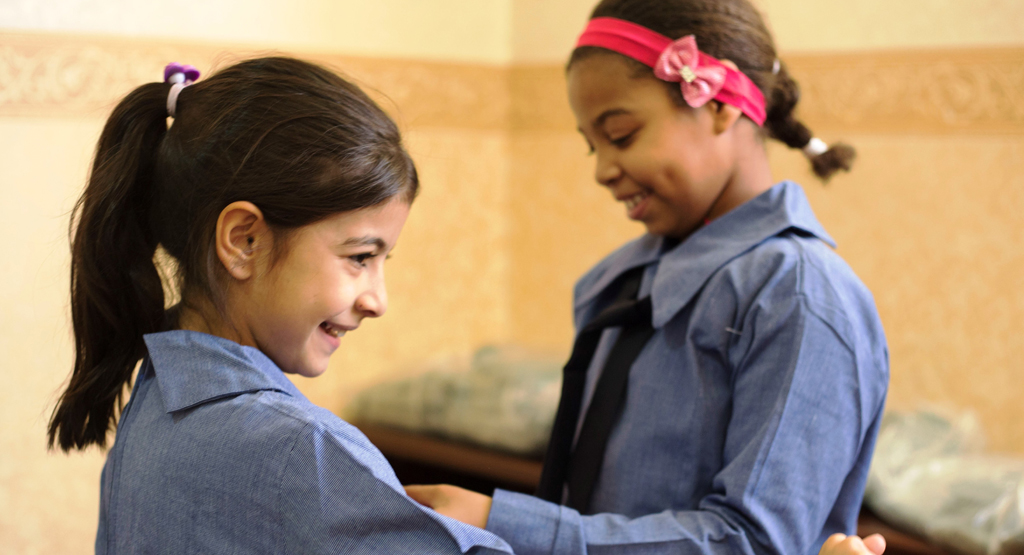 Baltimore, MD (October 2, 2013) — A generation of school children is at risk as the education of Syrian youth threatens to become another casualty of the prolonged conflict. Over the past year, two million youngsters inside Syria were forced to drop out of school according to UNICEF. Many schools inside Syria now serve as emergency shelters for displaced families and the one million child refugees who fled Syria empty-handed lack the uniforms and supplies required to attend class in host country schools. International Orthodox Christian Charities (IOCC), an ACT Alliance member, is helping to bridge the learning gap for Syria's school children across the region.
The hum of sewing machines at a Damascus school-turned-shelter mixes with the excited chatter of displaced Syrian children living there. It is the beginning of the new school year and they watch as new uniforms materialize before them with the hope they can resume their education. Working in Syria with the Greek Orthodox Patriarchate of Antioch and All the East (GOPA), displaced Syrians are being employed by IOCC to sew new school uniforms for more than 1,000 school-aged children currently living in public shelters around the capital city. Many of the 34 tailors and seamstresses making the uniforms are displaced mothers and fathers residing at a school shelter in the Barzeh area of Damascus. IOCC is providing material and basic sewing tools for parents who own sewing machines. Workers who have lost their livelihoods and income because of the conflict now design and sew the uniforms and earn much-needed income for their efforts.
IOCC is also helping displaced Syrian schoolchildren catch up with classwork via newly established remedial primary and secondary level classes. The classes give children who have fallen behind due to the conflict a chance to complete their year-end exams and avoid missing an entire school year. More than 550 children are already participating in the program.
The loss of schooling is distressing Syria's children beyond its borders into neighboring countries where they now live as refugees, according to IOCC Middle East Regional Director, Sam Dunlap. "The deprivation of education for Syrian children is tantamount to the loss of home and livelihood, and translates into an event as traumatic as any caused by the civil war," said Dunlap. "By supporting education for refugee children, a degree of normalcy is returned and a belief is silently instilled in the children that the strife and turmoil will end and they will soon again find themselves in a secure and predictable pattern of life."
In Jordan, IOCC is working towards this goal by outfitting more than 30,000 Syrian refugee children like Ahlam, 6, with new school uniforms required to enroll in Jordan's public schools. Her dreams of beginning first grade in her neighborhood school vanished overnight when Ahlam's family fled to Syria over a year ago. The uniforms will allow her and other Syrian refugee girls to attend class and help rekindle dreams of the future for children who have seen and experienced the brutality of war.
Among the thousands of refugees struggling to survive in Lebanon's Bekaa Valley are school-aged children who have lost months – even years – of their education when they fled Syria in search of safety. IOCC is working with the country's Ministry of Education and community-based organizations to rehabilitate and repair schools in Bekaa and Beirut to accommodate the influx of refugee children joining local students this fall.
"The challenges facing our school and other schools hosting Syrian refugee children is trying to find the additional resources needed to educate them – more classrooms, appropriate textbooks, and enough qualified teachers," said Ehsan Araji, principal at a school rehabilitated by IOCC. "Our school in Bar Elias will have to conduct classes in two shifts this fall, with hundreds of refugee children attending in the morning and the local children in the afternoon. Keeping refugee children in school is a strain on the entire community, but the alternative is worse. We can't let these children go without an education."
"The efforts of IOCC in delivering educational support goes far beyond simply helping vulnerable children," adds Dunlap. "It is a far-reaching, extended hand that says 'we believe in you and we believe in your future.'"
Since 2012, IOCC has been addressing the well-being of Syria's children with better access to learning, to healthcare, and with the distribution of urgently needed clothing, bedding and humanitarian aid to their families displaced inside the country as well as to those living as refugees in Jordan, Lebanon, Iraq and Armenia.
HOW YOU CAN HELP
You can help the victims of poverty and conflicts around the world by making a financial gift to the International Emergency Response Fund which will provide immediate relief, as well as long-term support through the provision of emergency aid, recovery assistance and other support to help those in need. To make a gift, please visit www.iocc.org or call toll free at 1-877-803-IOCC (4622), or mail a check or money order payable to IOCC, P.O. Box 17398, Baltimore, MD 21297.
###
IOCC is the official humanitarian aid agency of the Assembly of Canonical Orthodox Bishops of the United States of America. Since its inception in 1992, IOCC has delivered $438 million in relief and development programs to families and communities in more than 50 countries. IOCC is a member of the ACT Alliance, a global coalition of more than 140 churches and agencies engaged in development, humanitarian assistance and advocacy, and a member of InterAction, the largest alliance of U.S.–based secular and faith-based organizations working to improve the lives of the world's most poor and vulnerable populations.