The Pakistan Flood: Disturbing Phone Calls
By Sigurd Hanson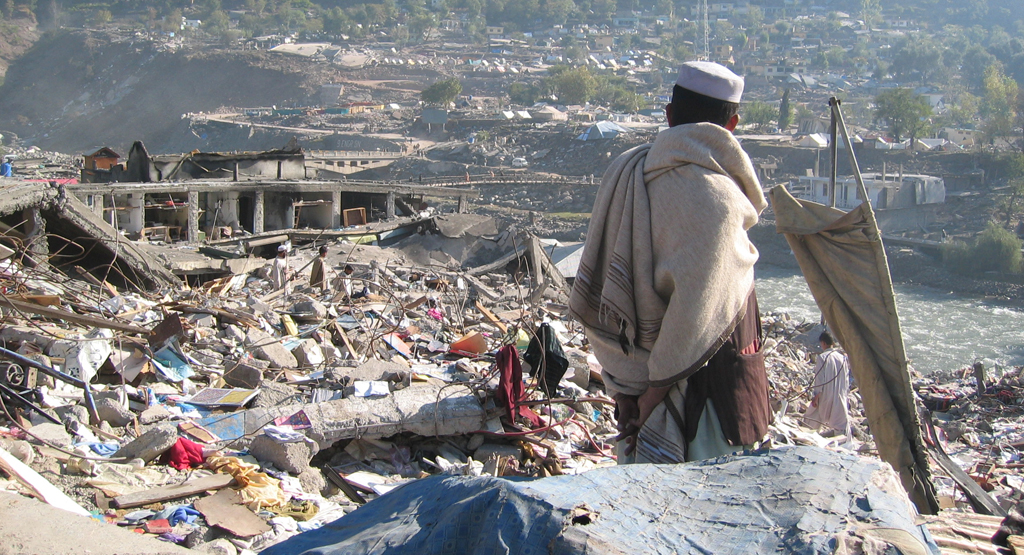 Addis Ababa, Ethiopia (August 23, 2010) — During the past few weeks I have been on the phone to Pakistan almost daily with friends and former colleagues to hear from them about the current flood situation there. The phone calls are not encouraging. Everyone I speak with is clearly shaken by the stark scale of this devastating flood, a natural disaster that has easily proven to be not only Pakistan's worst flood in recorded history but constitutes the worst natural disaster in the country's history. Pakistan has been the home to many natural disasters in recent decades: earthquakes, cyclones, droughts and floods. And with each natural disaster so many people are presented with situations where they are unable to cope.
Every day I listen to updates and hear more warnings. Now some 20 million people and about one fourth of the country have been affected. The main worry is day-to-day survival. The U.N. now predicts over 3.5 million children will be at risk of deadly diseases, mostly from diarrhea. It is the monsoon season and most likely it is going to keep raining for weeks to come. Millions still need help. Millions more may starve. The crisis engulfs the entire country and presents a severe test for Pakistan and the international community.
My work with international development agencies has taken me to some unique countries of the world. Pakistan is one such country. But I have noticed that wherever I have worked – whether in various parts of Africa, in Afghanistan or Pakistan – the poor often stay poor and marginalized because those of us who are more fortunate and in a position to help do not hear their voices. Since moving from Pakistan to Ethiopia a year and a half ago, I rely on former Pakistani colleagues to help me to understand and to visualize concerns from ordinary people in Pakistan.
In the best of times, Pakistan's poor and vulnerable (many living on less than $2 a day) struggle daily to feed and educate their children. These same people are usually the most at risk from the impact of natural disasters such as what the world is now witnessing on their TV screens.
During my years in Pakistan diarrheal diseases were killing some 630 children under five everyday, or over 250,000 Pakistani children every year. The lack of clean drinking water has long been a serious issue in parts of the country. And now with the floods, so many wells, streams, springs and ground water sources have been contaminated by human waste and dead animals.
We may wish to help, or better, we may wish that the poor themselves could lift themselves out of poverty and their dire situations. However, the given reality is that with each natural disaster, the poor and vulnerable usually remain in a worse situation than before, and even more vulnerable to a future disaster.
My phone calls to Pakistan continue to disturb me. And what is also alarming is that the full force of the floods still has not hit. The current flooding is battering Pakistan's economy and harming so many people. Pakistan will require billions of dollars to save lives and then to rebuild once the floodwaters reside. Some daunting challenges ahead.
The Pakistan floods are awful for all those involved, especially the children. There are painful scenes. But I also know that God can use such painful scenes and events in our world to enlighten our hearts and minds. Globally, IOCC aims to provide life-saving and life-preserving support as it responds to natural or man-made disasters. The current Pakistan flood is no exception. Each one of us is called to show Christ's love in action…in whatever way we can.
Editor's note: Sigurd Hanson is the Country Representative for IOCC in Ethiopia where he manages a $12 million HIV/AIDS prevention program, projects benefitting people with disabilities, and refugee assistance programs. Prior to joining IOCC in 2008, Hanson spent a decade working in Pakistan and Afghanistan. Most recently, his work in Pakistan focused on safe drinking water and hygiene promotion projects that provided training and education on better water management and improved hygiene practices to over 29 million people.
You can help the victims of disasters around the world, like the floods in Pakistan, by making a financial gift to the IOCC International Emergency Response Fund, which will provide immediate relief as well as long-term support through the provision of emergency aid, recovery assistance and other support to help those in need. To make a gift, please visit www.iocc.org, call toll free at 1-877-803-IOCC (4622), or mail a check or money order payable to IOCC, P.O. Box 17398, Baltimore, Md. 21297-0429.
IOCC, founded in 1992 as the official humanitarian aid agency of the Standing Conference of Canonical Orthodox Bishops in the Americas (SCOBA), has implemented over $330 million in relief and development programs in 33 countries around the world.
###