The Principal's Story
A Dedicated Educator and New Equipment from IOCC Make the Difference for a Lebanon Public School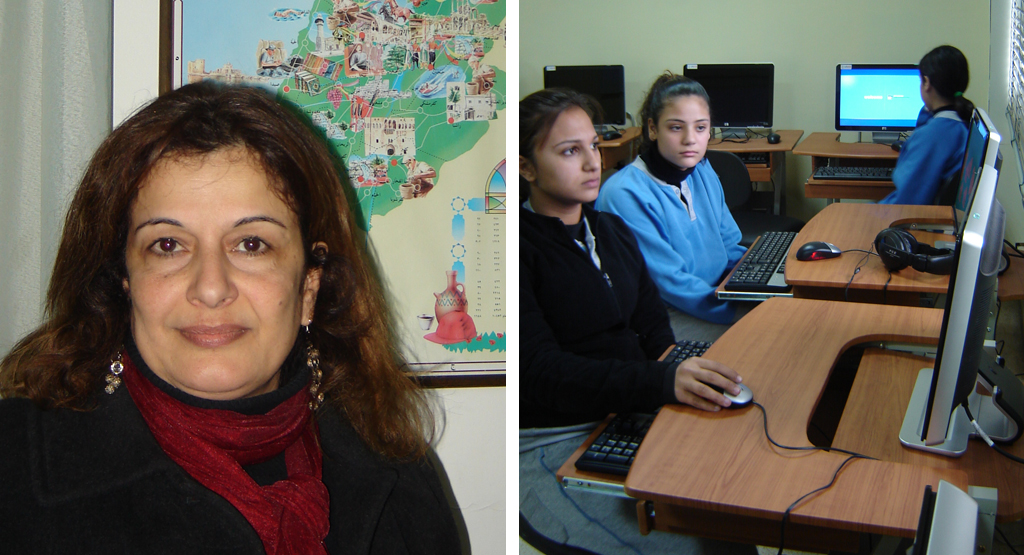 Beirut, Lebanon (January 28, 2008) — In Ain al Remaneh, an East Beirut suburb, there is a public school principal who will do anything for her 300 students. On a day of heavy winter rains, Principal Marie Chahine, bundled in a heavy coat, relates to visitors in her office some of her exploits at the K-9 Chiah Public School for Girls. She convinced her optician son to give the girls free eye exams. She wouldn't admit an NGO into the school until they first repaired all 16 dilapidated bathrooms. And her connections with the municipality have ensured electricity for the school, even during Beirut's now frequent blackouts.
Chahine's creative maneuvering is "survival of the fittest" in a country whose crumbling public schools are hobbled by bureaucracy and a lack of investment by the central government. "If I so much as want to purchase pencils it requires a special letter of permission to the Ministry of Education," says Chahine. A lover of learning, Chahine began her 34-year teaching career in Ain al Remaneh and continued teaching "under the bombs" when Lebanon's civil war began, and the school found itself along the notorious Green Line which separated the eastern and western sectors of Beirut.
During recess in the school's courtyard her visitors see veiled and unveiled teenage girls dressed in sweat pants line up to run a race. First graders dressed in pink uniforms stand huddled together against the cold as they watch the older girls. Ain al Remaneh had been a predominantly Christian area, but many families fled the civil war. "Today, you will find students of all faiths here," says Chahine, "Shi'a, Sunni, Orthodox, Druze, Maronite — and, thank God, no conflicts between them."
In Lebanon, children from low-income families represent a significant percentage of public school enrollments. As the country's economy has suffered due to the unstable political situation, more middle-class families now send their children to public schools.
International Orthodox Christian Charities (IOCC), working to develop hundreds of public schools in Lebanon since 2001, is currently repairing and developing 206 public schools throughout the country through a $4.7 million grant from the United States Agency for International Development (USAID). Through the Lebanon Education Assistance for Development (LEAD) program, IOCC is installing new computer labs with internet access, and purchasing new furniture and laboratory supplies for science instruction.
Chahine says that IOCC's assistance to Chiah has greatly advanced the quality of education offered. "We used to be a traditional school with only theoretical instruction," says Chahine, "but now we have equipment, labs, and technology that allow us to make education more practical."
Chahine's dedication and creative problem solving has helped the school to gain a good reputation among parents in the area. She even has to hire a police officer to control the crowds showing up every year for the first day of registration. "There is a mood in Lebanon that public schools are not good and do not have a good status," says Chahine, "and I want to change that."
IOCC, founded in 1992 as the official humanitarian aid agency of the Standing Conference of Canonical Orthodox Bishops in the Americas (SCOBA), has implemented over $250 million in relief and development programs in 33 countries around the world. In addition to the USAID program, IOCC's work in Lebanon has included a major school feeding and nutrition education program through the United States Department of Agriculture (USDA), and a $3.7 million grant from the Office of U.S. Foreign Disaster Assistance (OFDA) to help returnees rebuild their lives in southern Lebanon following the 2006 war.
###