Ukrainian Sailors Get Assistance from IOCC Network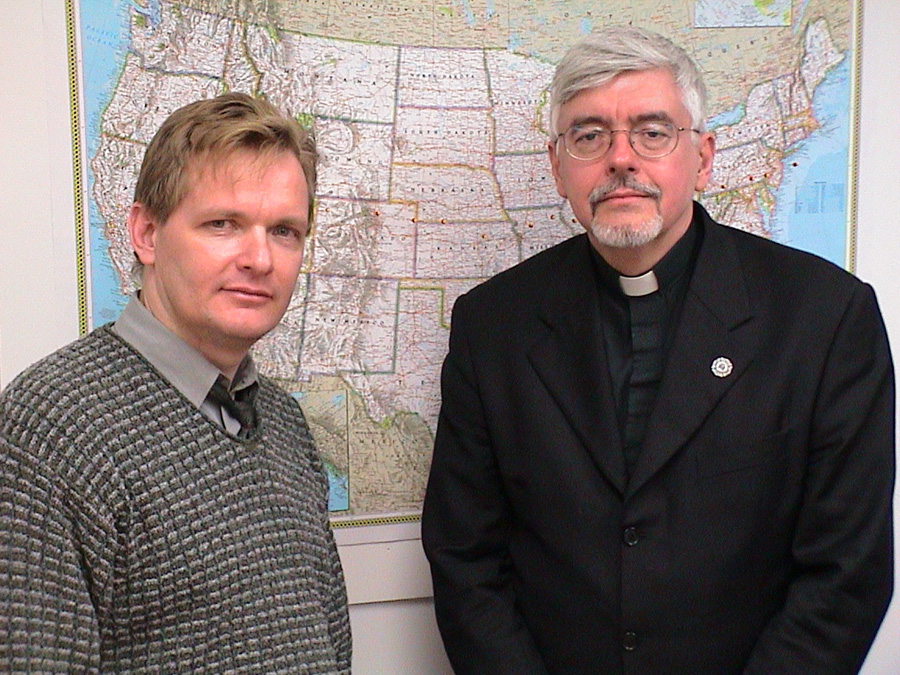 Baltimore, MD (February 6, 2003) — Seventeen Ukrainian sailors who were rescued Jan. 24 from a sinking freighter off the stormy coast of North Carolina are getting assistance from the U.S. Program of International Orthodox Christian Charities (IOCC).
Through the generosity of Orthodox Christians across the country, IOCC will be able to provide the sailors with work kits for when they ship out again. The kits include maritime winter coats and boots, assorted undergarments, heavy-duty water-proof flashlights, duffle bags and, possibly, personal items such as eyeglasses.
"They may lose their pay and compensation for all their lost gear and personal effects, not to mention compensation for their injuries and expenses involved with being stranded in America for a week," said the Rev. Joshua Anna, an Orthodox priest who has been assisting the sailors on IOCC's behalf.
Fr. Joshua is part of an Orthodox emergency response network being formed by IOCC, the official humanitarian aid agency of Orthodox Christians, in the wake of 9/11. This is the first time the network has been tested in an actual emergency.
"IOCC has spent the last decade responding to emergencies overseas, and our U.S. Program is working to apply this expertise to the American context," said Samir Ishak, IOCC Director of Operations. "The emergency response network is one way we can build the capacity of the Orthodox Church to meet needs here."
Since the sailors were brought to Wilmington, N.C., on Jan. 25, Fr. Joshua has been coordinating the assistance being provided by Orthodox Christians and serving the sailors as an interpreter and case-worker, helping to solve the problems they face getting food, shelter and medical treatment.
The Ukrainian seamen were aboard the White Seal, a 600-foot freighter registered in Tonga, when they were rescued by a U.S. Coast Guard helicopter the morning of Jan. 24. En route from Haiti to Bridgeport, Conn., the ship started sinking after it lost power because of engine problems.
"The sea's swells off the North Carolina coast …were cresting between 20 and 30 feet. The wind was blowing sharply at a steady 50 miles per hour," Fr. Joshua explained. "Certain death awaits sailors in the 52-degree salt water. This is a common maritime drama 120 to 150 miles off the Carolina coast, aptly called the 'Graveyard of the Atlantic.' "
Captain "Jake" Y. Korniyuk radioed the Coast Guard that all the men on the White Seal needed to be rescued. A sailor injured in the incident was taken to a hospital in Wilmington, where he was treated and released.
Fr. Joshua, a priest of the Ukrainian Orthodox Church of the U.S.A., said the Ukrainians have been welcomed and assisted by the local community.
"There has been a heart-warming mix of good old Southern hospitality from a bunch of wonderful Protestant folks, along with the help and moral and spiritual support of Orthodox Christians of both Ukrainian and Russian descent from Wilmington," he said.
Fr. Joshua is one of 16 Orthodox priests who have received training as part of a national pan-Orthodox emergency response network being assembled by IOCC's U.S. Program. The priests receive the training at Eastern Mennonite University in Harrisonburg, Va., in cooperation with Church World Service.
IOCC is establishing the national network to give Orthodox parishes and priests a shared mechanism for responding to disasters, said U.S. Program Director Robert Pianka. Each of the 25 priests in the network, of which Fr. Joshua is one, will serve as regional coordinators for Orthodox emergency response.
"We have been able to assemble the majority of our clergy team," Pianka said. "Our next step will be to build teams of qualified lay volunteers who can assist each clergyman."
The Rev. David Kossey, an Orthodox priest from New York City, is helping Pianka organize the network.
"What Orthodoxy can do is, it can bring to disasters a canny and adept response at whatever scale we're able to afford," Fr. Kossey said. "We are working for a practical network to get practical things done in the first days and weeks of a disaster."
Anyone interested in getting involved with the emergency response network can call Pianka toll-free at 1-877-803-4622.
To learn more about IOCC's humanitarian programs in the United States and around the world, please visit www.iocc.org. Founded in 1992, IOCC is the official humanitarian aid agency of Orthodox Christians.
###