USAID Chief Outlines His Vision to Baltimore-Based Aid Groups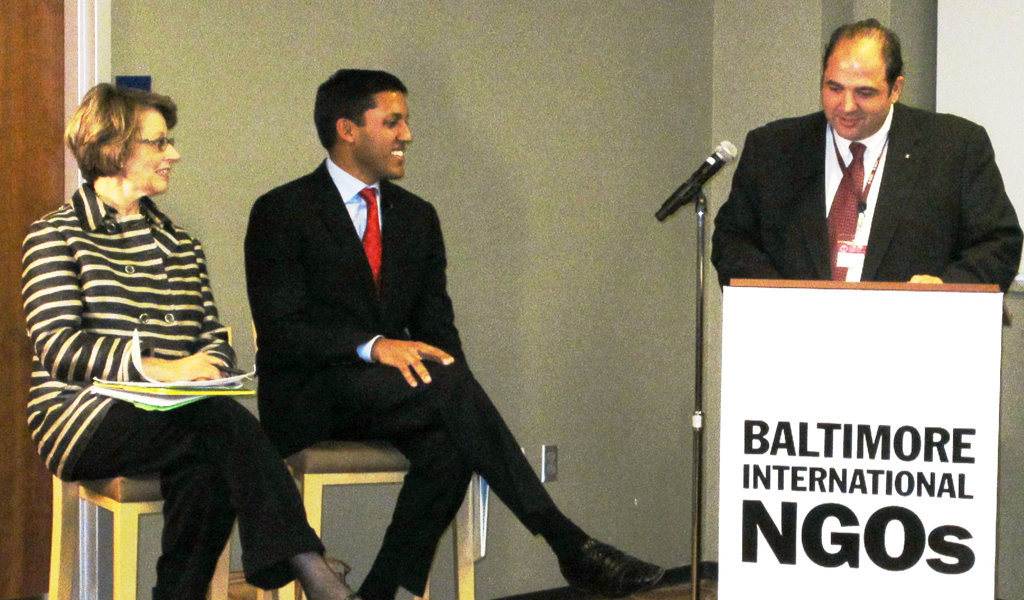 Baltimore, MD (November 5, 2013) — Dr. Rajiv Shah, the Administrator of the United States Agency for International Development (USAID), told a standing-room only gathering of aid workers and lawmakers that the key to eradicating extreme poverty around the world by 2030 will require enlisting broad public support to urge Congress to fund the efforts. Dr. Shah shared his vision for the future of international emergency response and development at a town hall meeting Monday morning before leading international relief agencies based in Baltimore.
At the meeting, convened by International Orthodox Christian Charities' Executive Director Dean Triantafilou and moderated by the host of WYPR's Maryland Morning, Sheilah Kast, Dr. Shah took questions from members of the ten Baltimore-area organizations represented. In addition to IOCC, participating organizations included Adventist Development and Relief Agency International (ADRA), American Hindu World Service, Catholic Relief Services (CRS), IMA World Health, International Social Service – USA, International Youth Foundation (IYF), Jhpiego, Lutheran World Relief (LWR) and World Relief.
Acknowledging the many faith-based groups represented at the meeting, Dr. Shah said these institutions are at the forefront of humanitarian efforts for their willingness to reach the poor and vulnerable in places where others won't go, and demonstrating a model of success in lifting the neediest out of poverty and creating more resilient families and communities around the world.
U.S. Congressman John Sarbanes (D-MD) joined Dr. Shah at the town hall meeting and spoke briefly to the crowd, expressing his support for the dedication and determination behind the humanitarian efforts of the agencies represented. Congressman Sarbanes and Sen. Ben Cardin (D-MD) met with Dr. Shah and agency leaders in an executive session held earlier in the morning.
###