Visit of His Grace Bishop IRINEJ to Pennsylvania in Support of IOCC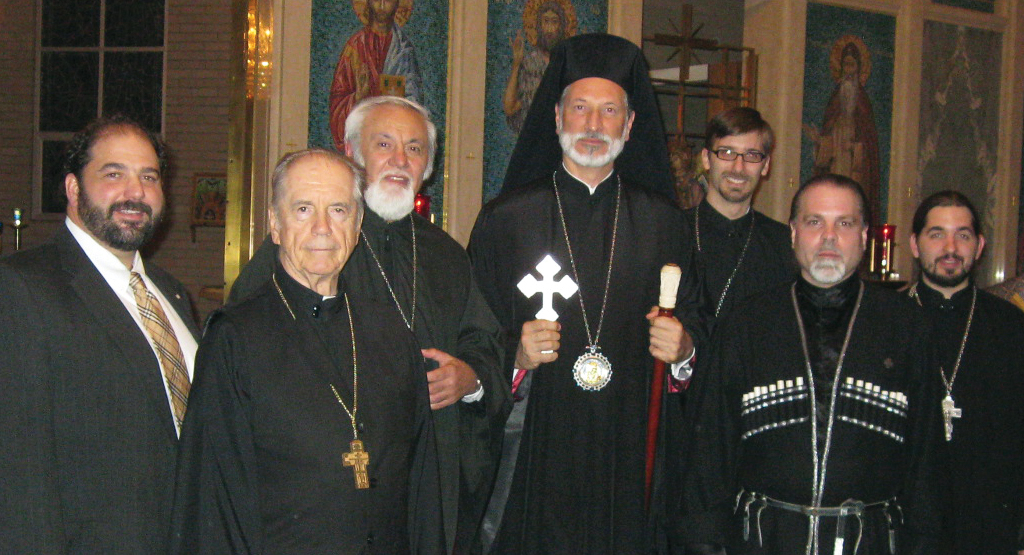 Baltimore, MD (December 2, 2008) — At a recent Vespers service at St. Nicholas Orthodox Church in Steelton, Pennsylvania, his Grace Bishop Irinej (of Australia and New Zealand of the Serbian Orthodox Church) reminded parishioners of the words of St. John Chrysostom that "Feeding the hungry is a greater miracle than raising the dead." His Grace has been on a tour of U.S. churches on behalf of International Orthodox Christian Charities (IOCC) for whom he was once employed.
IOCC Board Member Dr. Beverly Yanich said that as his Grace entered the church and made his way to the altar, that several parishioners were moved to tears. "We certainly remembered his prior visits, beginning with when his Grace was a seminarian at St. Vladimir's Seminary and later, when he was a hieromonk and we followed his career when he was an IOCC staff member and as he directed the Office of External Affairs for the Serbian Orthodox Church in Washington, DC," says Yanich.
IOCC fundraising events featuring his Grace Bishop Irinej have been held over the last two weeks in Minneapolis, Seattle, Los Angeles, and Detroit for IOCC's emergency and long term development projects, including a new initiative in Kosovo. IOCC announced recently that every gift made to Kosovo would be matched up to $100,000 through the generosity of Bishop Irinej and the faithful of his diocese and The John G. Rangos Sr. Family Charitable Foundation.
All gifts ear marked for Kosovo will go toward IOCC's broader goal of providing $500,000 in assistance to Kosovo and for aid to some of the approximately 225,000 people who remain displaced from the region. IOCC aims to expand efforts to provide educational programs, sustainable agricultural training and other projects that provide employment and stimulate wider regional cooperation in Kosovo.
To help in providing assistance to families in Kosovo and the Balkans, visit www.iocc.org, call IOCC toll free at 1-877-803-4622, or mail a check or money order payable to "IOCC" and write "Kosovo" in the memo line to: IOCC, P.O. Box 17398, Baltimore, Md. 21297-0429.
IOCC, founded in 1992 as the official humanitarian aid agency of the Standing Conference of Canonical Orthodox Bishops in the Americas (SCOBA), has implemented over $275 million in relief and development programs in 33 countries around the world.
###