Vlade Divac Supports IOCC Emergency Response, Delivers Aid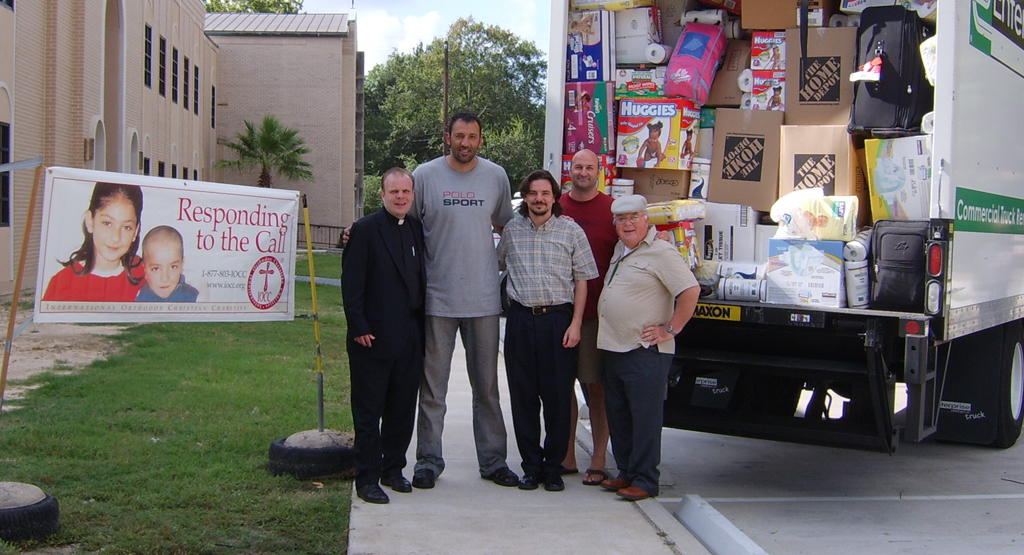 Baltimore, MD (September 16, 2005) — A truckload of relief supplies destined for children and families displaced by Hurricane Katrina was delivered by National Basketball Association All-Star Vlade Divac to an International Orthodox Christian Charities (IOCC) Emergency Response Center hosted by St. George Antiochian Orthodox Church in Houston on Thursday.
Divac, who spearheaded an effort to collect humanitarian supplies in Sacramento, Calif., where he played for five years with the Sacramento Kings, drove for two days to personally deliver the provisions to Houston, Texas.
The truckload of items included baby supplies, diapers, bedding, toys, water, personal toiletries and other supplies.
"I am especially concerned for of all of the innocent children who have suffered from this disaster," said Divac as he delivered the aid to a team of IOCC workers and clergy at the relief center. "The devastation caused by this hurricane reminds me of the destruction caused by war in my homeland."
A group of more than 260 Vietnamese children and adults who were displaced from New Orleans by the devastating storm received the much-needed items in a distribution which took place the same day at the St. Catherine Convent in Houston, Texas. The convent, now serving as a shelter, has hosted the group for the past two weeks.
In the days since Hurricane Katrina struck the Gulf Coast, the IOCC Emergency Response Network has provided essential humanitarian assistance to families displaced in Texas, Louisiana, Alabama and Mississippi. Assistance has included tons of water, food, personal hygiene articles, diapers and other baby care items, blankets, air mattresses, bedding and other emergency needs.
Named one of Sporting News' "Good Guys," Vlade Divac has been committed to providing assistance for over a decade to children and families who have been displaced by the wars that ravaged his native Yugoslavia.
Together with International Orthodox Christian Charities, Divac has helped provide emergency aid, and brought educational programs and vocational training to thousands of children in Serbia-Montenegro, Bosnia-Herzegovina, Ethiopia and the United States.
Contributions to IOCC's Hurricane Disaster Response Fund may be sent to IOCC, "Hurricane Relief," P.O. Box 630225, Baltimore, MD 21263-0225. Donations may also be made online at www.iocc.org or by calling toll-free 1-877-803-IOCC (4622).
IOCC's emergency response network, comprised of trained Orthodox clergy and their U.S. parish communities, provides emergency services to people struggling to recover from natural or man-made disasters.