Young Greek Farmers Receive Encouragement from Visiting IOCC Director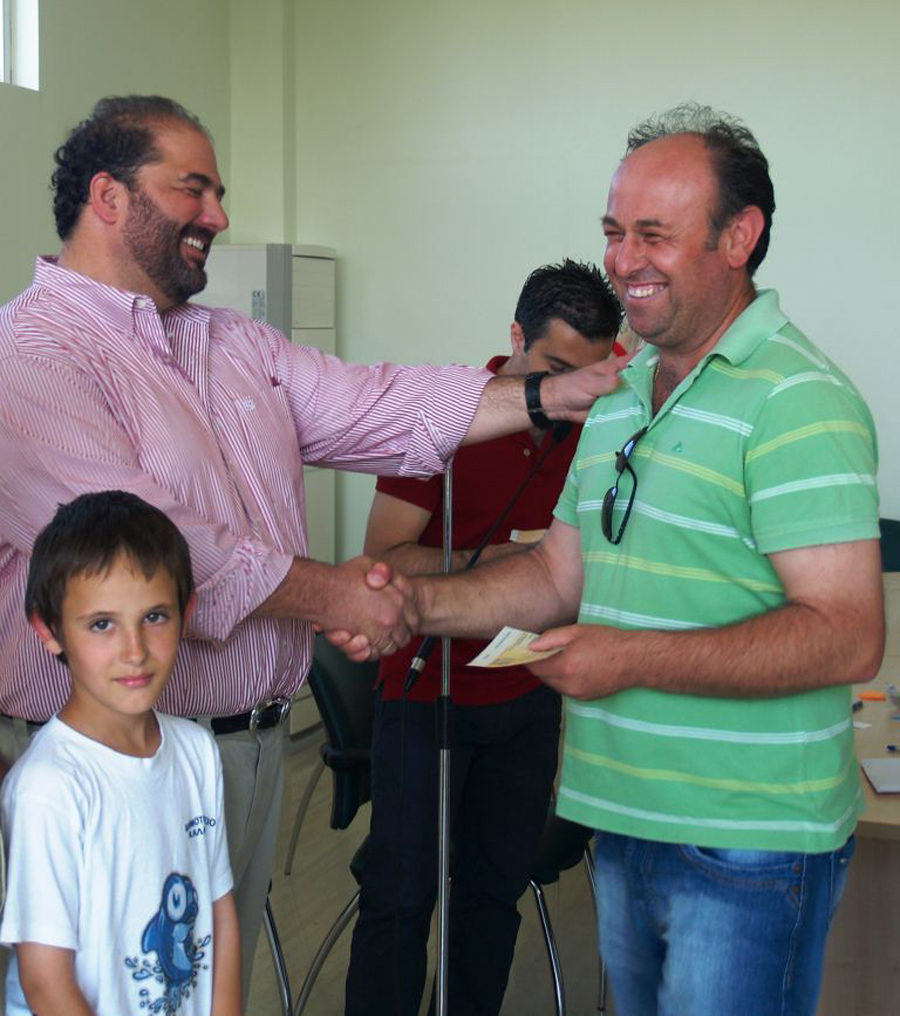 Baltimore, MD (June 30, 2011) — Almost four years since wildfires devastated much of southern Greece, young Greek farmers committed to restoring their land received words of encouragement last week from visiting International Orthodox Christian Charities (IOCC) Executive Director, Constantine Triantafilou. More than 200 Greek farmers and family members from the Prefecture of Ileia gathered in the courtyard of the local farming resource center to hear Triantafilou praise their ongoing efforts to restore farms and revive agricultural activity following the 2007 wildfires that devastated Greece.
The IOCC director also delivered welcome financial support for the 193 young Greek farming families as part of a long-term recovery program generously funded by the Greek Orthodox Archdiocese of America. Farmers up to age 40 received direct financial assistance in order to purchase seed and equipment, invest in modern facilities and techniques, and to sustain their families while they toiled to make their farms fertile again. IOCC program consultant, Despina Katsivelaki, says the boost of support could not have come at a better time as Greece struggles to save its economy. "It has been proven again and again that a helping hand not only provides temporary relief but, most importantly, raises the morale of those who are ready to quit trying."
The massive wildfires that swept through Southern Greece in 2007 left more than 667,000 acres of farmland, homes and protected forests in ashes. The Prefecture of Ileia was hardest hit, with 44 people killed and large numbers of animals and farms destroyed. The wildfires made already difficult agricultural conditions even worse. Coupled with the economic crisis in Greece, many people, especially young farmers with families, were forced to leave the area to find alternative sources of income. To stem the tide of migration by young farmers, IOCC partnered with a local economic development agency to implement a long-term recovery program.
Through the support of the Greek Orthodox Archdiocese of America and the Pancretan Association of America, IOCC also constructed the Peloponnese's first soil laboratory to help farmers analyze the condition of their soil and water in order to determine what crops to cultivate and what kinds of fertilizers to use. Katsivelaki says these measures over the past three years have helped preserve the future of family farms in Greece. "It is critical to keep young people involved in agriculture and livestock farming," states Katsivelaki. "The aid to the neediest young farmers came at the right time, allowing them to catch their breath and giving them a boost for continuing their farm business. It will help them to cover the basic and most urgent needs of their families while the free soil tests enable them determine best cultivation practices. "
###
IOCC, founded in 1992 as the official humanitarian aid agency of the Standing Conference of Canonical Orthodox Bishops in the Americas (SCOBA), has implemented relief and development programs in more than 40 countries around the world.