4 Ways to Support Greece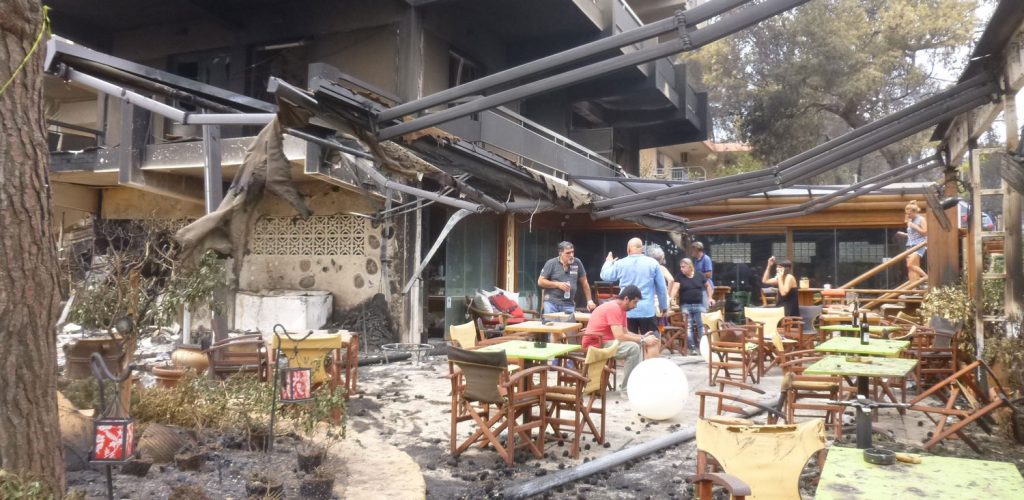 Driven by unpredictable gale-force winds and fed by tinder-box conditions amid temperatures of over 100˚F, wildfires blew through coastal communities in East Attica, Greece, at extremely high speeds on July 23. Over 70 people are confirmed dead, and hundreds are currently reported missing. These fires are the deadliest since 2007; Greece has declared a state of emergency and three days of mourning.
IOCC is supporting immediate basic needs like access to food. Through partner Apostoli, the humanitarian arm of the Archdiocese of Athens, IOCC will distribute prepaid grocery cards to families affected by the fires, allowing them to purchase essential items like Greek-grown produce, dairy, and meat, as well as personal hygiene items, including soap and shampoo.
Here are a few ways in which you can help those affected in Greece:
1. Pray
Join us in praying for those in need:
O Christ, Who alone art our Defender: Be mindful, O Lord, of the young and the old; orphans and widows; the sick and the suffering, the sorrowing and the afflicted, all captives, and the needy poor; upon them all send forth thy mercies, for thou art the Giver of all good things.
2. Donate Now
You can help IOCC provide support to families affected by recent wildfires with a financial gift to IOCC. Financial gifts will help provide both immediate relief and long-term support as needs change. To make a gift, visit iocc.org/greecefires.
3. Learn More
IOCC offered assistance after wildfires devastated parts of the Peloponnese in 2007. Since 2012, IOCC has been responding to needs in Greece with:
prepaid grocery cards allowing families to buy local, fresh food
financial support to Athens' largest soup kitchen
medical supplies and equipment to hospitals and free clinics
refugee assistance
and more
Click here to learn more about these efforts.
4. Stay Up to Date
Show your solidarity and share updates provided by @IOCCRelief on Twitter, Facebook, and Instagram. Follow #IOCCRelief, #PrayForGreece and #GreeceFire for the most up to date information.
Thank you for your continued support and compassion.