IOCC has worked in Romania since 2000, collaborating with the Romanian Orthodox Church and its social ministries. Since then, IOCC has helped those Church ministries grow as they serve families and especially children, meeting a variety of needs across the country.
Training Social Service Professionals
Partnering with the Romanian Orthodox Church, IOCC has supported training for social center managers, social workers, and clergy preparing them to address learning disabilities and drop-out issues. A recent project trained over 55 social workers from 23 Church agencies in dealing with various addictions, including to drugs, alcohol, smoking, and gambling, with a special emphasis on the causes and effects of digital addictions among young people.
Emergency Response
In 2020, IOCC funding supplied heating and cooking stoves to 15 Church-run children's foster-care homes and to 15 large families facing poverty. IOCC has also assisted those affected by floods since 2017, providing construction materials so families could rebuild and summer camps to help children process their experiences. After the devastating 2005 floods, IOCC provided beds, stoves, and firewood to help more than 140 families recover.
Supporting Education
IOCC funding is supporting efforts to keep children in school through counseling and social-educational activities, especially in rural and disadvantaged areas where attendance dropped dramatically with COVID-19. IOCC has also helped bridge the digital divide for Roma children, offered learning through art and play therapy, and helped hearing-impaired children gain valuable life skills. Since 2005, IOCC has delivered nearly 100,000 school kits to Romania, including a shipment of 15,000 in 2021.
Fostering Better Health and Positive Change
IOCC partnered with the Romanian Orthodox Church to help communities combat HIV/AIDS and family violence. With funding from USAID, the $5.4 million project promoted responsible social behavior, especially among youth, and equipped community and religious leaders to become agents of social change. Beginning in 2005, the program educated over 2 million Romanians, including more than 2,100 priests, religion teachers, and Church staff.
Featured Project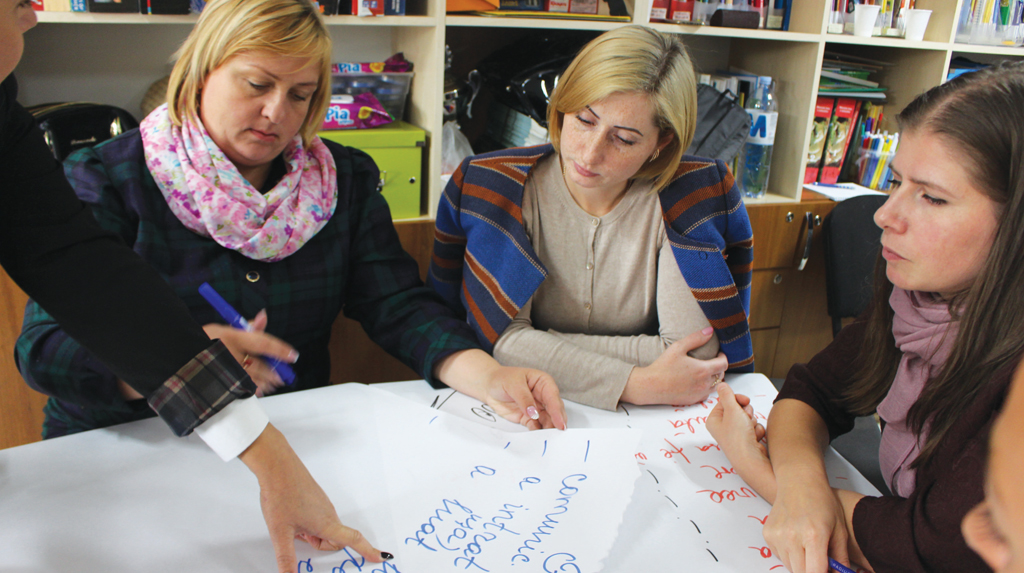 Building Educational Expertise in Romania
IOCC grant supports Church curriculum, training program for social workers
With a grant from IOCC, Federation Filantropia, a social ministry of the Romanian Orthodox Church, developed and certified a specialized training curriculum for social workers to help them obtain the skills they need to work with underserved children. The Romanian Orthodox Church has over 95 child daycare centers and some 40 kindergartens and after-school programs for kids. This project trained more than 100 social workers to assist children with special needs and those who require particular social support.
After completing the curriculum, professionals from 25 of those care centers now have expertise in legal and social counseling for families, supervising and guiding children's educational process, developing a personalized plan for each child, advocating for a child's interests, preparing psychosocial and physical profiles of the children, and integrating the children into their communities. Federation Filantropia has laid the foundation for a strong training program to help ensure that the next generation receives a solid education.