Action Team: Frontline Volunteers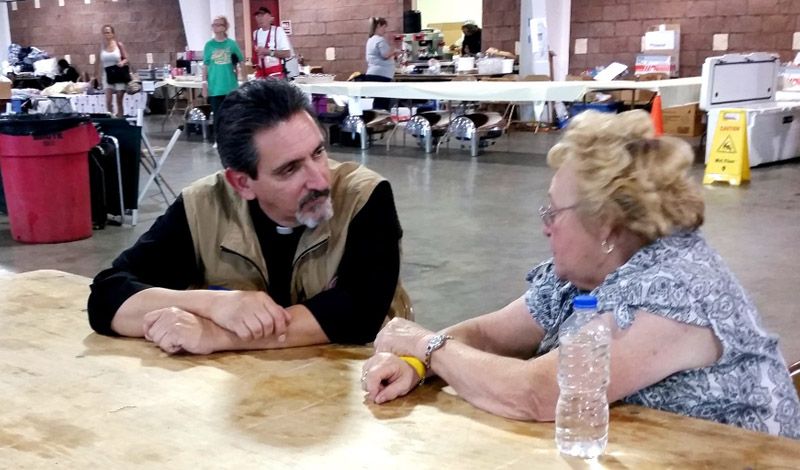 Above, Rev. Fr. Stelios Sitaras, of Assumption of the Virgin Mary Greek Orthodox Church in Galveston, TX and a trained IOCC Frontline volunteer, provides emotional and spiritual care to a survivor of the devastating floods in Baton Rouge, LA in August 2016 at the American Red Cross shelter where she was staying until she could go back into her home. (Image Credit: Dan Christopulos)
Orthodox Frontline volunteers are trained professionals who respond to disasters within the United States. These disasters are often natural disasters including tornados, floods, hurricanes, wildfires or earthquakes. However, the Frontline team may also respond to man-made disasters, including acts of terrorism. The Frontline team is focused on providing Emotional and Spiritual Care (ESC) after a disaster; however, they may also find themselves helping to do debris removal or muck-outs.
Educational/Professional Requirements:
Each Frontline Volunteer must be a trained professional in at least one of these fields:
seasoned chaplain
counselor
therapist
emergency response manager
social worker
medical doctor
registered nurse
emergency medical technician
or a related profession
IOCC accepts applications on a rolling basis and new applicants are accepted based on the professional qualifications of the volunteer and needs of the network to provide coverage in each of the ten FEMA regions throughout the United States.
Your Commitment as an Orthodox Frontline Volunteer:
Attend an annual continuing education training with IOCC each spring
Be on standby and able to deploy to a disaster-affected area on short notice
Be responsive to IOCC staff through regular emails and phone calls
Complete additional disaster specific training at the time of onboarding