Helping Our Own Neighbors in Need
Since 2001, IOCC's US Programs have provided more than $60 million in aid and gifts in kind and over 40,000 volunteer hours to survivors of disasters across the country. Following severe weather events, emergency and home-rebuilding assistance has been provided across the United States, including Missouri, North Carolina, West Virginia, Louisiana, Florida, and Texas.
IOCC first coordinated Home Build Teams in 2005 after Hurricane Katrina. Since then, these teams have worked on hundreds of US homes. To learn more about IOCC's Home Build Teams, click here.
IOCC Emergency Action Teams help homeowners clear debris and muck out their homes after flooding or other damage, in preparation for rebuilding. To learn more about IOCC's Emergency Action Teams, click here.
The Homefront comprises Orthodox parishes that have graciously opened their doors to the community in times of disaster, training parishioners to respond and serving as distribution centers or shelters in times of need.
IOCC Frontliners—highly trained, credentialed, and experienced Orthodox clergy and laity—arrive on the scene following disasters in the US to provide emotional and spiritual care. This group was created following the attacks of September 11, 2001. To learn more about IOCC's Frontliners, click here.
People may feel alone during the current crisis. They may be feeling isolated, overwhelmed, and struggling with negative feelings. But you can help change that. To learn more about IOCC Care Calls, click here.
Since 2005, IOCC has provided approximately one million new elementary and secondary textbooks worth over $50 million to after-school, tutoring, and Head Start programs for children in under-served areas of more than 20 states.
IOCC's Serv-X-treme conference is designed to pair an Orthodox understanding of service/diakonia/philanthropy with hands-on service opportunities. Each day will consist of time for worship, Orthodox instruction on diakonia, service in the community, reflection, and fellowship. Each year we hope to have a representative from every diocesan Bishop of the Assembly.
Your Gifts At Work
Sharing Hope with Others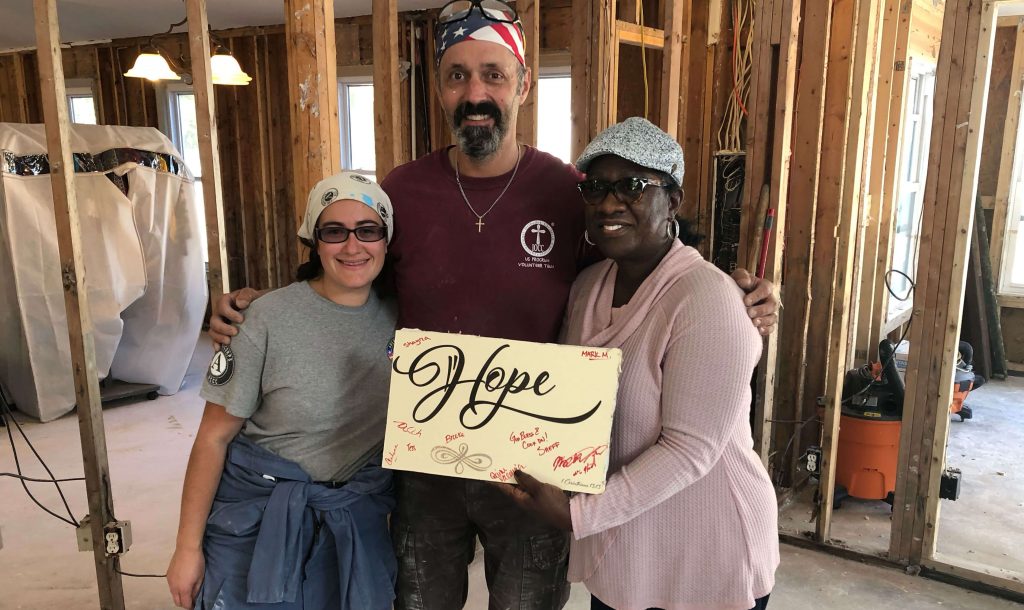 IOCC volunteer Mark McGilvery spotted "Hope" in the debris pile—stenciled onto a large part of a wall that had been removed from a flooded home in Wilmington, NC. Mark salvaged the message, cutting it out of the drywall, and the muck-out team signed it for homeowners Tammie and AJ. Pictured above are AmeriCorps volunteer Shayna Koren, IOCC volunteer Sheff Priest, and homeowner Tammie—sharing an uplifting message for a difficult moment.
Recent years have seen the expansion of IOCC's disaster response in the United States. For example, Hurricane Harvey in 2017 marked the largest deployment yet of IOCC Frontliners, who offer emotional and spiritual care to people who've survived large-scale disasters. That important work continued this year following Hurricanes Florence in Wilmington, NC, and Michael in Panama City, FL, as well as after the tragic shootings in Parkland, FL, and Santa Fe, TX—among other events.
IOCC's Orthodox Action Teams have grown in number and reach, thanks to dedicated volunteers across the country. Team leaders have trained and deployed, and our network of partner organizations is growing. Home repairs to hurricane-damaged houses continue around Houston and Florida, and right now IOCC teams have just returned from clearing damaged homes in Wilmington, NC, where they've been since just a few days after Florence hit, and are heading to Florida to remove debris and clear homes damaged by Hurricane Michael.
Together, these initiatives—and the people who make them reality—are strengthening the Church's response to human needs in times of crisis.
We can only continue this work with your support. Make a generous gift today, so that together we can improve lives around the world.
By The Numbers
$60 million

in aid and gifts in kind have been provided (2001-present)
IOCC volunteers have donated more than

40,000 hours

to natural disaster survivors (2001-present)
Emergency Action Teams have helped more than

250 families

clean up and rebuild post-disaster (2001-present)
Following severe weather events, emergency and home-rebuilding assistance was provided across the United States, including

Missouri

,

North Carolina

,

West Virginia

,

Louisiana

,

Florida

, and

Texas

(2001-present)
Related: Past Stories